Use the RACE Planning System to get ahead in your digital marketing
The first edition of my book Internet Marketing: Strategy, Planning and Implementation from 2001 included a popular template for creating what we then called an Internet Marketing Plan.
Today, marketers are understandably even more hungry for guidance, given the importance of digital media. The original plan in my book has been revised to create a free to download digital marketing planning template based on the Smart Insights RACE planning system. This template is based on fifteen plus years experience of creating and reviewing digital marketing plans for companies and helping students develop them.
Get started with our free digital marketing plan template
Learn how to structure a digital plan when you download our 14 page A4 PDF template. It will show you the essential online marketing activities that you must work on.
If you're already a member you can download this template when signed in:
Join as an Expert member for our full digital marketing planning toolkit
Expert members use these resources to create or refine their digital marketing plans:
The RACE planning system
The planning template is structured using the Smart Insights RACE planning framework which covers the key areas of the Digital marketing planning across the customer lifecycle as shown in this chart. If you're interested in creating a digital strategy, see this hub page which collects all of our digital marketing strategy recommendations including guides, templates and blog articles.
You can find out more the RACE Planning approach in this post introducing RACE digital marketing planning.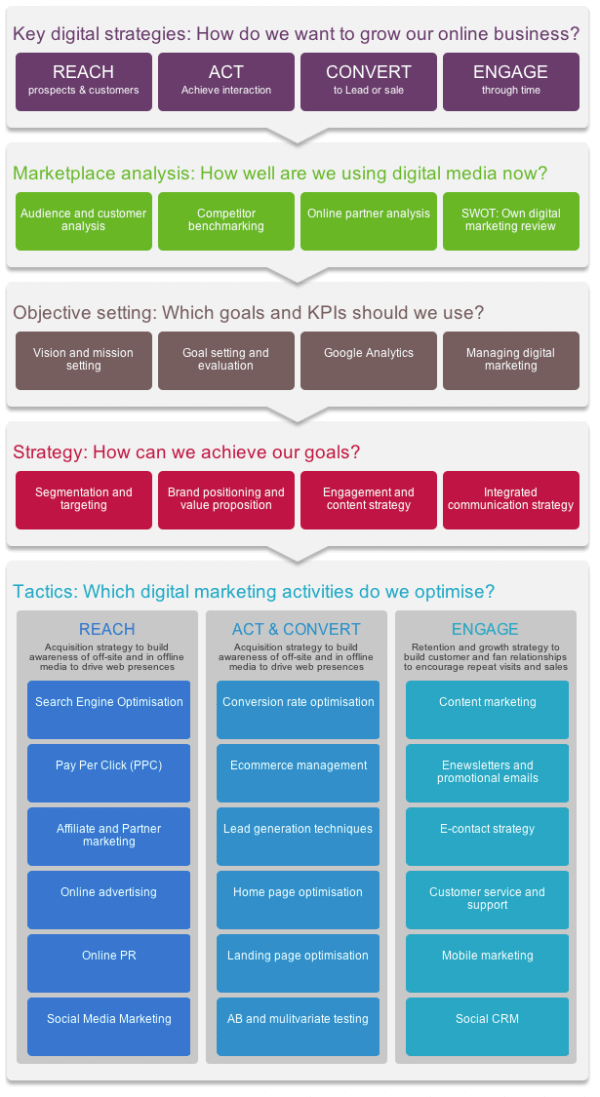 Our planning process and thee template references a simplified version of PR Smith's SOSTAC® Planning System developed by PR Smith, Dave's co-author on Emarketing Excellence. It's a great framework since it's simple, memorable and logical.
The simplified version of SOSTAC® we cover in the template for each of the RACE is:
Opportunity - Review current business contribution of digital channels through refining dashboards and set future objectives based on an in-depth marketplace review
Strategy - Create overall digital channel strategy or specific strategy focused on customer acquisition (Reach), Conversion (Act and Convert) and customer retention and loyalty (long-term engagement)
Action - Details of specific tactics to implement the strategy such as planning and integrating content marketing, SEO, Social media and email marketing into marketing campaigns.
We use this simplified approach since we have found through experience in creating many digital marketing plans, that setting objectives for digital marketing activities works best when part of a process of reviewing existing digital channel performance using analytics (as part of situation analysis) and sales reporting systems combined with reviewing KPIs used for control. It can also sometimes be difficult to separate tactics and actions.
We have another more in-depth post and Infographic on how to use SOSTAC®.
Attribution:
PR Smith (2011) The SOSTAC ®  Guide - to writing the perfect plan  by PR Smith (2011),  published by www.prsmith.org and available at Amazon.