A content marketing planning tool to help marketers generate ideas for the most engaging content types for their audiences
We had this graphic on a Post-It note in our office for months and published it in March 2012. It's a natural follow-on from our inbound marketing funnel infographic.  We created it to help your own brainstorming on content ideas to engage customers and encourage sharing. In 2015 we added a new, simplified version - see the end of the post for this.
Though we're fans of Eloqua's Content Grid, which inspired this, we think it's a little too 'B2B' orientated, and their v2 is pretty complicated.
Our matrix, is structured to help you think through the dimensions of different content based on how your audience might think and what you're trying to achieve as a business. What will work where your audience are more or less impulsive or rational? What does that mean for content creation and marketing goals? Depending on the quadrant(s) that you feel drawn to for your audience, it offers a starting point for your ideas generation.
When reviewing the potential of each content type, you should also think about its potential to attract inbound links to your site to help with SEO.
We've grouped all our infographics as a free download if you'd like to print or view enlarged versions.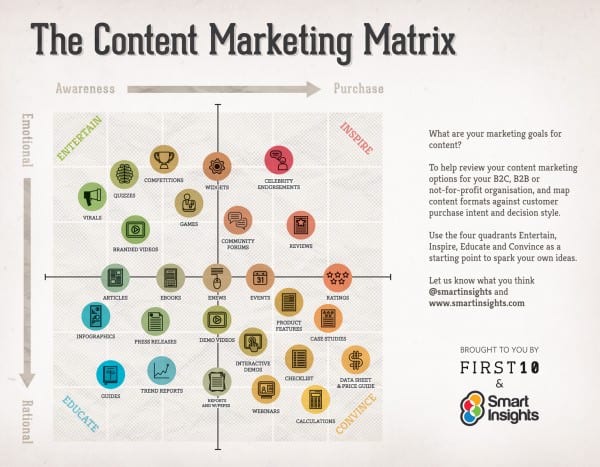 We hope this infographic adds a fresh perspective to your content marketing. As always, we'd love to know what you think.
2015 update - Content Marketing Planning Template
For our round-up of all the Smart Insights infographics we've included a spin-off from our original 2012 Content Marketing matrix based on a collaboration with Hubspot to create a Content Marketing Planning Template. This includes this simple Content Marketing Planning template below which has a plain background to enable you to compare your current approach to future approach.