Website and e-commerce personalization guide
Make the case and improve your approach to website personalization
How will this personalization guide help me and my business?
Everyone has seen and experienced Amazon's web personalization and knows about the power of delivering persuasive, relevant, contextual offers across the customer journey based on site visitor behaviours and profile.
Until recently, because of cost and complexity, web personalization has only been available to larger organizations, often limited to the retail ecommerce sector. Today, cost-effective personalization is readily available to all B2C and B2B companies through low-cost, easy to implement personalization tools. Research featured in the report shows that around one third of businesses deploying personalization are gaining between 10 and 30% uplift in conversion using personalization through the customer journey.
Website personalization is a critical component of digital marketing and will only become more important in future. Our guide shows you:
Examples of the uplift possible from more persuasive, relevant dynamic web content at relevant points in the onsite customer journey for B2B and B2C sites.
The 8 key questions to ask when making the business case and planning your personalization project
18 tactics for deploying ecommerce personalization
30 personalization technology options for personalization based on audience characteristics and behaviours
Who is this guide for?
This guide is aimed at marketing managers involved with making the business case for personalization, looking to plan a personalization implementation or extend their use of personalization. It is aimed at helping you if you are a:
Senior marketing manager Marketing Director, CMO or VP of Marketing
Digital marketing manager or ecommerce manager
Agency director account manager looking to improve use of personalization on your clients' websites or apps
How is the guide structured?
This guide will step you through the theory and practice of web personalization, with best practice examples and strategy recommendations. It covers:
Introduction to website personalization options
Best practices for implementing a programme
An in-depth exploration of ecommerce personalization options with 19 tactics to boost the effectiveness of your e-commerce site.
A set of recommended tools and services to get you started with web personalization or optimise your existing efforts.
Resource Details
Author: Dave Chaffey
Format: Elearning topic: 6,000 word guide with strategy recommendations, best practice tips, tools and examples. This online guide is a detailed topic which is part of our actionable Digital Marketing elearning course structured around our RACE planning framework.
Sectors covered: Many of the examples in this course are retail ecommerce related, but the techniques and tools mentioned can also be applied to other types of site including travel, financial services and business-to-business.
About the author
Dr. Dave Chaffey

Dave is co-CEO and co-founder of Smart Insights. He is editor of the 100 templates, ebooks and courses in the digital marketing resource library created by our team of 25+ Digital Marketing experts. Our resources used by our premium members in more than 80 countries to Map, Plan and Manage their digital marketing.
For his full profile, or to connect on LinkedIn or other social networks, see the About Dave Chaffey profile page on Smart Insights. Dave is author of 5 bestselling books on digital marketing including Digital Marketing Excellence and Digital Marketing: Strategy, Implementation and Practice. In 2004 he was recognised by the Chartered Institute of Marketing as one of 50 marketing 'gurus' worldwide who have helped shape the future of marketing.
How to access the web personalization guide
Unlike our e-book guides downloads, our e-learning topics do not have to be downloaded, and can be accessed directly on the site from the members' area. This is Convert topic 4.2, Web personalization from our RACE Digital Marketing Planning E-learning module.

Individual

Business
Access this resource now
Individual and Business members get full access to this and 10 other guides in the Digital experience management Toolkit.
Learn more about membership
Already an Individual or Business member?
Login here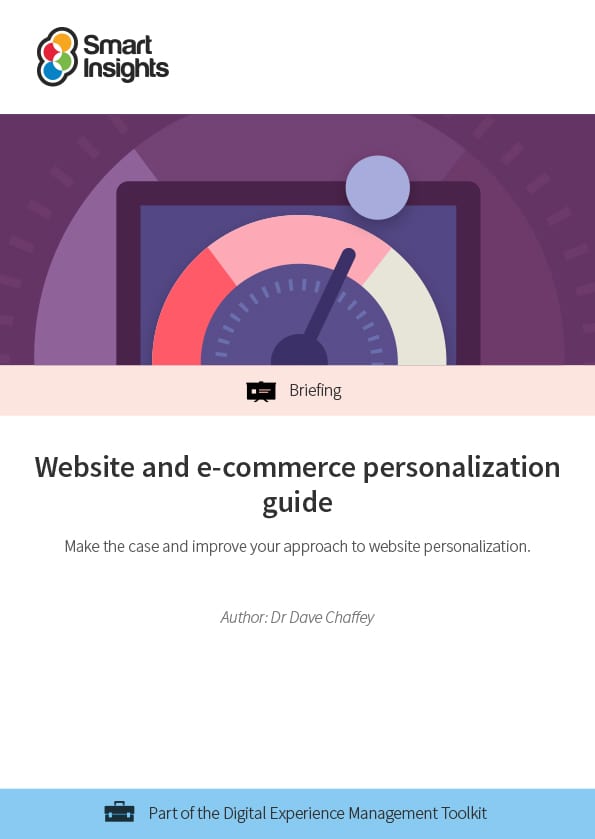 Look Inside