Media attribution analysis and modelling guide
Learn how to use digital media attribution in Google Analytics
How will the media attribution guide help me and my business?
Our research shows that many businesses are still using the Default 'last click wins' attribution method in Google Analytics or their web analytics tool. We think that the reasons behind this are a combination of lack of knowledge of why you need to look at attribution, its apparent complexity and not knowing where to look to find the answers.
With this guide we have answered members' requests for a guide that:
Explains attribution and the business need for it
Reviews different alternative channel attribution models
Shows where to find the reports in Google Analytics and how to interpret them
Gives practical steps for applying attribution
How is the guide structured?
The seven steps covered in the guide are:
ONE. Understanding Attribution
TWO. Why is Attribution Modelling important
THREE. Which models to use and how to visualise data
FOUR. Mistakes to avoid
FIVE. The limitations of media attribution
SIX. A process for using it in practice
SEVEN. Resources
About the authors of the media attribution and modeling guide
Hugh Gage

Hugh Gage of Engage Digital is the Smart Insights Expert commentator on Digital Analytics. He is the author of our premium member guide to Tag management. Hugh has worked in digital communications since 1994, switching from roles in media where he was Head of Online Planning and Buying at Manning Gottlieb OMD, to senior analyst at Logan Tod now part of PwC. He was one of the first to hold the Google Analytics Individual Qualification and is also a DAA Certified Analyst. You can follow him on Twitter or connect on LinkedIn.
Dr. Dave Chaffey

Dave is co-CEO and co-founder of Smart Insights. He is editor of the 100 templates, ebooks and courses in the digital marketing resource library created by our team of 25+ Digital Marketing experts. Our resources used by our premium members in more than 80 countries to Map, Plan and Manage their digital marketing.
For his full profile, or to connect on LinkedIn or other social networks, see the About Dave Chaffey profile page on Smart Insights. Dave is author of 5 bestselling books on digital marketing including Digital Marketing Excellence and Digital Marketing: Strategy, Implementation and Practice. In 2004 he was recognised by the Chartered Institute of Marketing as one of 50 marketing 'gurus' worldwide who have helped shape the future of marketing.
Who is the media attribution and modelling guide for?
The Media Analytics and Modelling guide has been designed to be useful both to those looking to build more complex attribution models and to those just starting out with attribution modeling. It assumes basic familiarity with using Google Analytics and common digital marketing terms. It will be useful for:
Client side Marketers looking to build more advanced attribution models to better track their campaigns.
Consultants charged with implementing attribution models for their clients.
Ecommerce marketing managers looking at how better to track the success of different campaigns and on-site features.
Resource Details
Authors: Analytics consultant Hugh Gage and Dave Chaffey
Format: 6,000 word, 28 page A4 page PDF Ebook with illustrations and checklists

Individual

Business
Access this resource now
Individual and Business members get full access to this and 9 other guides in the Paid media Toolkit.
Learn more about membership
Already an Individual or Business member?
Login here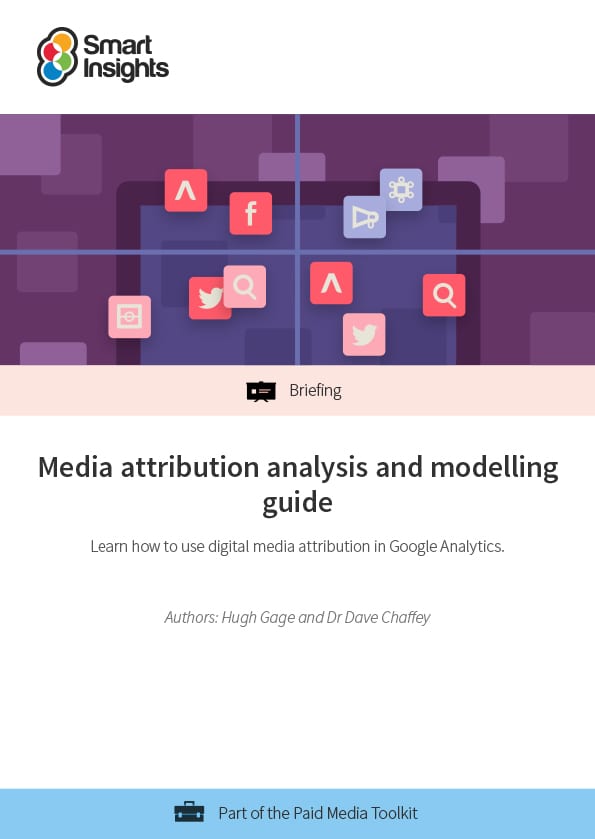 Look Inside