Lead capture and audience profiling
Our e-learning topic shows how to set up and optimise Lead capture and audience profiling
Online lead capture is the primary goal for many business websites. Through capturing data you can send relevant follow-up messages which encourage conversion to sale. Via improving your lead capture processes you can increase the number and quality of leads. lead capture and audience profiling can involve three key groups, each of which are tackled in this e-learning topic.
Email marketing including automated email sequences such as welcome emails and dynamic targeted content added to newsletters
Web personalisation which targets recommendations on products and offers
Retargeting or remarketing using display advertising on other sites including media sites and social networks
Why do I need to take this e-learning module?
In this topic we'll give you a structure to review and improve the types of insight you collect which will enable you to develop more relevant web and email personalisation to encourage conversion to sale. optimising this part of the process is one of the most effective ways of boosting your revenue, as it allows both more leads to enter the top of the sales funnel, and increases your ability to convert them into paying customers.
Although lead capture is thought of as mainly in business-to-business marketing, it has become more popular with retailers as they seek to gain opt-in and get their offers in front of their audiences. This means this module is useful for both B2B and B2C marketers.
Who is this module for?
This module is designed for anyone looking to learn how to set up and optimise an effective lead capture and audience profiling system. It introduces the basic concepts so you don't have to be familiar with how lead capture or audience profiling works in order to get started. Marketers working for B2B sites or e-commerce sites will find it particularly useful.
What does this module contain?
This module introduced and explains online lead capture, recommends key resources and outlines why it is so important. It then explains key best practices, and breaks down the process of implementing affecting lead capture and audience profiling into 8 key steps:
Step 1: Define personas
Step 2: Define segmentation and targeting criteria
Step 3:  Define key profile fields and common customer profile CCP
Step 4: Define lead magnets and other techniques to grow the list
Step 5: Define landing pages used for lead capture
Step 6: Use cookies to gain audience insight
Step 7: Check legal compliance
Step 8:  Optimise lead capture and audience profiling
The module also contains an interactive quiz to test your knowledge at the end, allowing you to assess your progress.
How do I access the lead capture and audience profiling module?
The module is part of our digital marketing strategy e-learning, which is available to expert members. It costs just one resource credit to access the whole module, so if you've already accessed the module you won't need to use a resource credit.
To access the module please click the link below.
Expert members can access the module here and Basic members can sample the first lesson in the e-learning for free once signed-in.
Resource Details
Authors:  Dave Chaffey
Format: Interactive E-learning module with integrated quiz.

Individual

Business
Individual or Business members get full access to this and 13 other guides in the Email marketing and Marketing Automation Toolkit.
Learn more about membership
Already an Individual or Business member?
Login here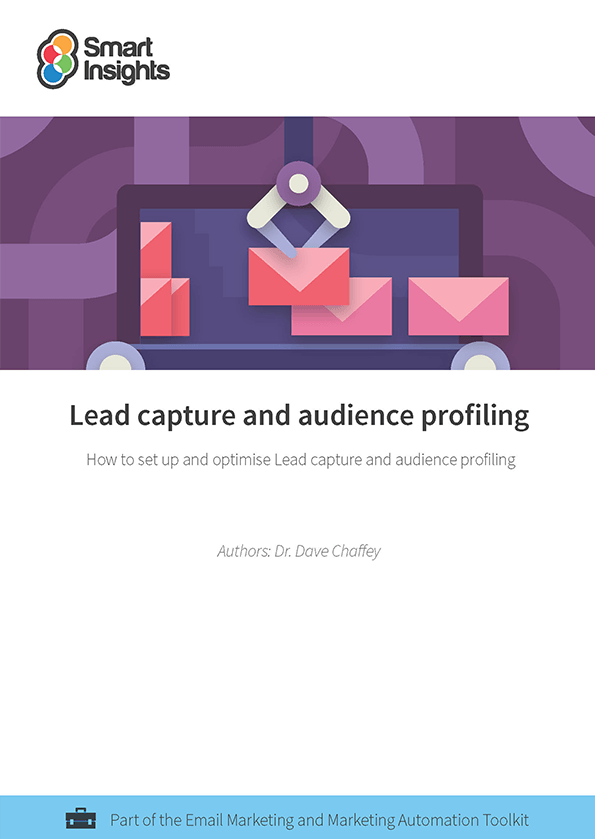 Look Inside