Reimagining the in-store digital retail experience: Creating a strategy for integrated in-store retail
Create a plan for the digital future of multichannel retail
How will the in-store retail help me and my business?
"Consumers are 'center stage' in their relationships with retailers.  The idea that a bricks and mortar store can simply "pile it high and sell" are increasingly waning.  The in-store experience needs to complement and work with the e-commerce experience by adding a sense of magic and hyper personalization that is so perfect to each individual that it can't be found elsewhere. Retail needs to be the theater!"
Nelson Freitas, Chief Strategy Officer, Wunderman.
Our "Reimagining the Retail Experience" guide is aimed at helping retailers assess their readiness and identify the digital experiences in-store needed to enhance their customer's experience with your brand.
This guide will help you assess and examine ways you can redesign the in-store experience, deepen the customer relationship and reconsider the omni-channel/multichannel. Reimagining the in-store digital retail experience guide will give you practical advice to research and define the opportunities and solution in order to plan, design, implement, deploy, measure and involve your team.
It will help you to assess your retail business readiness and define a strategy to seamlessly integrate omni-channel before going forward with any decisions to use digital and technology to create in-store experiences.
Who is the guide written for?
Our e-book is designed to help you and your team identify problems you are facing with your retail store, help you organize the steps to take to recreate the in store customer experience, so that you can create inspiring retail experiences that will fulfil your business and brand objectives and the needs of your customers. It's aimed at improving commercial returns for retailers and e-commerce merchants who have a desire to develop deeper customer relationships. It's aimed at Chief marketing officers (CMOs), directors, managers who are in either customer or client services, creative services, marketing, merchandising, e-commerce, web marketing, internet production, omni-channel/multichannel producer, customer insights, market research, customer loyalty and division managers.
By using the guide you will be able to:
Assess the challenges your retail business and brand are facing
Identify the opportunities for using digital technologies in-store
Understand your customer's digital behavior
Design customer journeys that integrate channels to maximize sales
Learn about digital experience best practices from examples
Prepare for the future of retail
Produce a digital experience plan
Resource Details
About the author
Tery Spataro

Tery is widely known for helping brands understand the role technology plays in marketing, innovation and retail environments. Wielding over two decades of experiences in marketing as a digital strategist, Tery takes a deep look into understanding why, what and who. She's created tech marketing strategies for automotive, food and beverage, consumer packaged goods, education, energy, entertainment, health care, insurance, pharmaceuticals, non-profits and retail brands. Tery has brought digital to life in physical space, having worked with Bloomingdales, Michael's craft stores, Sally Hansen, Novartis, Whole Foods and Nine West.
You can connect with Tery on LinkedIn.

Business Membership is required
Access this resource now
Business members get full access to this and 11 other guides in the E-commerce/retail Toolkit.
Learn more about business membership
Already a Business member? Login here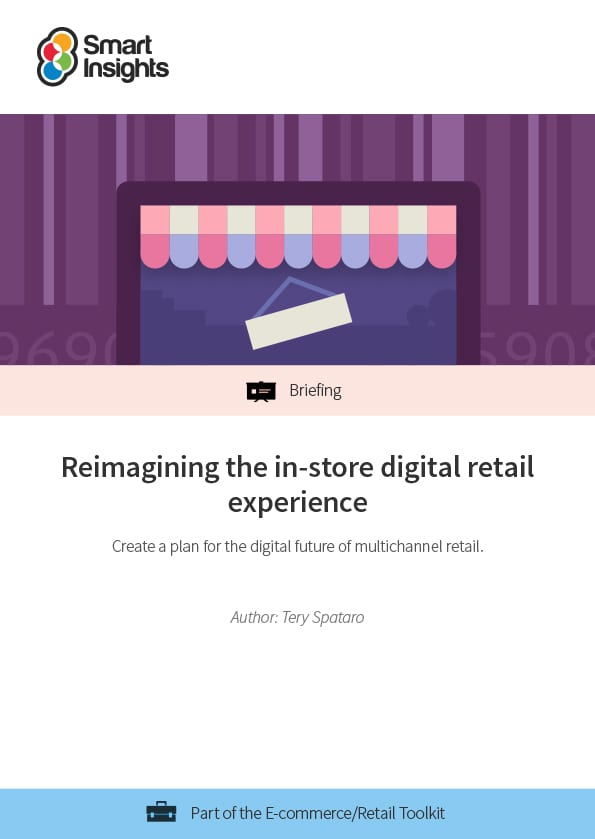 Look Inside