Essential guide to effective translation
Best practices for global content localization to grow your international markets
How will this report help me and my business?
1 in 3, 1 in 5, 1 in 7? Do you know what proportion of our global population speaks English as their primary language? In-fact, it's 1 in 7, meaning that this leaves six billion people worldwide who don't. This simple fact alone, shows the potential of translation, both in serving new international audiences and reaching non-English speakers in majority English speaking markets (nearly 20% of the US population are Hispanic and Latino). At the same time, many businesses that originated in a non-English speaking country have the opportunity to reach English speakers in other countries.
As we'll see, the opportunities for improved businesses outcomes from effective translation of their digital assets are compelling, particularly with the significant growth in smartphone use worldwide.
This guide produced in association with translation platform, Smartling's products and services use technology and data to improve translation outcomes for smart businesses.
Smartling is aimed at marketers responsible for the strategy to grow business through reaching new audiences. The business outcome it addresses is growing market share in international and local markets by improving the quality of digital customer experiences to support their goals of increasing leads, sales or service quality.
What's inside this guide?
In this report, you will learn success factors for improving your translation process and programs. Specific 'use-cases' where translation is vital to help improve these business outcomes globally include:
Transactional Ecommerce businesses including retail, travel and financial services. Outcome: Create more engaging and persuasive marketing and custom- er-facing content to increase consumer conversion and retention.
Business-to-business organizations including manufacturers, professional service and Software-as-a-service (SaaS). Outcome: Translate complex content supporting lead generation and purchase decisions for business decision makers.
Digital product interface businesses including mobile and desktop apps for gaming, music and travel. Outcome: Improve the quality of the user experience, and increase adoption, usage levels and retention.
Employee education and training for international businesses. Outcome: Deliver education of employees worldwide to improve customer-facing process and internal marketing; communications, and Human resources information.
Who is this guide for?
This guide will help you learn how to improve your localization efforts if you are a:
CMO, VP or Head of Marketing looking to increase online sales or online lead volume and quality
Brand or corporate communications professionals wanting to enhance their content quality and 'cultural customization' by showcasing customer value and success
E-commerce manager for a transactional site serving many markets worldwide, for example, retail, travel or financial services
Marketer responsible for web, mobile or digital content localization and user engagement of digital products through digital channels
How is this report structured?
To seize the growth opportunities of improved translation, we recommend defining your localization strategy based on the success factors for your translation program.
To highlight these success factors, we have structured this report in three parts, which are the essential stages to an effective translation and localization strategy process.
First, we'll cover the size of the opportunity,
Second, your localization strategy and
Third, and finally, the actions to put in place so that you have the best workflows and integrations to execute your strategy.
Resource Details
Author: Dr. Dave Chaffey
Sponsored by: Smartling
Last updated: December 2017
Format: 3,500 word, 19 page A4 page PDF Ebook with illustrations and actionable tips and suggestions
About the author
Dr. Dave Chaffey

Dave is co-CEO and co-founder of Smart Insights. He is editor of the 100 templates, ebooks and courses in the digital marketing resource library created by our team of 25+ Digital Marketing experts. Our resources used by our Expert members in more than 80 countries to Map, Plan and Manage their digital marketing.
For his full profile, or to connect on LinkedIn or other social networks, see the About Dave Chaffey profile page on Smart Insights. Dave is author of 5 bestselling books on digital marketing including Digital Marketing Excellence and Digital Marketing: Strategy, Implementation and Practice. In 2004 he was recognised by the Chartered Institute of Marketing as one of 50 marketing 'gurus' worldwide who have helped shape the future of marketing.

Free Membership is required
Access this resource now
Get access to this and 25 other sample guides and templates with a Free Membership
Join for free and get this sample guide
Already a Free member? Login here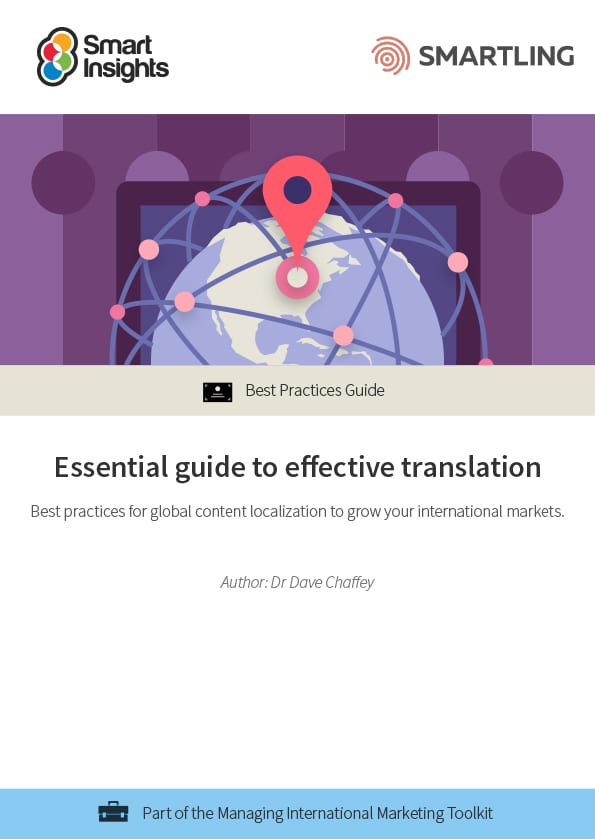 Look Inside