Email Welcome and Onboarding Guide
Best practices and examples to help you define and develop Welcome Email sequences
About the Email Welcome and Onboarding Guide
They say first impressions are important in face-to-face meetings – the same is equally true with Email marketing. Emails forming a welcome series or the first autoresponse are amongst the first emails a new subscriber receives and set the stage for the rest of your email program.
Open and click rates are often the highest you will get from any form of email communications since you have your subscriber's attention, so it's best to make the most of this opportunity by following best practices.
The aim of this guide is to help you define and develop your own welcome email sequences. The guide will mostly focus on messages sent to new contacts and prospects, but will also be useful if you are looking to set up a customer onboarding sequence.
What does this Ebook include?
This guide uses examples and best practice tips to show the different ways that companies can enhance their email marketing program through the use of welcome and onboarding emails. It is split up into four sections to help you review your approach to welcome email. These are:
Planning your welcome strategy: An overview of different welcome email types and how they can contribute to reaching your business goals.
Key issues to consider: Using Dave Chaffey's CRITICAL factors checklist, the guide reviews key best practices.
Improving your welcome program: The guide discusses the importance of segmentation, testing, targeting and context for subscribers.
Inspirational examples: Jordie gives some inspirational and practical examples of welcome emails, and assesses their strengths and weaknesses.
Resource Details

Business Membership is required
Business members get full access to this and 8 other guides in the Integrated Lifecycle Marketing Toolkit.
Learn more about business membership
Already a Business member? Login here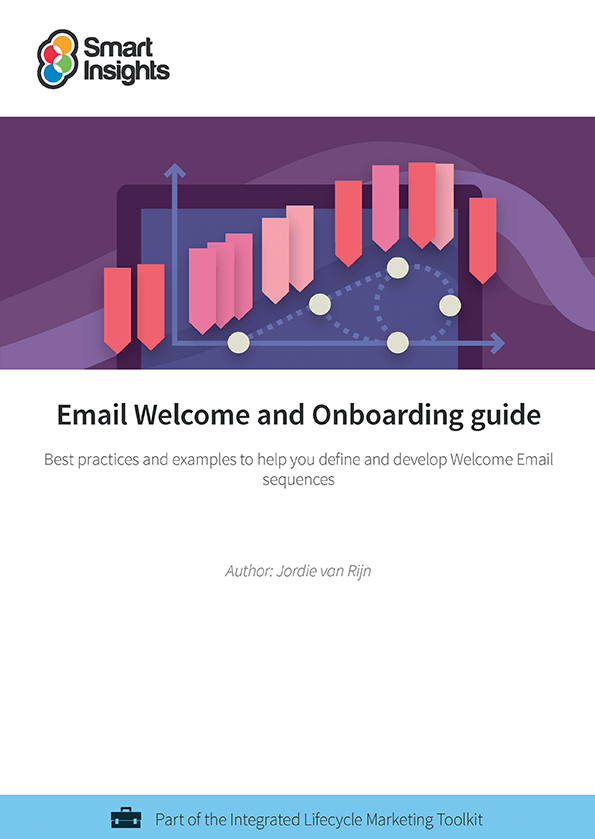 Look Inside