Brilliant B2B digital marketing e-book
Use our Digital Marketing 'Bible' for B2B to create and implement your B2B strategy
How will this guide help me and my business?
In Brilliant B2B Digital Marketing, René Power covers all the techniques you need to review to take your online marketing to the next level if you market to other businesses.
He shows how to create a plan or simply work through all the issues you need to think about to make online B2B marketing more effective. To keep it applied, the book includes many examples of B2B campaigns, content marketing, sites and social media sites to help inspire you. These are combined with checklists to help you assess your progress as you work through the key issues.
Why a specialist B2B digital marketing guide?
Many B2B organisations are already successfully using digital marketing in specialist sectors like financial and professional services, IT and software, manufacturing, engineering or science. Yet, for business markets, there is a limited amount of good quality, specific advice and best practice available to draw upon for the unique challenges and opportunities available from digital media. Indeed, there are surprisingly few books or guides which address the unique challenges of promoting business products and services online, whether these are for companies which don't sell online who are focused on lead generation and customer communications or online B2B retailers.
Originally created 4 years ago and now updated to include the latest thinking on content marketing, responsive design, SEO and marketing automation applied to organisational marketing. We've heard members call it the "B2B Bible" since it covers everything from digital strategy to tactics plus all the main channels and it 'weighs-in' at over 200 example and insight-filled pages to inspire improvements to your B2B marketing.
Who is this guide for?
This guide is relevant for marketers involved in B2B marketing at different levels including:
CMO, VP and Director of Marketing
Marketing manager and digital marketing manager
Marketing Exec and Digital marketing Exec
B2B consultants
Agency marketers
How is the guide structured?
The seven steps to success guide follows this structure:
ONE. How to create B2B strategy and planning techniques
TWO. B2B examples to inspire from different industries
THREE. Getting found and staying visible through SEO
FOUR. Inbound and content marketing
FIVE. Social Media marketing
SIX. Lead generation and E-CRM
SEVEN. Measurement and optimisation of B2B online marketing campaigns
Resource Details
About the author:
René Power

René Power, has been the Smart Insights Expert commentator on B2B marketing for over four years. He consults, talks and trains on the deployment of the full marketing mix within trade B2B sectors including packaging, food, science, construction, engineering and professional services. He specializes in integrating digital with traditional and demystifying digital marketing, social media and content marketing for trade B2B companies. A Chartered Marketer, René authors the The Marketing Assassin blog, shares updates on Twitter @renepower and you can connect via LinkedIn.

Business Membership is required
Access this resource now
Business members get full access to this and 11 other guides in the Business-to-business marketing Toolkit.
Learn more about business membership
Already a Business member? Login here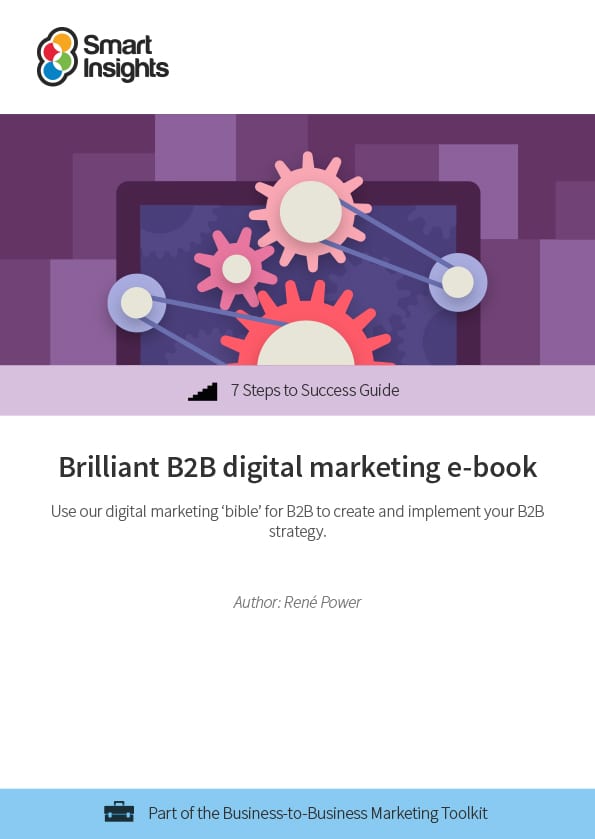 Look Inside