Agency digital marketing services – the top 10 mistakes to avoid
The 10 most common mistakes made by marketing agency owners when offering new digital services
How will this guide help me?
If you are venturing into offering digital services to your clients for the first time, or looking to expand the digital services of your agency, this whitepaper is for you. Written by agency expert Mark Kelly's who has 16 years of experience in working with digital agencies, the guide explains the ten most common (and costly!) mistakes that agencies can make. Plus, there are insider tips and insights from some of the UK's most experienced digital marketing practitioners and agency owners.
Who is this guide for?
This guide is for owners of marketing agencies and their colleagues involved in new business development. It may also be useful for managers in marketing agencies transitioning to offer digital services, as it can be used as a checklist to make sure they are preventing the agency to falling foul of the mistakes that are typically made.
What does this guide contain?
This guide is a brief checklist to give some detail about the common mistakes marketing agencies tend to make when offering new digital services. It also details ways to avoid making these mistakes and provides insights from marketing agency leaders so your agency can learn from the best in the industry.
Resource Details
About the author
Mark Kelly

Mark Kelly is a freelance digital marketing consultant working with agencies and direct clients of Mark Kelly digital consultancy. You can follow him on Twitter or connect on LinkedIn.

Free Membership is required
Access this resource now
Get access to this and 25 other sample guides and templates with a Free Membership
Join for free and get this sample guide
Already a Free member? Login here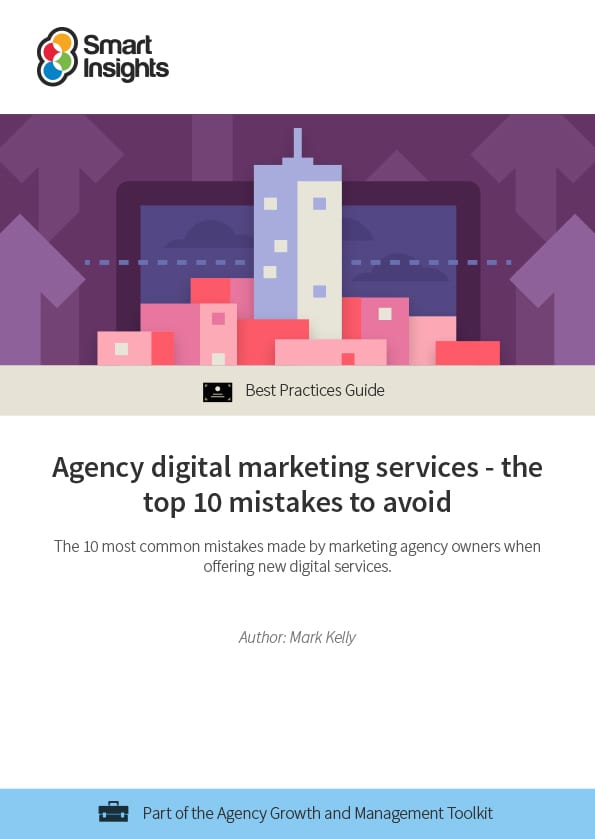 Look Inside