Affiliate marketing strategy guide
Learn how to manage affiliate programmes
How will this affiliate marketing guide help me and my business?
This guide explains the opportunities of affiliate marketing. It is aimed at owners or managers of e-commerce sites who are considering setting up an affiliate programme or looking to review their current programme.
How affiliate marketing can be used to expand your reach
The different types of affiliates and how to manage them
How to grow affiliate sales by recruiting the right type of new affiliates
How to set commission and define programme terms and conditions for getting the best results
Resource Details
About the authors
This guide was originally produced by Graham Jenner, it was updated in 2017 by Luca Tagliaferro.
Luca Tagliaferro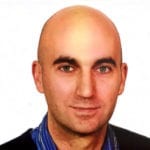 Luca Tagliaferro is a multi-lingual (English, Italian, French) experienced digital marketing and analytics specialist, with seven years' experience in SaaS, e-commerce, and the public sector. Luca's main skills are project and agencies management, advanced Google Analytics and Tag Manager, SEO, PPC. Additionally, Luca holds a Master Degree in Digital Marketing from a leading UK university, he is Google Ads and Analytics Individual certified, and a confident public speaker.
Graham Jenner

Graham Jenner is Head of Partnerships at TopCashback. Graham manages TopCashback's Partnerships department, the team that helps to understand and achieve client's objectives. His role involves developing relationships with key merchants and networks and consulting on strategy. Graham has been involved in the campaigns that have won the 'Advertiser Innovation' award for the past two years at the Performance Marketing Awards. Prior to joining TopCashBack Graham worked at Digital Window looking after key brands such as T-Mobile and Game.
You can follow him on Twitter or connect via LinkedIn.
What does the guide include?
The guide features these 7 Steps to help you create or review your affiliate programme:
Step 1: Starting an affiliate programme
Step 2: Setting affiliate programme objectives and KPIs
Step 3: Recruiting affiliates
Step 4: Auditing and Compliance
Step 5: Growing the programme
Step 6: Communication and relationship building
Step 7: Review new opportunities and advanced approaches

Paid membership is required
Access this resource now
All Paid memberships have full access to this and other guides in the Paid media Toolkit.
Learn more about membership
Already a paid member?
Login here