How to avoid these 10 SMB Digital Marketing Mistakes
Use our SMB Mistakes guide to help you focus on the digital marketing techniques that matter
Digital marketing gives so many opportunities to fuel the growth of a small or medium business that it's often not clear where to start. It's natural to just 'dive-in' and create a site or use social media without thinking it through. But there is a better way, which focuses your precious time and money where you will get the most returns.
How will this guide help me and my business?
This short guide will show you how to make the most of digital marketing by avoiding the common mistakes others running small businesses have made before you.
As consultants who have worked with many businesses of all sizes, we have seen these mistakes all too often, although fortunately they are easy to avoid.
How is the guide structured?
The 10 mistakes are structured around the Smart Insights RACE planning framework, so you can easily review them against your priorities for the year ahead. Recommendations include:
Why you need a digital marketing strategy and how to create it quickly
How to avoid wasting time on the social media
Why Search marketing is too important to ignore and how you can assess your potential
Where you should focus efforts on your website
Techniques which work best with zero or no marketing budget
Resource Details
Authors: Experienced Digital marketing consultant Yvette Bordley and Dr. Dave Chaffey, co-CEO and co-founder of Smart Insights.
Related resources: See the Digital Marketing Strategy and Planning Toolkit resources below.
Report format: Online report, downloadable as PDF.
About the authors
Yvette Bordley

Yvette Bordley is an experienced digital marketing consultant who has worked with brands as diverse as Ferarri to Brightons Museums and the Royal Pavilion. She currently provides consultancy to small to medium business, digital marketing training and helping startups and young entrepreneurs develop growth strategies, crowdsourcing campaigns and RACE focused integrated business and marketing plans.
Find Yvette on Webyogi.
Dr. Dave Chaffey

Dave is co-CEO and co-founder of Smart Insights. He is editor of the 100 templates, ebooks and courses in the digital marketing resource library created by our team of 25+ Digital Marketing experts. Our resources used by our members in more than 80 countries to Map, Plan and Manage their digital marketing.
For his full profile, or to connect on LinkedIn or other social networks, see the About Dave Chaffey profile page on Smart Insights. Dave is author of 5 bestselling books on digital marketing including Digital Marketing Excellence and Digital Marketing: Strategy, Implementation and Practice. In 2004 he was recognised by the Chartered Institute of Marketing as one of 50 marketing 'gurus' worldwide who have helped shape the future of marketing.

Free Membership is required
Access this resource now
Get access to this and 26 other sample guides and templates with a Free Membership
Join for free and get this sample guide
Already a Free member? Login here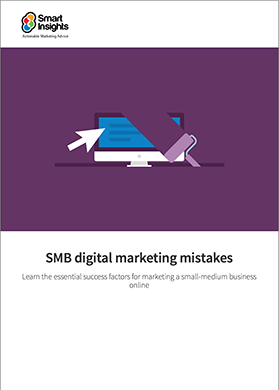 Look Inside