In 2020, marcomms will be more complex than ever before. The duopoly of Facebook and Google now dominates paid media investments online with offline media buys remaining important for many larger brands.
Earned media is now vital with many more opportunities to use content marketing to reach audiences on smaller media sites, blogs, and social media through influencer outreach and re-targeting. Owned media such as company websites, apps, and social media pages play a pivotal role in nurturing prospects and re-engaging customers. Yet more complexity is added as audiences vary their use of smartphones, tablets, and desktops to consumer media throughout the day.
Given this complexity in today's media interactions, in this briefing, we'll cover ten success factors for planning better-integrated activities.
The need for digital transformation
Our managing digital marketing research revealed many challenges of how digital marketing is run in companies today. Problems included lack of focus on integrated strategy, testing, and optimization and structural issues like teams working in silos or lack of skills in integrated communications.
To counter these types of problems and to make the most of the opportunities for growing a business through digital marketing, many businesses are now putting a digital transformation programme in place.
The aim of digital transformation is to develop a roadmap to improve digital capabilities and skills, while at the same time, integrating 'always-on' digital marketing activities with brand and product marketing in the business. 
This chart from the research shows that many businesses are active in transformation to try to achieve this aim through the success factors covered in this briefing.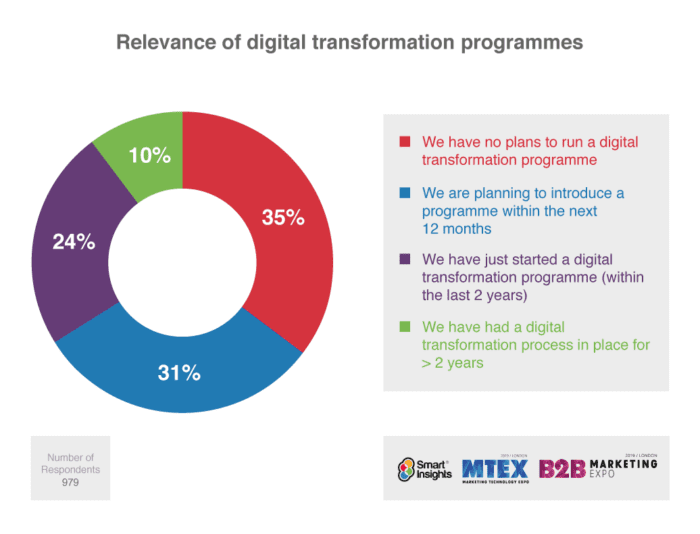 How is this briefing structured?
Our briefing will step you through 10 success factors which leading companies are deploying today to future-proof their business by creating more effective, joined-up media investments and customer journeys.
As our customer lifecycle analysis visual shows, 'always-on' paid, earned and owned digital media are particularly important. If you can encourage initial interactions with a brand based on search intent to buy a product, there are opportunities to design integrated communications to influence audiences throughout the customer lifecycle using email automation, web personalization, and re-targeting.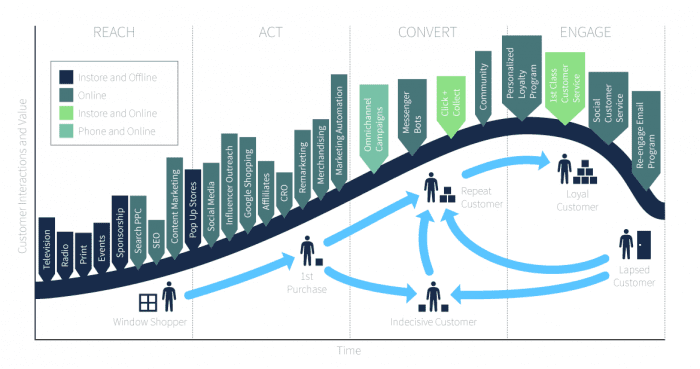 Customer lifecycle marketing activities (click to enlarge)
This visual example shows the many opportunities for online and offline communications through the customer lifecycle. Our Integrated Marketing 2020 vision is that these touchpoints should be optimized by putting in place the right people, processes, measures, and marketing technology so they are mutually reinforcing.