A definition of paid, earned and owned media
With the rise in importance of social media and online PR, we're seeing more companies change their method of budgeting, reporting and investing in media to reflect the types of sites where audiences spend their time online. The trend is towards a review of investments in the 3 main media buckets of earned, shared and paid which each give opportunities to influence customers. None of these media types are new, but what is new is the increasing prominence given to owned and earned media while paid media has always dominated in the past.
It's a positive move since it poses questions about how best to measure the returns from social media and set the investment at the right level.
Since these terms are increasingly being used, but it's unclear on the definitions, this post gives a compilation of alternative definitions for paid, earned and owned media ending with my summary.
Altimeter report: Paid + Owned + Earned = Converged media
This new 2012 report from Rebecca Lieb and Jeremiah Owyang has the simplest definition of paid, owned and earned of all that feature in this post: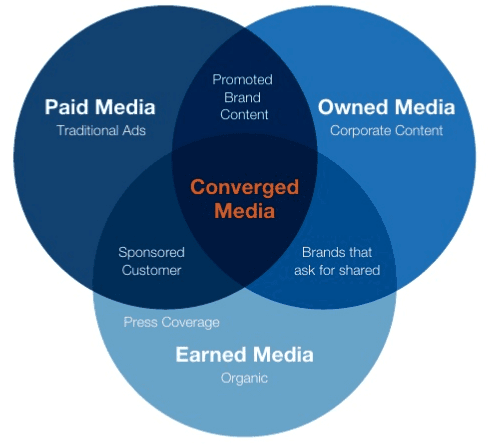 I've embedded the full report which is useful for it's examples and advice on how to change marketing in companies so that they can take advantage of converged media.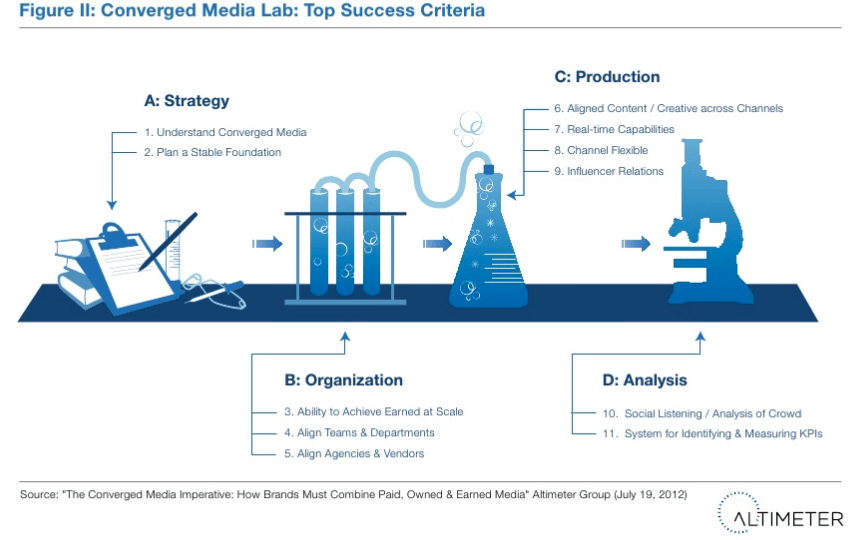 Brian Solis - Social media brandsphere
Arguably less useful than the others, this 2011 infographic defines the terms - adding Promoted (i.e. a variant of Paid) and Shared collaboration (e.g. Dell Ideastorm or Starbuck's MyStarbuckidea.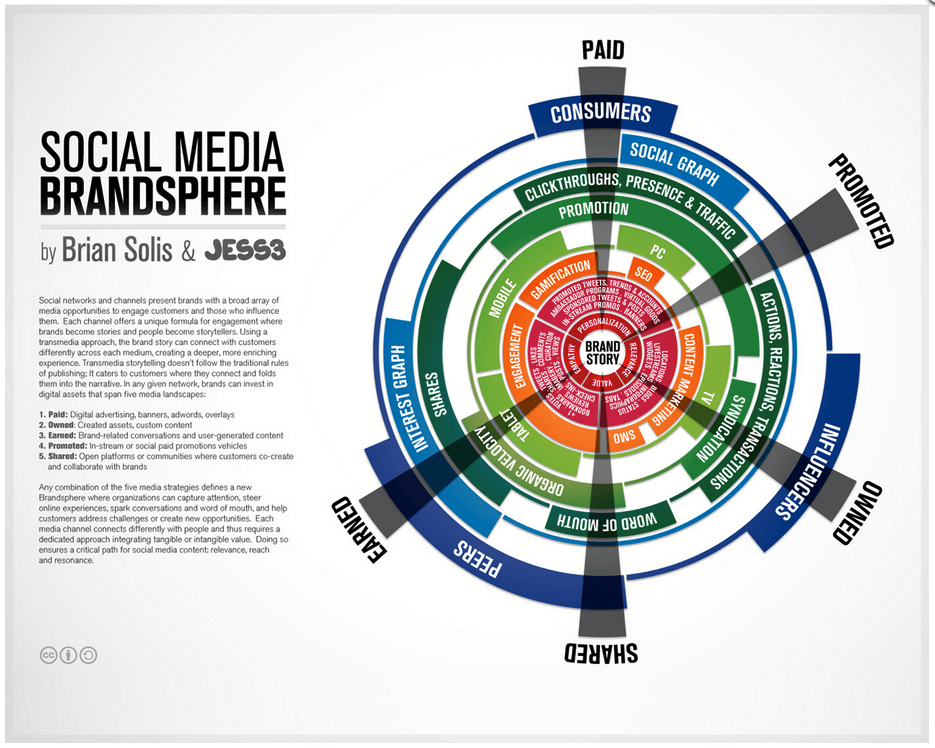 Forrester - Defining Earned, Owned and Paid Media
This summary is from a 2009 blog post Defining Earned, Owned and Paid Media is good for it's clarity.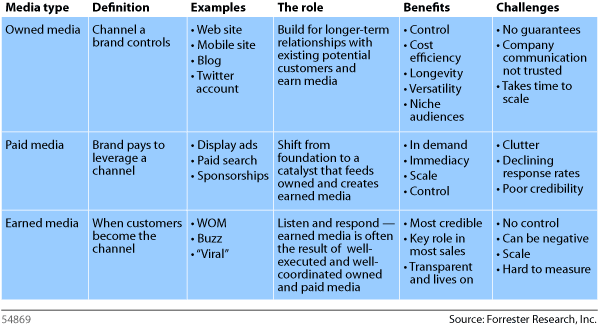 Forrester also have this more detailed definition of paid, owned and earned media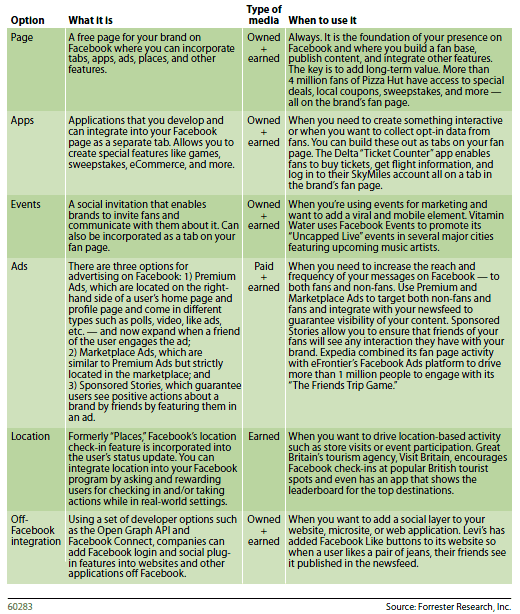 David Armano - Paid and owned media process
Armanio of the Logic and Emotion blog is EVP Global Innovation and integration and Edelman digital. I like this approach since it adds ideas on process for earned media.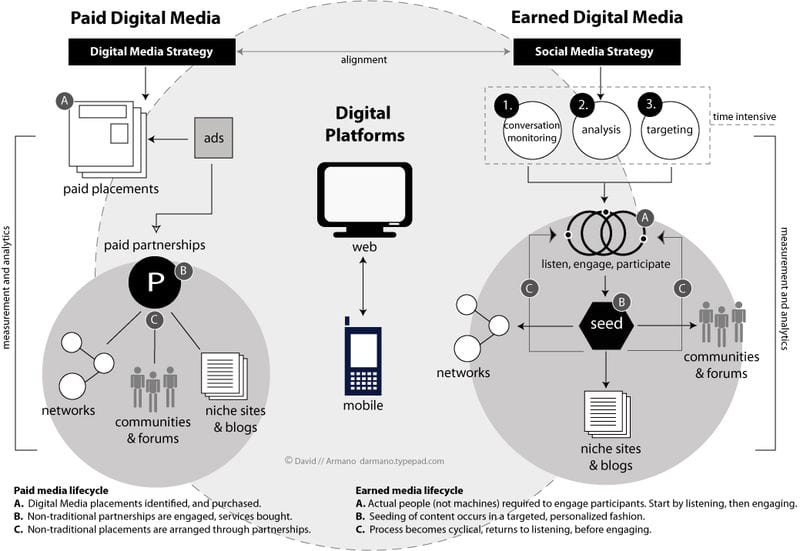 My Summary
My take from June 2011 on the intersection between these new channels, now included in my books is a simple visualisation.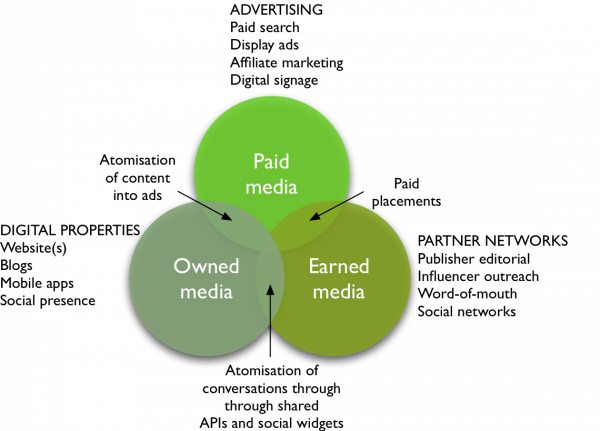 The main types of media are:
1. Paid media. Simple. Paid or bought media are media where there is investment to pay for visitors, reach or conversions through search, display ad networks or affiliate marketing. Offline traditional media like print and TV advertising and direct mail remain important accounting for the majority of paid media spend.
2. Earned media. Traditionally, earned media has been the name given to publicity generated through PR invested in targeting influencers to increase awareness about a brand. Of course, it's still an investment. Earned media also includes word-of-mouth that can be stimulated through viral and social media marketing and includes conversations in social networks, blogs and other communities. It's useful to think of earned media as developed through different types of partners such as publishers, bloggers and other influencers including customer advocates. Think of earned media as different forms of conversations occurring both online and offline.
3. Owned media. This is media owned by the brand. Online this includes a company's own websites, blogs, mobile apps or their social presence on Facebook, Linked In or Twitter. Offline owned media may include brochures or retails stores.
It's useful to think of a company's own presence as media in the sense that they are an alternative investment to other media and they offer opportunities to promote products using similar ad or editorial formats to other media. It emphasises the need for all organisations to become multi-channel publishers.
You can see on the diagram above that there is overlap between the three different types of media. It is important to note this since achieving this overlap requires integration of campaigns, resources and infrastructure. Content on a content hub or site can be broken down (atomised) and shared between into other media types through widgets powered by APIs such as the Facebook API.
Summarising brand use of paid owned and earned media
Summarising a brand's current use of paid-owned-earned media is a powerful technique as part of marketplace analysis for developing marketing strategy.
This marketplace mapping visualisation presented by Rich Kirk at Brighton SEO is great since it overlays different types of touchpoint point on the customer journey against Paid Owned and Earned media.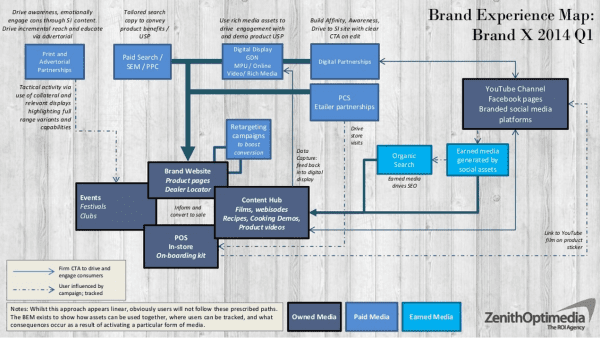 Note that some such as Dave Fleet and David Armano identify company owned social media as a separate channel from owned media, but social media cuts across all three.
Thanks to the others who have helped set out the way today's media looks and can be exploited, these are their recommended posts: