Smarter Google+ marketing guide
Reach new audiences and grow sales with Google+
About this guide
Google+ now has over 500 million users worldwide, with over 300 million active 'in-stream' users. This guide will allow you to make the business case to exploit the benefits of Google+, give you Six key techniques to expand your audience and show you how to find and interact with influencers on Google+.
Guide Structure
An introduction to marketing with Google+
Step 1: Plan - Developing a Google+ Strategy
Step 2: Reach - Reaching your audience through Google+
Step 3: Act - Encouraging interaction with Google+
Step 4: Convert - Turning Google+ interaction into leads and sales
Step 5: Engage - Keeping your audience engaged
Step 6: Resources
About our Google+ Marketing Guide
Our guide shows you how to:
Setup and review a personal or company page which makes the most of the Google+ features
Create a plan for managing Google+
Grow your followers in Circles
Use Google+ to find and interact with influencers
Encourage sales through Google+
Resource Details
About the authors
Gavin Llewellyn is an independent consultant. He is a Chartered Marketer who specialises in digital marketing, specifically in social media, SEO and online strategy. Gavin blogs at One Too Many Mornings where he offers advice, guidance and ideas on how individuals and companies can use digital marketing effectively to get found online, build engagement and generate conversion. You can Follow Gavin on Twitter and Google+.
Rhian Harris (was Simms) is an online marketing all-rounder and guest blogger for Smart Insights. With over 8 years of experience of all digital media and ecommerce from utilities, travel, charity and retail sectors, Rhian is now a digital marketing consultant working with businesses to deliver and optimise their performance on any aspect of their strategy. IDM qualified, Rhian also contributes to the Econsultancy blog and other expert websites as well as her own business, Consult&C Digital. You can connect with Rhian on LinkedIn, Google+ and Twitter.
What does the Smarter Google+ guide include?
The Google+ guide and all the Smarter social media network guides are structured around the Smart Insights RACE planning framework showing you how to use social networks to Reach, interACT, Convert and Engage your audience.
Making the business case to exploit the benefits of Google+
How to use Google+ to Reach, Interact, Convert and Engage your audience
Six key techniques to expand your audience
Using Google+ for SEO
Advertising techniques for Google+
Ideas on the best types of content to share
Packed with examples from different sectors to inspire ideas

Individual
Business
Individual or Business members get full access to this and 14 other guides in the Social media marketing Toolkit.
Learn more about membership
Already an Individual or Business member?
Login here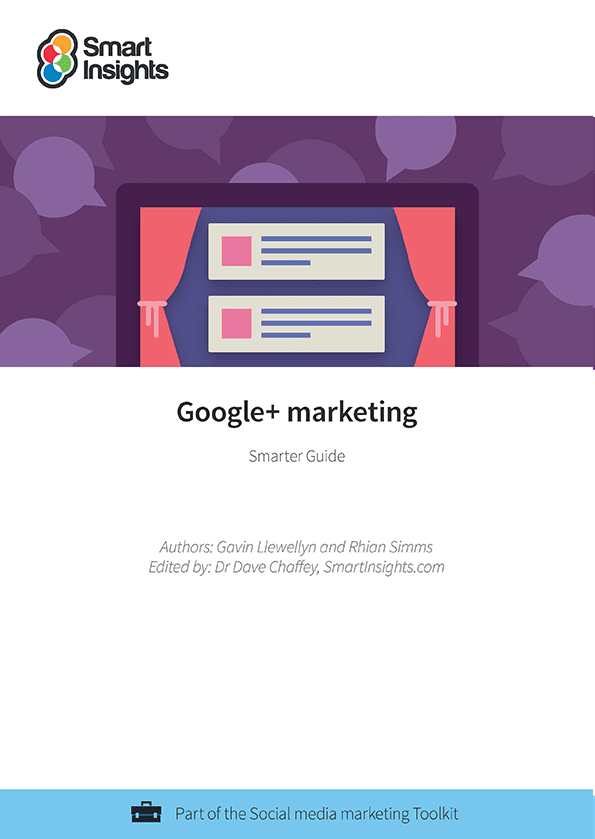 Look Inside