4 trends Email marketers need to stay on top of in 2016 and one trend you might decide to let pass you by this year...
The heart of (email) marketing is about providing customer-centric experiences. For email this is the mantra of right message, right person, right time. The closer you get to this the better the results.
Note for members: Download our Free briefing on Email marketing trends to check out the types of innovation that are happening in Email marketing today.
This is simple to say, but has been incredibly hard to deliver. Broadcast email has been so effective because of the high cost and limited accuracy of solutions to get right message, right time and right person. That's changing.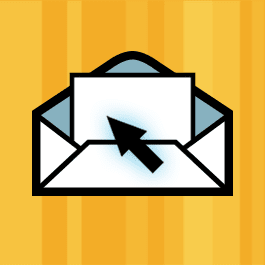 Trend 1 - Targeting
The best brands will be capturing behaviour across channels using it to improve customer targeting. The exact channels are brand specific, but in most cases that means across email clicks, website browse, mobile App and purchase behaviours.
Approaches to capturing user interests such as preference centres are dead in all but a few specialised cases. Brands not using behaviour in 2016 will be brands stuck in the past.
The cost point of doing this is coming down to levels that means there is ROI in the extra effort needed. Some ESPs are building in such capabilities; there are many third-party middleware solutions that add this capability as well as the option for larger brands of full blown Enterprise level marketing clouds.
Behaviour in 2016 will be driving some of the content included in broadcast emails and used in segmentation. Automation of broadcast content is a big area of growth, effectively providing segmentation at a huge scale.
However, don't expect 2016 to see perfection in technology for getting the right message/person/time combination. Relatively untargeted broadcast communication continues to have a place as part of the mix in 2016, as technology is far from perfect in prediction ability.
The same behavioural data also naturally allows more lifecycle marketing; treating suspects, prospects, new customers, regular, lapsing and lapsed appropriately. Turning a one-time buyer in a multi-purchaser is the initial starting point for anyone who doesn't yet have any lifecycle targeting.
We can also expect to see more personalised discount offers. Who gets a discount, by how much and when individually targeted based on the lifecycle using and traditional RFM models.
To review the options take a look at these 6 email segmentation and targeting options.
Trend 2 - Automation
Rather than switching to automation, brands should be supplementing existing email activity and blending in automation programs to supplement broadcast activity.
In fact many brands already have elements of automation included in their email programmes and they will be adding to this in 2016. But due to inherent limitations in email automation nobody should be consider stopping use of using any broadcast, albeit broadcast content driven by behavioural data as in trend 1.
The best trigger points for automation are those which show high intent for conversion and happen with reasonable frequency. For example, someone adding a product to their wish list could be a great trigger point, but if your customer base almost never does that then such a trigger point has little value.
Trend 3 – Inbox placement and deliverability
The main ISPs have had tremendous success over the last few years with filter algorithm development. Indiscriminate and illegally sent email has been beaten. Whilst users may still see a little spam, what they don't see is the massive amount that never gets to their inbox or even their junk folder.
In recent years ISP reputation has been assigned to IP addresses and domains. As ISPs continue to finesse algorithms they are recognise that one person's spam is another person's ham. Filter rules will work increasingly at the personal level and may lead to filtering of permission-based email from the inboxes of the users that are consistently ignoring the brand.
The DMARC protocol which supplements SPF and DKIM has been optional but in 2016 it will gain critical mass and be considered a must have best practice.
Getting to the inbox won't be challenge for brands who work on the trends 1 and 2 above, but continuing with the status quo will mean more challenges to inbox placement.
Trend 4 – Data regulation and privacy
It's clear that regulation is going in one direction only, both in the EU and worldwide. Permission is getting stricter, what marketers can do with data is going to be more tightly regulated.
In Europe the General Data Protection Regulation (GDPR) is agreed. We can expect to see privacy regulation changes too, as it needs to keep in step with data protection.
In the UK the ICO has issued more fines for illegal marketing this year than ever before and we can expect to see even more fines in 2016.
Whilst the ICO focus has been on the area of most frustration to consumers, illegal phone and SMS campaigns, the Telegraph Media Group were fined £30,000 for sending an email with content for which they did not have permission. Permission is limited to the scope given at time of opt-in.
As the GDPR makes it's way into UK law, within the next two years, the requirement for unambiguous consent looks like it will end the practice of pre-ticked check boxes for email permission during a purchase. Using an un-checked box that can be easily ignored will slash list growth and marketers are going to have to work harder at growth and find stronger reasons to gain permission. The change might be to requiring an explicit yes or no to force an active choice, so that the option of permission can't be ignored.
The ongoing situation with safe harbour being declared insufficient for passing data to the US from the EU should be resolved in 2016, the only question is how. Right now EU brands using services that places their data on servers in the US have an issue.
Trend 5 – Interactive email creatives
A few brands have experimented with pushing the envelope of email design, such as creating carousel type elements, hamburger menus and interactive features in their emails.
The very progressive and skilled email designers are looking to push email HTML5 to the limit, talking of developing almost a mini-website like experience in an email.
We can expect to see more clever email creatives in 2016.
However, it's far from clear whether this is actually a good thing. Some of the design innovations in 2016 are dubious in value. I've seen clever designs that make it harder to access content by requiring extra clicks to see all content, whereas a simple linear design showing everything with scrolling would be better.
Also not all email clients are able to support the very leading edge approaches, Gmail in particular. The growth in Gmail users means it's an important client for a majority of brands. It is backwards in HTML5 standards adoption and responsive design is a challenge. Whilst it may not get fixed in 2016 we can expect to see some light at the end of the Gmail tunnel as Google finally moves to make Gmail support the latest standards.
Unless you've plenty of resource, the push to create really clever email HTML might be one 2016 trend you want to just watch at the moment. Focus on the other trends above and let others put the time in to understand what actually works in this area. Keep your budget for now, it's one trend you can afford to be second on!