Home page examples featuring simple persuasive designs for desktop and mobile experiences
Creating focused Landing Pages is a standard approach for digital campaigns, particularly for engaging the first prospect visit from Google AdWords.
But more and more savvy brands are applying the principles of landing page design to their home pages. Less is more! We're not saying this is true in all cases (see the Amazon home page they find a longer-form landing page is more effective through testing. However it was in these cases when testing was used to assess design.
Examples of home page as landing page
Both of the companies featured in this case have now simplified their home pages further in recent redesigns - which I have featured in the latest update to this post showing how home page designs have evolved with the popularity of mobile design. An early sign of this trend was from two presentations I listened to back in May 2010 at the Emetrics Marketing Optimisation summit. Craig Sullivan of Autoglass and Michael Gulmann of Expedia (compare US home page to UK home page) explained how they have boosted conversion through simplifying their home designs as a results of AB and multivariate testing.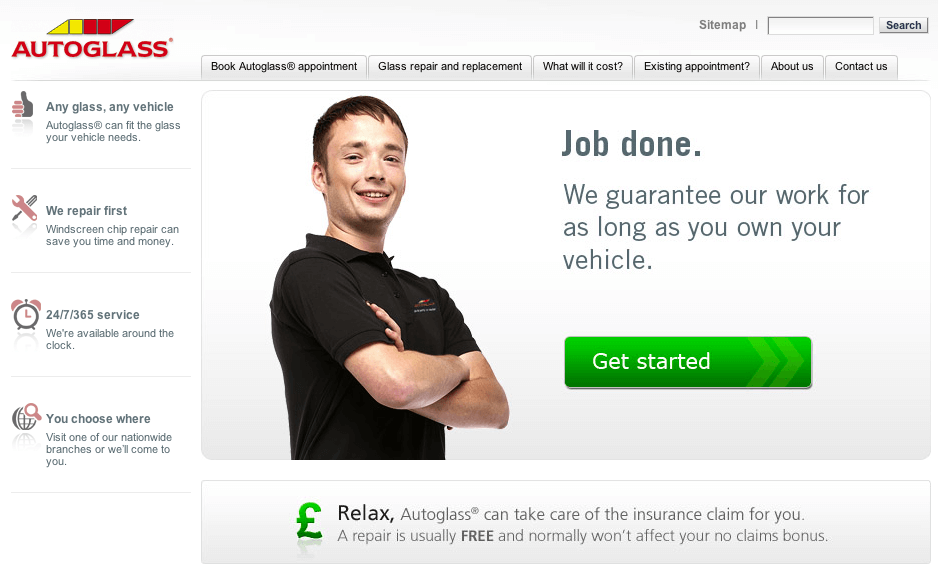 In 2014 Autoglass has updated its home page so it is has slightly more brand information while retaining the landing page format with a clear Call-to-action (CTA).
The new area is focused on answering users' key questions when selecting a service which I recommend you identify by this content-mental model mapping technique. These explain the benefits of arranging the service online as part of the online value proposition in the "Why choose us?" panel which is an important question for many services, but often missed.  What are your 10 key questions that prospects may ask about your brand?
This home page is not mobile responsive, instead Autoglass prefer an adaptive approach where smartphone users are automatically served a tailored mobile experience.
Key value proposition messages
Both of these examples have clear messaging on the home page answering the "Why Us" question?
Autoglass - originally:
Job Done: We guarantee our work for as long as you own your vehicle
Expedia:
Why it pays to book at Expedia:
More hotels (and more deals!) in more places
Serious savings on Flight + Hotel packages
No Expedia change or cancel fees on hotels & more
Home page examples
Here I have two examples, one B2C, one B2B, which share in common a high involvement, relatively complex product. They are also effectively mono-product companies, so the home page as landing page model is particularly appropriate for these types of business and it is probably easier for them to develop such a home page than for companies with a diverse range of products.
Disclosure: I am not consultant to either of these brands - I don't use companies I work for as case studies, but I do use these example of good practice when discussing improvements with my clients or delegates on training courses.
Ultralase home landing page
Ultralase was one of the UK's largest laser eye treatments companies.  Let's show their best practice through screengrabs. This is a classic simple layout before the advent of mobile responsive pages for which we will look at examples of later in this post.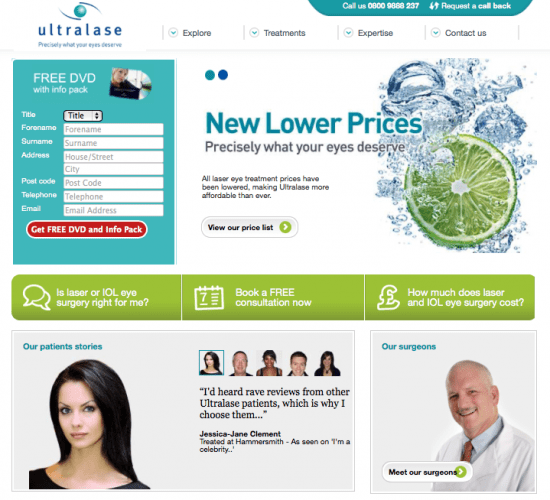 Here are some other features of the persuasive approach used on this page:
1. Prominent incentivised response-form
Multiple incentives and a prominent position of the form on the left hand side are consistent with eyetracking studies which show that the left-hand side of a screen has the most attention. By placing a form on the home page you will typically get a higher response than encouraging people to click through to a separate sign-up page.
2. Clear calls-to-action for main customer journeys
Prominent within the green bar, these are likely setup as conversion goals in Google Analytics. Containers blend image and text to avoid banner blindness. These containers all highlight their Online Value Proposition.
3. Key brand messages communicated
These are delivered in the carousel/slider top right covering customer concerns like pricing, surgeons, safety and experience. These "points of resolution" are often hidden in an FAQ, interesting that Ultralase highlights them on the home page.
4. Social proof
The right sidebar is used for the map to show scale through number of clinics and engaging containers for customer testimonials.
5. Prominent phone response
Vital for high value, complex products since conversion tends to be higher via the phone channel. Unique web number can be used for tracking online influence.
Of course, I have accentuated the positive and this site perhaps suffers from an over-emphasis on Direct response. Some common features are missing such as an "About" page to reassure about the history and stability of the company and a navigation to appeal to different segments - main reasons for seeking treatment.
Salesforce.com Home Page as Landing Page
Salesforce.com are one of the best known Software As Service (SaaS) CRM providers in Europe and the US. I have used their site as an example of well-balanced design with perhaps a better balance than Ultralase on brand-building, education and response.
Today Salesforce uses a mobile responsive design which is now a common approach. It's similar to their long-form landing pages . It has these persuasive features:
Clear customer journeys with CTAs above the fold
A carousel/slider - not the best execution to show different services - a tabbed design would work better here
Trust through social proof and customer stories
Use of keyword rich text in the footer for SEO purposes
Of course Salesforce.com also use more focused landing pages with nav removed for lead generation from Google AdWords.