Our experiences with using Social Bakers for social media management
Community management is not an easy job. Anyone responsible for an active Facebook and/or Twitter profile will tell you that. The skill set has evolved quickly and was summed up well in Get Satisfaction's recent Community Manager infographic.
Despite this skill set emerging there are a number of challenges that community managers face. Facebook and Twitter users want near real-time answers to a wide range of questions which can be on any topic from sales enquiries to specific customer support issues.  At TUI, I've believed for a long time that sales questions on Facebook or Twitter should be answered by our sales team, customer complaints should be looked after by our customer services team and so on.
An increasing challenge for brands is how to deal with this customer engagement at scale whilst maintaining detailed responses in a time frame suitable to the customer, and communicating them effectively and in the tone of voice of the brand in question.
A few months ago I went in search of a tool that would allow us to manage our communities more effectively (currently for 4 different brands) and which would enable the rest of the business to be more directly involved, whilst maintaining control of what was communicated to our customers.
Introducing Social Bakers

If you've heard of Social Bakers it's likely to be for their social media analytics; they publish all sorts of Facebook and Twitter stats which they take from their proprietary social analytics platform. I won't go into detail here (that's for another day and another post), but will focus on their new social media content management system. It's called Builder Pro and we've been testing it in beta for a couple of months now. This is what we've learnt.
What does it do?
It allows community managers to manage their social media pages and profiles from one dashboard. The current list extends to just Facebook and Twitter but Google+ is on the roadmap for 2013. Users log in via Facebook, accessing a dashboard tailored to the brands that they work on. There are four columns in the dashboard as can be seen below. One tracks competitor's activity, there's one for your brand's published content, one for incoming questions to your Facebook and Twitter profiles and finally, a column called outbox for any scheduled content yet to be published.
Below is a screenshot of my dashboard (click to enlarge):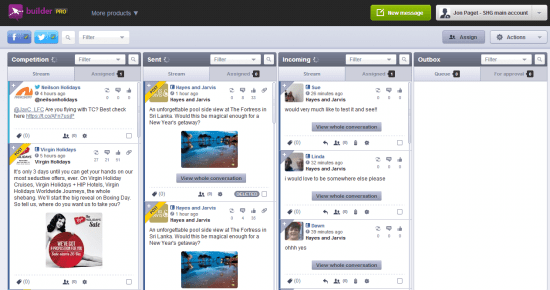 This dashboard brings everything into one place. I can, at a glance, see what's scheduled for the coming week across all platforms and all brands. I can also see how our content is performing (counters for likes, shares and comments updated in real time), view entire threads in a pop up window (see below for an example) or access specific posts on Facebook or Twitter directly. I can also see the questions our customers are asking and the responses our community managers have made.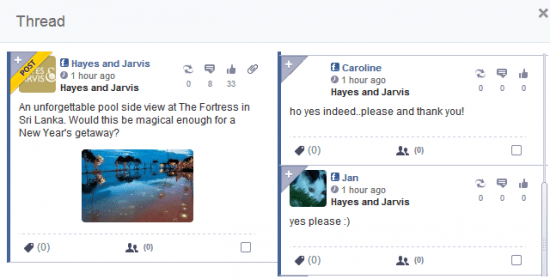 Assigning questions across the business
Apart from making it very easy to see what's going on, where and with whom, one of the true USPs is the ability to assign posts from the 'incoming' stream to any user that's been set up in Builder Pro. For example, if one of our brand pages receives a sales enquiry, the community manager can assign it to the member of staff best placed to respond.
In the example below this question would be assigned to our after sales support team to provide an answer, which would come back to the community manager for approval before going live.
Flexibility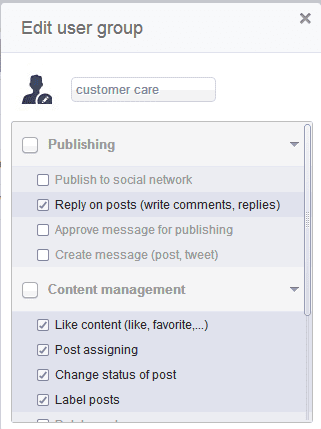 The flexibility of the tool means that different users can have different permissions. For example, a customer service team member will have different requirements to a product team member or, more obviously, with that of a community manager.
We have a number of different user groups set up with different permissions but critically, all responses go via the community manager before going live.
When it comes to scheduling content, permissions can be set to allow a user rights to publish social media updates. This goes to a community manager before being published and, if needed, can be easily and quickly edited (unlike Facebook's scheduling tool), without resetting any of the scheduling or geo-targeting settings which have been set up.
What are the benefits?
Introducing a tool like Social Bakers has a number of obvious benefits. It's allowed us to turn around customer enquiries more quickly, many key people across the business are now more directly involved and, crucially, the process is scalable.
I should point out that whilst there aren't many tools like Social Bakers Builder Pro currently set up, Wildfire (recently taken over by Google), offer an alternative.
Whilst still in beta, my experiences to date lead me to think this type of solution has a big future; whether for brands with large scale social media activity or for companies / agencies with multiple brands.
Social Bakers' client list currently includes other TUI Travel brands, the BBC and Nokia to name a few. 2013 may well be the year for tools like this bringing far greater organisation to community management. We shall see.