Statistics on mobile usage and adoption to inform your mobile marketing strategy
"Mobile to overtake fixed Internet access by 2014" was the huge headline from the widely shared infographic at the end of this post summarising the bold prediction from 2008 by Mary Meeker, an analyst at Kleiner Perkins Caufield Byers who reviews technology trends annually in May (see latest KPCB 2014 technology trends).
To help you keep up-to-date with the rise in consumer and company adoption of mobile and its impact on mobile marketing, Dave Chaffey, Rob Thurner and I will be keeping this post updated throughout 2014 as the new stats come through to support our New 120 page Expert members Ebook explaining how to create a  mobile marketing strategy. We also have a free summary mobile briefing for Basic members.
March 2014 update:
Percentage of consumer mobile device usage
As Rob Thurner explained in his post on KPIs to review mcommerce effectiveness, it's important to keep track of the split between users of mobile and desktop devices visiting your site(s). Using advanced segments in Google Analytics is the best way to do this.
New insight from comScore published in their February 2014 market review shows the picture that marketers need to build up. This panel data shows that the majority of consumers are "multiscreening", accessing retail sites on mobile or desktop, so consistent experiences across device need to be deployed.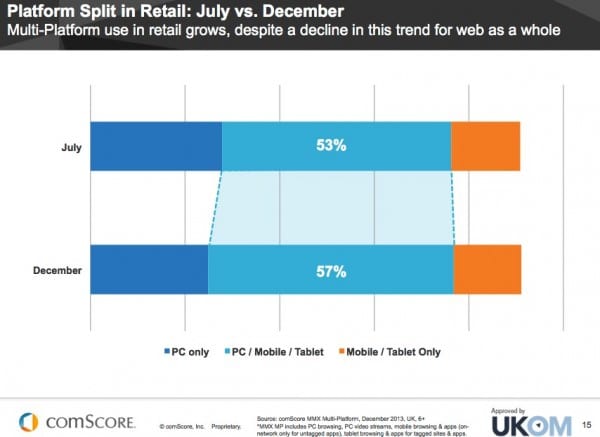 Insight on the mobile research process
Google's mobile path to purchase report surveyed 950 US consumers across 9 different verticals (Restaurants, Food & Cooking, Finance, Travel, Home & Garden, Apparel & Beauty, Automotive, Electronics, Health & Nutrition) to assess how they researched purchases via mobile. A key finding is the starting point for mobile research. As might be expected search was the most common starting point, but it's lower than desktop showing the importance of branded apps and mobile sites.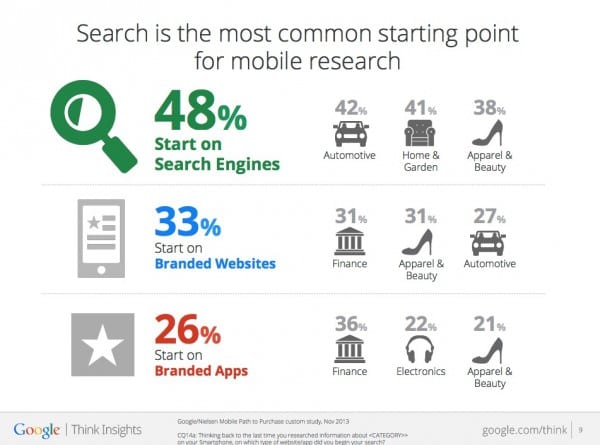 Mobile media time – app vs mobile site usage?
Consumer preference for mobile apps vs mobile sites should also be thought through as part of mobile strategy. This data from Nielsen on mobile media time shows the consumer preference for mobile apps which account for 89% of media time in mobile as might be expected from the use of the most popular social network, email and news apps.

Mobile device visit share and conversion rates for Ecommerce sites
The Monetate Q4 2013 Ecommerce Quarterly published February 2014 gives insight on smartphone vs tablet vs desktop share of audience for large Ecommerce brands.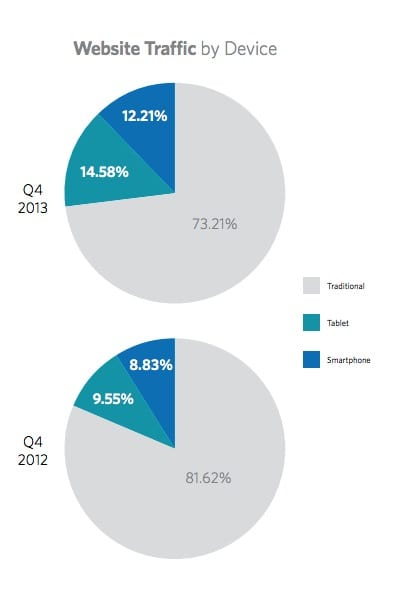 This source is useful since it's a regular survey showing the growth in use of mobile site visitors. enables you to drill down to see usage by device type, for example iPad is still the dominant tablet, but Kindle Fire and Android tablets now account for over 10% of tablets. You can see that tablet and smartphone use nearly doubled in the year based on 500 million plus visits for these retail clients (see link above for methodology). Mobile share is now around 27% on average.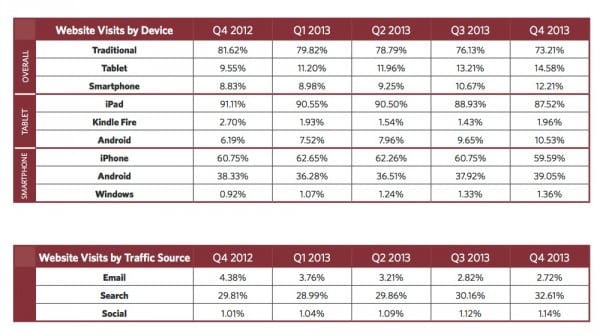 We have a separate compilation of Ecommerce conversion stats if you're creating a business case for mobile optimised sites as explained in our mobile marketing strategy guide, this data is also valuable since it shows the variation in conversion rate by mobile type.
April 2013 update: App usage (80% of time) dominates browsers in mobile usage
We reported comScore data in May 2012 that showed that on smartphones 82% of mobile media time is via apps.  This is a key insight as companies decide whether to develop mobile apps or create mobile device specific apps. In April 2013 mobile analytics vendor Flurry released a useful summary of category of app usage across smartphones and tablets and similarly to the previous report it shows that app usage dominates browser usage as they put it: It's an App World. The Web Just Lives in It. You do have to be careful about interpreting this though, since Facebook, games and utility apps will naturally have the greatest time spent and browser use is still significant by volume if not proportion.

The 5 best sources for mobile marketing statistics?
This update to this post features some of the latest updates on mobile statistics from 2014 and highlight some of the best sources to make the business case for investment in mobile marketing in your presentations and business cases to colleagues or clients.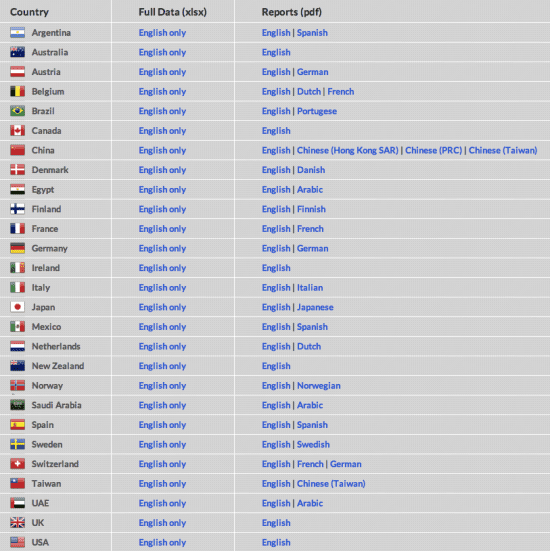 In addition to downloads for each country, you can also create your own charts focusing on KPIs of interest. For example, if you're based in Australia you can look at usage by demographic.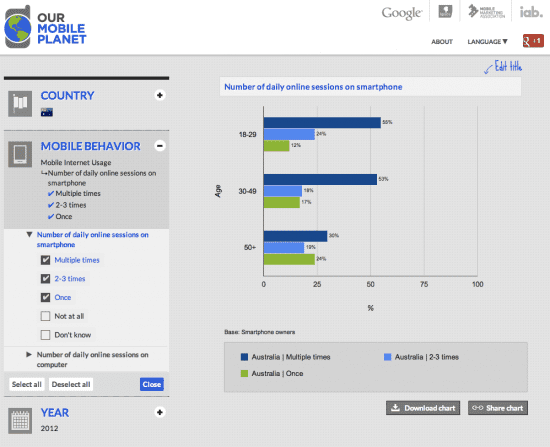 The weakness of the current data is that it focuses on Smartphones, not tablets. It may be useful for pushing back against over-enthusiastic colleagues or understanding consumer barriers. For example, less than a third of Australians have ever bought on a smartphone and you can see there are barriers of security and preference for desktop purchases.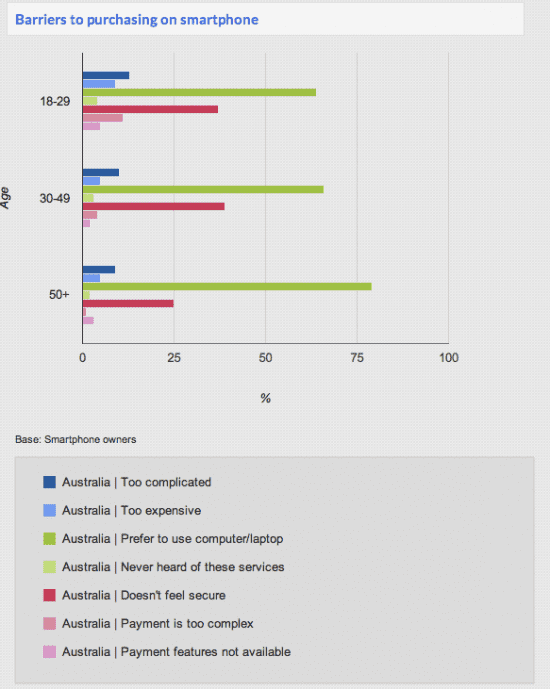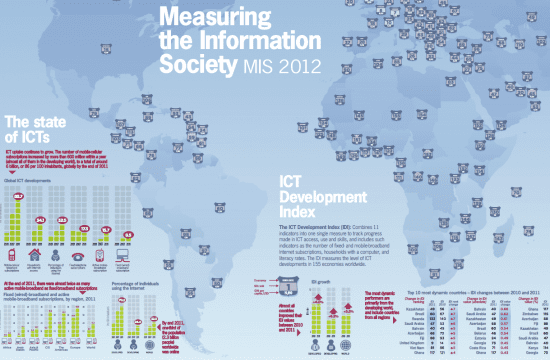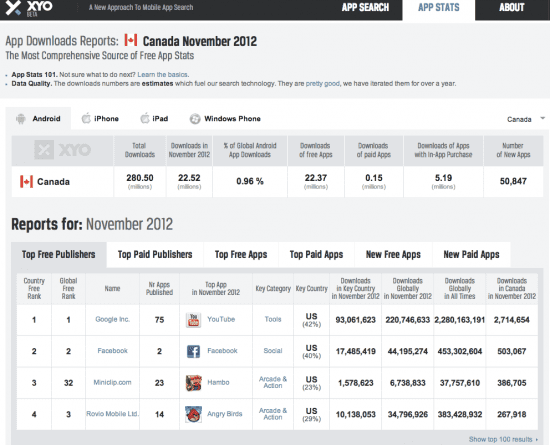 We also recommend the Flurryblog (http://blog.flurry.com) for specific reports on trends in app usage. For example, this recent compilation of app usage shows the dominance of games and social networking and the potential of utilities.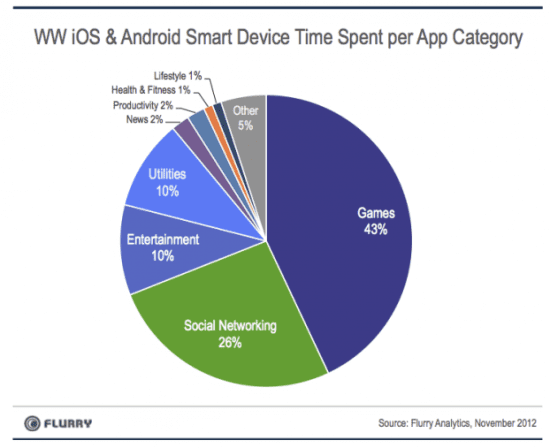 Comscore is one of key worldwide sources useful for marketers to help us find out about the changes in use of mobile media by consumers. This graph shows the pattern across Europe – follow the link above for US and other country breakdowns.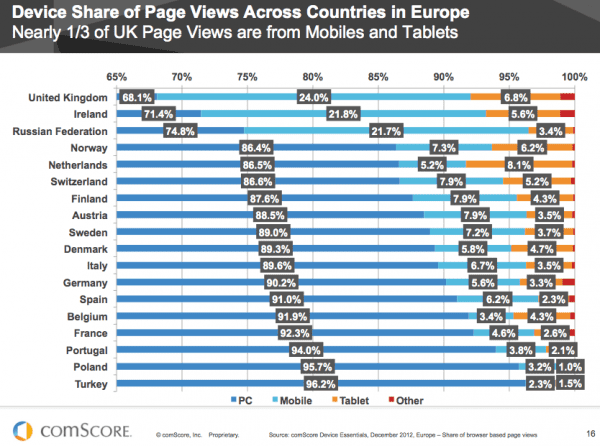 The report shows much lower levels of adoption in other European countries though – not even a fifth in most. So extrapolating UK behaviour to other countries would seem to be a mistake with the mobile figure still key.
The report also has useful summary of dayparts of different device behaviour, similar to others published.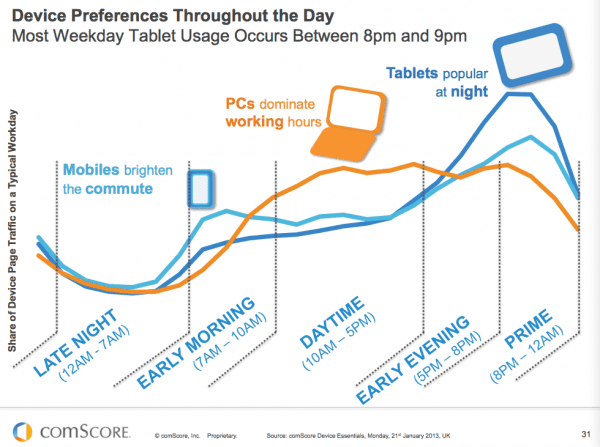 Retail mobile use
Mobile was again the focus of the section on retail statistics. Audience growth rate is 80% + on mobile in these UK sites, but lower on grocer sites for obvious reasons.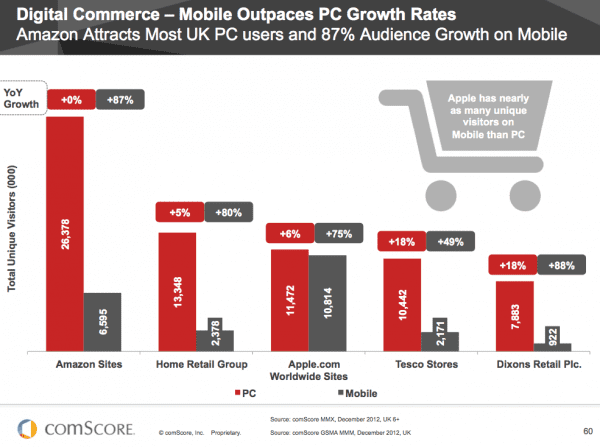 Consumer preferences for using mobile commerce for retail
We know from the oft-quoted stat later in this post that mobile access to the Internet will exceed desktop access by 2012. But when reviewing mobile adoption statistics, it's access doesn't equate to usage or preference. Good evidence is presented in this new research published by eMarketer on Jan 24th, 2012.
It shows that PC/laptop purchases are preferred by 87% of respondents, with mobile websites preferable compared to apps for retail.
Mobile usage statistics in Europe
We now add some detail to consumer mobile preferences using the latest July 2011 Comscore Mobile Lens data on Mobile phone usage.
The latest data (collected May 2011) suggests that mobiles are not used as widely as might be expected, given the hype, for different web applications across Europe, with just 32% using a mobile browser across these 5 European countries, although the figure exceeds 40% in the UK.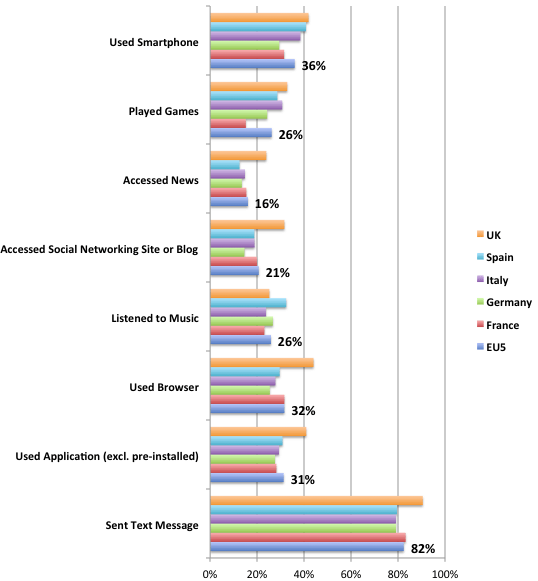 Mobile retail usage in Europe
Looking at the retail sector, we can see that just 1 in 10 use mobile access to retail sites through mobile web and apps.
However, the report does show the future growth potential with year-on-year growth rates of 80% suggesting a brighter future for mobile usage.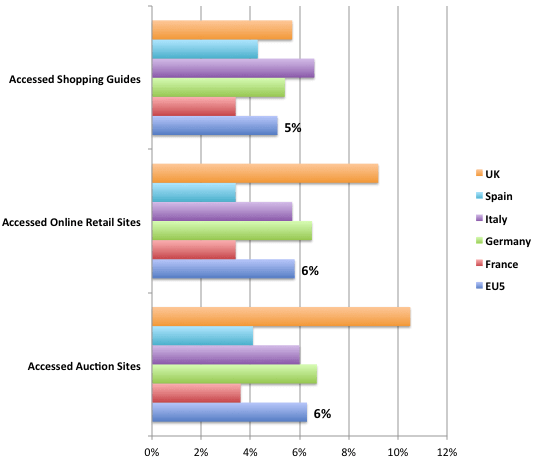 If you're a retailer planning your strategy then the report has additional info on breakdown between mobile web and app access to retail. The stats that matter most will be the % of visitors already accessing or buying by mobile and I know this is over 10% in many cases.
Dave Chaffey
In 3 years mobile "should" take over desktop internet usage
What do you think? Either way – this info-graphic from Microsoft Tag provides some serious food for thought and it's great to see this data together to help with future marketing planning.