Improving EdgeRank factors for a Facebook company page updates
Last week we looked at how Facebook's EdgeRank alogrithm works for marketing. This week we look more specifically at how to improve a page's Edgerank. So, let's get straight into it... I'll review the three factors of Facebook update affinity, weight and decay that I introduced previously.
Improving Affinity
As I explained in my previous post, affinity refers to how interested a friend is in a brand's page or how much of an online friend you are. Facebook gathers this data based on the clicks you have made in the past to that page /friend's feed plus the number of likes, shares and comments you have made.
Affinity can drop off relatively quickly so the challenge is to continually be building affinity with your fans. Think about posts more like a dripping tap than a single big splash.
"If you haven't had the dripping tap in the lead-up to a big splash, then most of your fans are likely to miss the splash, no matter how big it is"
(thanks to Kelvin Newman for that analogy).
What kind of content is most likely to build affinity? Here are some ideas:
Status updates that ask questions – people are far more likely to comment if asked than if not
Fill in the gaps status updates e.g. "Today I am mostly ________"
"Sticky" content such as funny photos and videos that people will want to share
Controversial content – there's nothing like a provocative statement to get your fans up in arms – but make sure that you're not damaging the brand in the process. Whenever we publish controversial content we see our negative feedback numbers rise in our Facebook Insights data – these are the number of people who are unliking the page or hiding the story as a result of our post.
Use of celebrities – they both catch the eye and so many fans are keen to like and share celebrity related content
Giveaways and freebies
Polls
Links to other great content on the web
Jump on a meme – see this "Think I do" graphic I created a few months ago and the viral effect it had
Tell people why they should like, comment or share your content. I did this recently as part of a blog post on why we publish controversial content and saw a noticeable rise in engagement in the following days.
And despite Affinity being one-way, you commenting on a photo or status update which then triggers your fan or friend to comment back would lead to them having a greater affinity to you.
Improving weight
Usually it's losing weight... Weight refers to the type of information Facebook deems is more valuable. Edges with higher weight include videos, photos and links. Each person's Edge Weight is different, i.e. someone who likes browsing photographs is more likely to have them in their feed than someone who rarely clicks on them.
However, weight will also accumulate, so if a simple status update gets a lot of comments, likes and shares, it may well be given more weight so will overtake a photo.
To build Weight it's worth focussing on increasing the number of Edges you publish containing one of the big three – photos, videos and links. Remember that it's likely that videos uploaded to Facebook rather than YouTube will carry more Weight.
Park Bench and Scratching Post use photos really well, regularly uploading cute pictures of cats and dogs. Not only do these get lots of likes and shares, but they also encourage fans to upload their pictures of their own pets.
Can you think of a series of photographs you could upload over time?
Apart from anything else, photos are really useful in that they significantly increase the amount of space on a screen (especially mobile screens) that your update occupies in comparison to short text-only status updates. Photos draw the eye and used well can be a significant marketing tool.
Do also think of combining approaches. So add a location to your updates, post a video with a link or add a photo to a question as in this example below.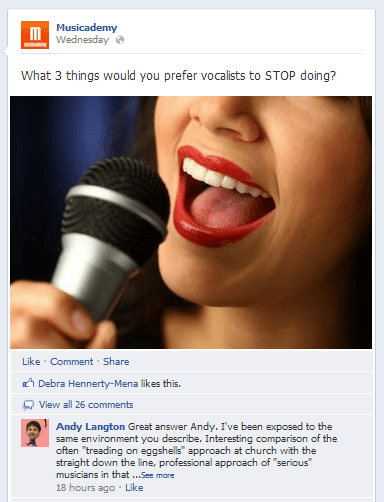 Reducing Decay
With Facebook, recency is a key driver. Posts decay incredibly quickly over time, so new edges are favoured over older ones. Just as search engines are attracted to fresh new content, so too is Edgerank.
The challenge with decay is to find a time for posting that best fits with your audience. That's fine if you have a pretty homogenous target market, much more of a struggle if you are working across international timezones.
I work with mainly UK and American fans. The only window I really have is late afternoon UK time. This, in theory will work well for Americans who check their newsfeed before getting out of bed in the morning, but my status update will probably have disappeared for those who don't look at Facebook until much later in the day.
So I will always have a compromise in relation to decay (unless I post duplicate content 12 hours apart – arguably a good strategy on Twitter but probably suicidal on Facebook). I therefore need to focus on improving my Affinity and Weight scores to ensure that my edges stay as high in the newsfeeds for as long a time as possible.
PageLever ran a limited study of 20 posts from five Facebook Pages with over 1 million fans. It found that that average lifespan of a Page post in the news feed was 22 hours and 51 minutes. The median lifespan was 19 hours and 30 minutes. These figures were based on when posts ceased to receive Likes and comments. Posts continued to receive impressions for a slightly longer period of time, but the bulk of feedback occurs within the first 20 hours of a post's lifespan.
From my own experience, of simply observing brand posts in my own (relatively busy) timeline, I'd suggest that these numbers very much represent the long tail. I work on the basis of having perhaps as few as three hours to make an impression – hence why the time of posting is so crucial to success. I recently looked at one highly engaged UK brand page using their Edgerank Checker account (see below) and this showed their average lifetime as a little under four hours.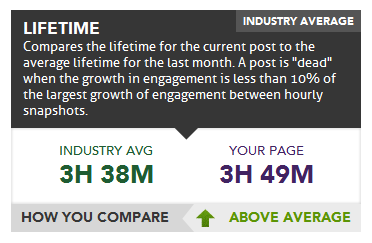 The other, slightly leftfield, thing to consider is the impact of competition. When are your fans likely to be having busy newsfeeds? Perhaps you could experiment with posting during the quiet periods. As there is less going on during these times, your content is more likely to stay high up in the newsfeeds. This is a strategy that can pay dividends with pay per click campaigns so potentially worth considering.