6 reasons why B2B marketing can succeed on Facebook
There is a growing premise in business marketing that whilst your website is your shop window to the world, you increasingly need to promote yourself and engage with your audience where your audience congregates. AKA "Swim with the Fishes". So, with well over 600 million users, where better than Facebook?
The case for using Facebook for B2B marketing
1. You just can't argue with the numbers. Whether it's 600 or 700 million, Facebook is the perfect place to cast the net wide. It is reasonable to assume that some of your target customers will be using the site in some way, shape or form. Mostly, though, for real time information and recommendations - which proves the continued importance of good relationships and word of mouth.
2. Facebook is viral by design. You want your content to spread, get it on Facebook. If it is any or all of the following – engaging, relevant, believable, accurate, amusing – it will be liked and shared. Having a page on Facebook is increasingly useful as it acts as a community creator and facilitator. This assumes, of course, that your target demographic act in this way.
3. Facebook offers lots of ways of engaging audiences and sending traffic to your website and other destinations. The debate rages about how to convert fans to customers but Chris Voss provided an interesting collection of Facebook marketing strategies to set you off down the right path.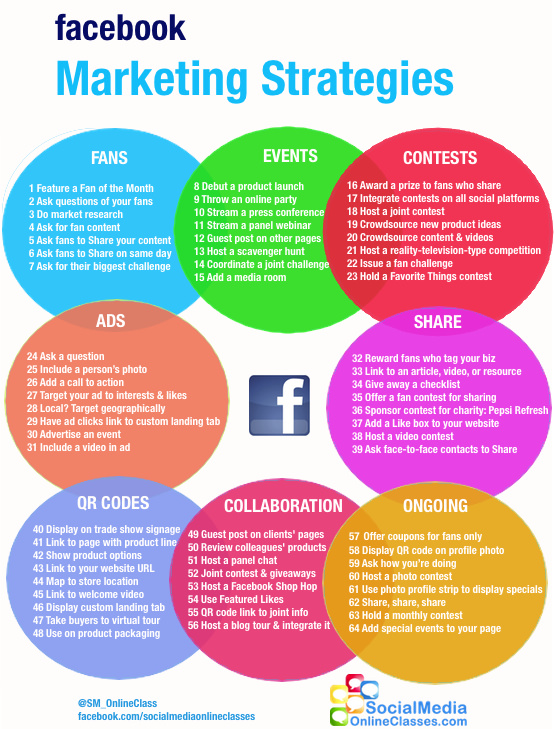 Source: ChrisVoss
4. Facebook offers highly targeted, low cost PPC advertising. Think about it; you probably see the same ads every time you log in. That's because they are attuned to your hobbies, interests and behaviour on the site. Though it has been reported the costs are rising sharply, and the argument continues as to the overall effectiveness, Facebook advertising delivers in terms of reach, cost per impression and cost per click, putting your brand in front of people who may be interested in it.
5. Facebook has affected all other social media platforms and delineated professional-personal networking. A rising number of users are fusing their Linkedin, Facebook, Twitter and Google+ activity blurring the traditional private vs. professional lines. As engagement with brands, campaigns, viral and video takes off, we'll inevitably see more B2C, B2B, public sector and media brands make the cross over to Facebook.
6. Early mover advantage. 5 means, there is still time to beat the b2b crowd as few companies in traditional B2B sectors are embracing the business services available, the opportunity to build a brand, develop a hub for all online content, drive the creation of an engaged, opted in community and drive transactional traffic.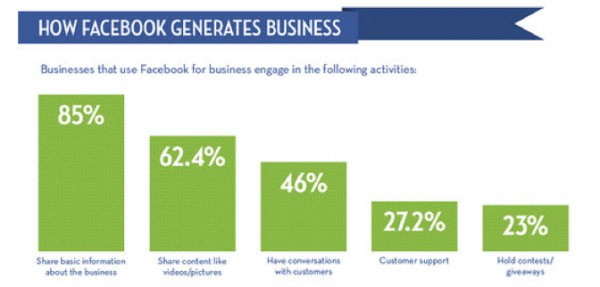 Source Pagemodo
The drawbacks of Facebook for business
Of course, Facebook is not without it's drawbacks. It was never designed for business in the first place. Interrupting people with business messages when they are conversing with family and friends can have an incredibly negative impact on brand reputation.
Many businesses still outlaw the use of Facebook during working hours and few senior managers (especially B2B sales directors) are convinced of its power to create a trust asset on which people are likely to transact given time. Advertising clickthrough rate can be low, and brands can achieve poor follow, fan and like scores – unless they are a hyperlocal and large international business.
Consequently, some of the most cited reasons for not using Facebook include

Source Pagemodo
The reality
Talk last year of some companies abandoning websites in favour of Facebook pages was premature. In business marketing, websites remain the dominant form of information throughout the research, shortlist and selection of new suppliers, partners agents and distributors.
Whilst in most in technical and professional business sectors there might be a strong argument for Facebook marketing, areas like manufacturing, engineering, construction, packaging and science and laboratory have naturally been slow to adopt. And, arguably, for good reason. It is about your customers, where they are, where they go for information, and how they engage with people and companies they come to value and respect.
Despite it's size, it's important to remember that Facebook is just another tool. Use it as well as, not instead of. Don't dip your toe. Formulate a plan. Research to see if any competitors, or more importantly, any customers are using it.
Stay tuned for my next post where I'll share some examples of businesses successfully using Facebook in the B2B space. Let me know if  there are any examples I should be using!