The Who, Why and Where of using QR or action codes for marketing
We've had a lot of interest in our previous posts on using QR codes for marketing which shows their potential, but I've had a nagging doubt in my mind about the response rates - no one seems to be sharing success stories. Either it's working fantastically well for QR code vendors and brands and they're keeping it close to their chests or they're embarrassed.
Recent reports by Comscore, help with answering the response rate question and also gives an idea of the level of adoption amongst different demographics together with interesting data on how QR codes are being used, hence the title of this post.
This summary reviews consumer pull - adoption rates in the US, UK and Europe, but this is also driven by company push as they use QR codes more in their campaigns - we have a separate post on company QR code usage with examples to show the latest approaches.
QR code adoption: Response rates
European QR code usage rates
A September 2012 report from Comscore shows that the European usage of QR codes by smartphone users has doubled in 12 months. Product information rather than offers dominates.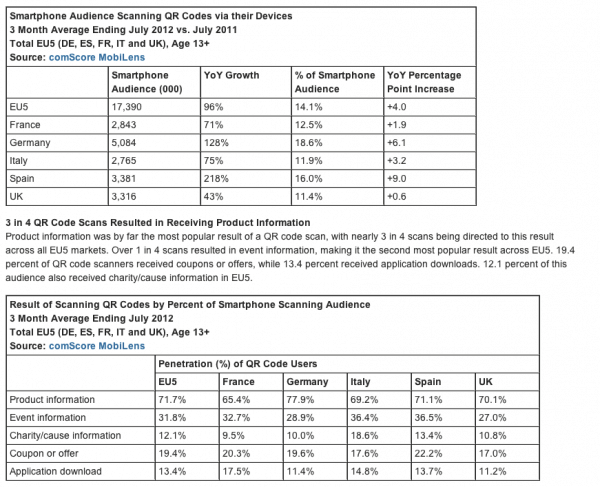 Comscore data showed that in  June 2011, 14 million mobile users in the U.S.,  6.2 percent of the total mobile audience scanned a QR code on their mobile device.
I don't know what you think, but that's an impressive proportion considering QR codes aren't bundled on many Smartphones and not everyone has a Smartphone. Maybe it reflects whose on the Comscore panel...
QR code adoption: Who is using them?
The report also shows these demographics:

Source: VentureBeat
There's a clear skew towards young (18-34) and male adopters, but I'm sure this will change with familiarity. The US postal service promotion offering direct mailers a 3% discount if they used QR codes was a smart move destined to increase QR code adoption by marketers and consumers.
QR code adoption: Why and Where are they used?
The latest data from the US from mobile specialist Nellymoser gives examples of action code usage in print magazines and the latest campaigns.
There is a clear message in the data about where QR codes are used which also suggests the why are they used. I'm turning to European data here, again from Comscore.
There is a clear at home/at work bias in use of QR codes. This suggests they are being used as a new form of "web response" to direct mail and suggests opportunities for tying in to personal URLs.
I had expected the outdoor usage to be higher with all the featuring of ads, so there is definitely a takeaway if you're involved in direct mailing. The use in retail and supermarket is quite high too - down to bar code scanning rather than promotions I suspect, but interesting all the same. I'm not sure about QR code use in Restaurants though - suggestions please!
Finally, to the add to the picture and returning to the US Comscore data, we get to see where the QR code was located...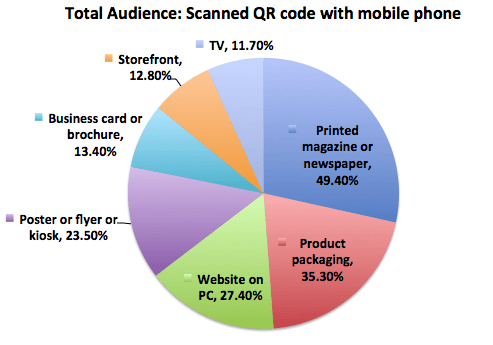 This fits with the European data, but introduces some new opportunities for use of barcodes - packaging, TV and on a website.... These are both quite high. I'm not sure about direct mail, that must be grouped under print?
QR code usage in Europe
This review has focused on latest usage in the US, but of course perceptions of usage does vary amongst audiences and it would be wrong to portray action codes as generating significant response. Market insight and consultancy company SKOPOS found in an evaluation on QR code adoption levels and perceptions in Europe that there was room for improvement in execution of QR code campaigns. Their conclusion "QR Codes: Quite Rubbish?!"
The study found that twice as many German consumers are using QR codes that their UK counterparts. SKOPOS found that 24% of Germans compared to 12% of UK mobile phone users have ever used a QR code. SKOPOS found two main reasons for non-use and infrequent use/take-up across both markets. First and unsurprising to me is disappointing and poor experiences. Almost three-quarters (72%) of users in the UK not agreeing it was a good experience! Indeed, 1 in 4, 24% referred to it as a poor experience…
Darren Mark Noyce, Chief Consultant at SKOPOS advises how the experience can be improved:
"In our view then, a QR code should always be accompanied by a "performance-bond" (outcome guarantee) as concrete as possible. What will I get if I can this? QR codes are most likely to be used when consumers know exactly what information they will receive, such as in timetables, nutrition information and recipes for food that downloads or specific product information.

Scanning a mobile QR code should be a shortcut to valued content or offers, not an effort, nor a disappointment".
I'm sure that many marketers (and consumers) who have experienced poor implementation of QR codes in campaigns will agree with this!
The other reason for infrequent use and limited takeup is lack of awareness combined with lack of capability with over 50% of respondents claiming not to have heard of them; possessing a phone with no capability (39%) or don't know how to use them (30%).