Insights and examples show why a mobile-optimised experience is becoming essential
The focus for many brands over the past ten years has been getting the fixed line website right. This is often the reason brands give for delivering their full site to customers browsing on mobiles.
The vast majority of brands - 83% according to research on UK smartphone usage by Google - still have not optimised their websites for mobile. This stat is mirrored by dismal bounce-rates for mobile sites, which stand at 88% on average. Clearly, consumers won't hang around on a mobile site which gives a poor browsing experience!
New Forrester research forecasts, published this week, shows that by 2016, one billion people will own smartphones, many of whom will be professionals taking these devices to work. By that year, consumer spending in the mobile app market will amount to $56 billion, and business spending on mobile projects will have doubled
As marketers, we need to understand how consumers use their mobiles; what are the triggers, what type of information are they looking for and in what situations are mobile used?
This can then help inform the business case and decision to adopt mobile. In this post, I'll show how Amazon and eBay have worked to create an effective mobile experience and end with some suggested steps to make sure the mobile experience is optimal once the business case is agreed.
How do smartphone users access the web today?
The Google research I mentioned above has some really interesting insights on this. I've summarised the main 3 learnings I think are most important (you can download the PDF if you'd like to read the full study).
1. Smartphones are used regularly for web activities
This chart shows how frequently a smartphone is used for different activities in a 7 day period. One of the best ways for gauging active use. It also shows the increasing importance of mobile search.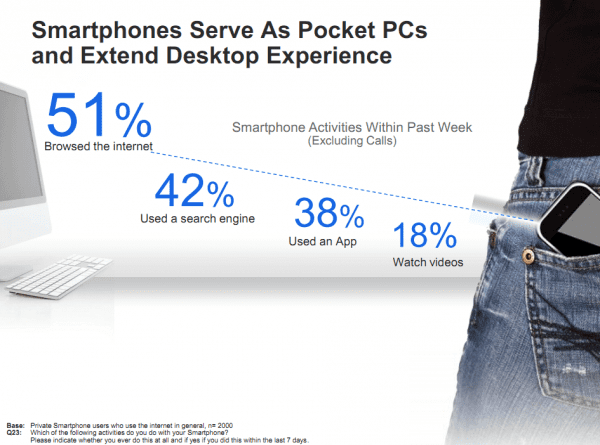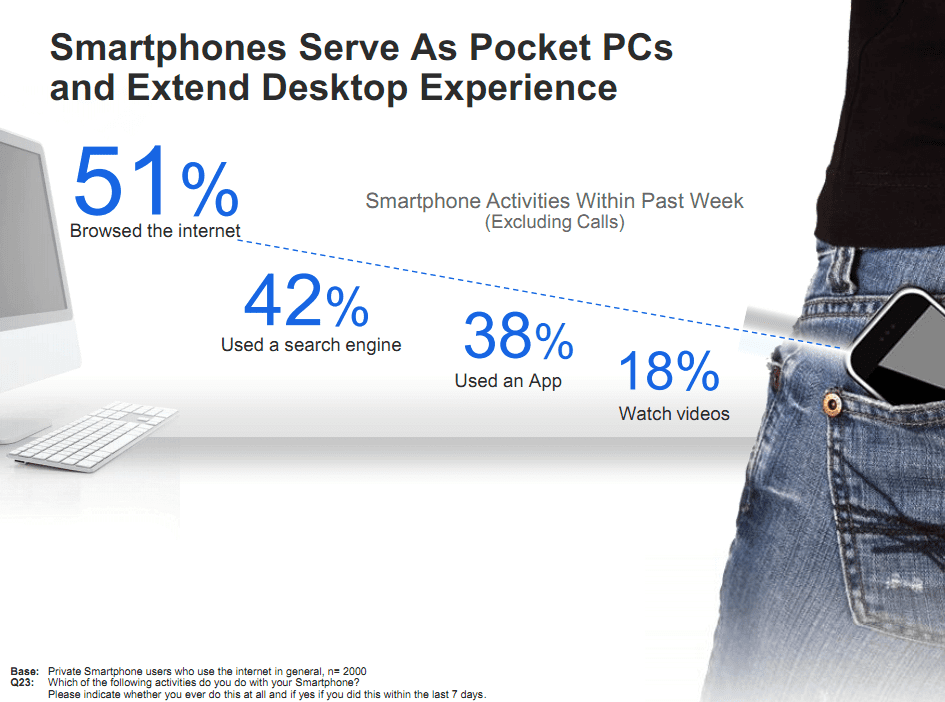 2. Triggers for smart phone usage
The striking figure here, is how often smartphones are used for passing the time, showing opportunities for brands to engage and entertain. They're also used for quick answers - here it's important that the mobile experience means they are quick answers.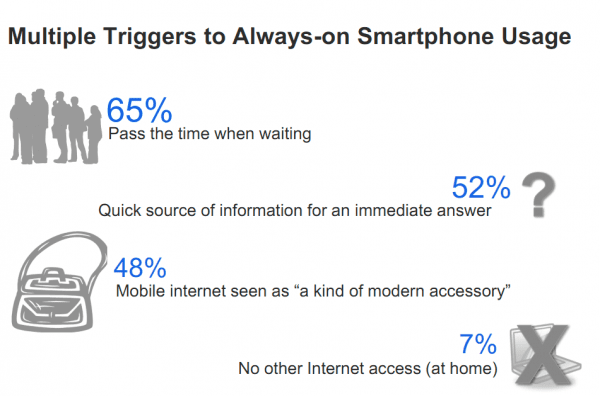 3. Co-consumption with other media is common
You would expect that tablet devices are commonly used while watching TV, but of course, not everyone has a tablet. Smartphones are also commonly used for this. So if someone searches on a brand after seeing an ad, the brand needs to be visible within the search results and to deliver an engaging experience.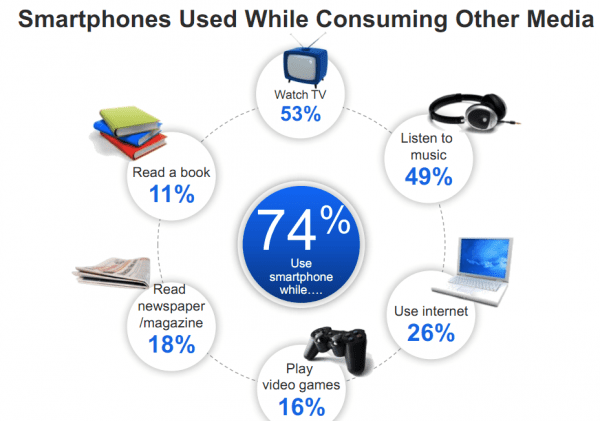 Learning from how the digital superbrands and their customers use mobile
Digital superbrands including eBay and Amazon have proved the central role of mobile. Although the mobile experience may not seem like a matter of life and death, but to brands in sectors like retail and travel, it my not be far from the mark.
eBay and Amazon are now using mobile to deliver a personalised mobile internet experience built on previous shopping behaviour data which is fully integrated with your content management system, and sophisticated targeting.
This is often to the detriment of brick and mortar retailers, whose bewildered store staff are confronted by growing numbers of smart shoppers doing price comparison shopping in their stores. Many of us are intent of seeing the product in the store, checking if we can buy cheaper on Amazon, then placing the order using our mobiles and waiting 24 hours for free delivery.
How Amazon is using mobile
Amazon's sales on mobile hit $1 billion on 2010, a figure surely surpassed in 2011 and heading north in 2012. User experience is a significant success factor.
If we take a look at their mobile site, we see Amazon encouraging use of their App together with a relevant Kindle promotion: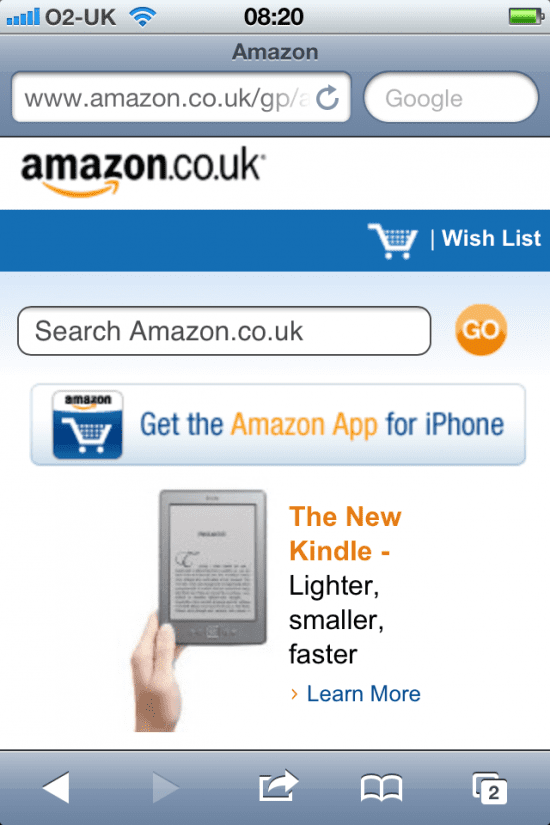 As you'd expect, Amazon have ported their signature personalisation features to mobile: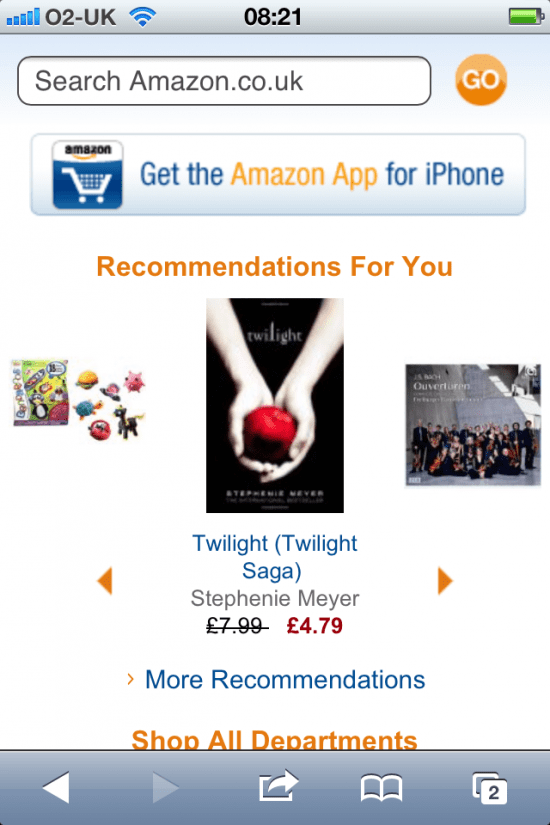 Peter Fitzgerald, country sales director for Google UK and former Amazon marketer, who delivered the keynote speech at the Annual IDM Lecture in 2011, likened a poor mobile site to closing your doors on the High Street for a couple of days a week. Poor sites turn away customers, and through their social networks, they turn other customers away. Into the open doors of your competitors.
How eBay is using mobile
eBay is now processing a transaction every second on its mobile platforms. Whether you're buying a pair of skis on your smartphone or replacement cartridges on your feature phone, eBay detects your handset and delivers a consistently easy browsing experience from product search to reviews and check out. eBay's year on year sales on mobile grew from $4 billion to £5 billion in 2011.
According to eBay's head of retail, Angus McCarey, mobile's effect on High Street retailers is unavoidable, and comes in the form of "shoppers hitting you in store with internet shopping in their pockets". eBay calls for collaboration with other retailers.
eBay's mobile experience starts with search as it should; their using the platform targeting available within Adwords to feature their mobile site and recommend the app: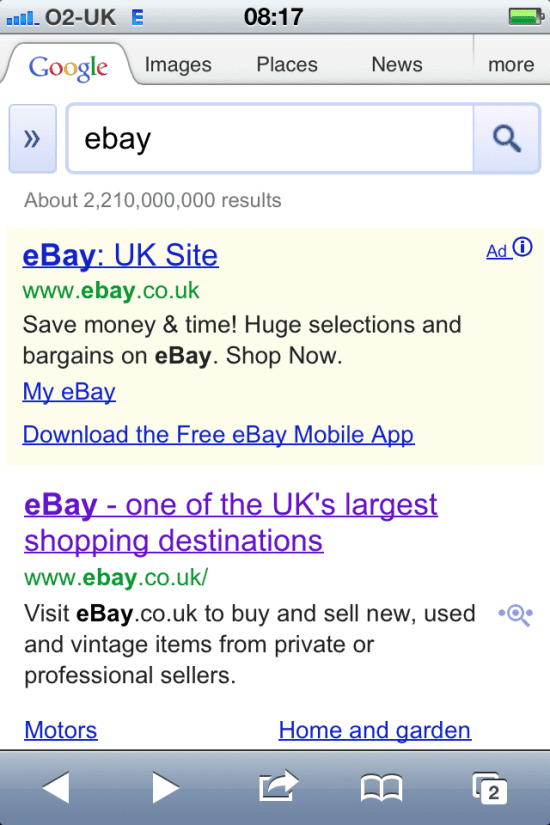 On the site itself, the app is again promoted, with an option to bookmark, but through a pop-up which fades after a while so as not to get in the way of the mobile optimised experience: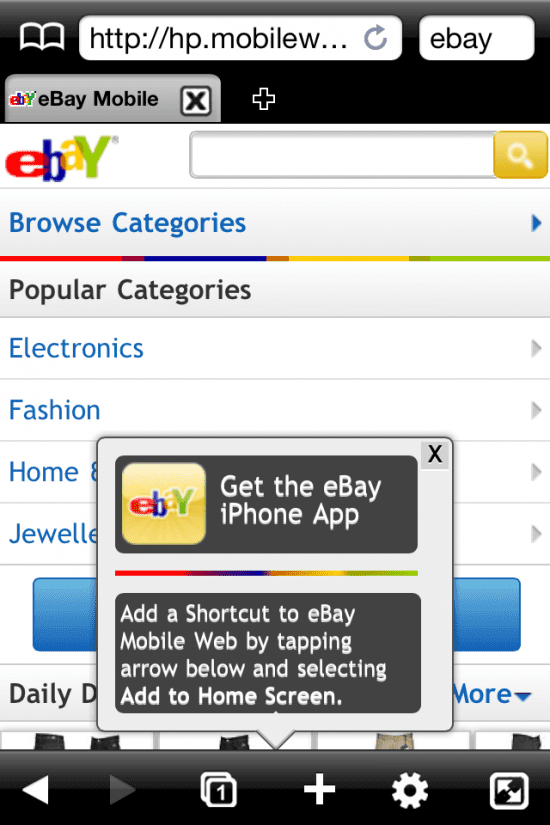 The implications for other transactional sites
Retailers must act fast to make sure they are providing an optimised mobile sales channel which is easy to find, quick to navigate, and secure to transact. In a previous article I showed how many retailers were failing to develop an effective mobile experience.
But there are other good examples of mobile user experience. M&S, a true mobile pioneer, has developed a mobile strategy matching the mobile behaviour of its target audience. At the heart of its targeted mobile CRM programme, developed by Incentivated , M&S offers customers an optimised transactional mobile site which handles one-off transactions exceeding £3,000.
Specialist brands are also reaping the rewards of optimised mobile sites
Kiddicare is one of the largest online retailers of baby gear in the UK, and one of the most successful brands to benefit from Google's support in mobilising retail brands' web presence
According to Fred Soneya, Kiddicare's head of e-commerce, "We knew that our customers are watching product videos on mobile, they're shopping on mobile, and they're looking for answers on mobile, so support and community for those experiences are essential", Kiddicare developed a transactional mobile site, with product reviews and store finder.
The site took just 7 weeks to design and build, from concept to launch, and the first order was placed within minutes. Mobile now accounts for 11% of Kiddicare's daily revenue and this figure is expect this to grow to 20-25% in 2012.
In this post, I haven't looked at the relative merits of mobile sites and Apps, which can provide a rich user experience to your smartphones users. As browser capabilities improve, we'll start to see more mobile sites looking like and performing like Apps. But in the short and long run, there's no substitute for the internet, whether accessed on PC or mobile, if you want to reach all your customers.
Top tips for brands launching mobile sites
I believe Amazon and eBay do all of these well. These are general guidelines for creating a mobile experience which works for all transactional sites:
User experience is fundamental. Make sure content is quick to find and easy to navigate
Use handset detection software. Once detected, redirect to a mobile optimised site matching that handset's capabilities
Ensure all other media channels drive traffic to your site. Add SMS calls to action or QR codes on above the line media, mailers, point of sale materials
Use personalisation. Personalised content, derived from full integration with your CMS, encourages return visits
Evaluate payment options and optimise checkout. Minimise steps in the check-out process to reduce drop off
Test! Test the site prior to launch to remedy errors, test text and layout variables to optimise user experience
Monitor! Monitor traffic and page views constantly, and refine content in realtime