Massive mobile tech trends that will impact marketing this year
You want your small business to make it in 2017; you better be aware of the mobile technology trends that are redefining how companies sell and market their products, advertise, or directly operate on a day to day basis. Change and new technology can be intimidating, but the reality of the situation is that for every business that resists change, there are two of its competitors who are embracing it. If your company doesn't embrace the change brought on by mobile technology, your business will become a flip-phone in a smartphone world.
It's a new year, so it's the perfect time to try something new with your business, and a mobile app should be one of those things. Chances are, you are already reading up about the industry-specific trends that will affect you. Mobile apps are no different, except they are changing every business. This includes your competition. Adopting a mobile strategy should be one of your top priorities, for 2017.
2017 is going to be a benchmark for the way mobile will impact small business worldwide. Innovations in technology are expanding not only what can be done with mobile apps but also making these apps more accessible to a larger number of consumers. The development cost of apps has dropped significantly over the last couple of years due to the rise of top app makers that are extremely easy to use. Their newfound affordability has made it to where nearly any small business can afford one.
Here is some of what mobile must offer in 2017.
1. 2017 Will See More Small Businesses Developing Mobile Apps.
The major success brands like Starbucks, Subway, 7-11, and Dominos have had with mobile apps has been phenomenal. Like most trends started by bigger companies, small businesses are looking to capitalize on the same idea. According to research done by Clutch, close to half of small businesses will have a mobile app by the end of 2017.
2. Location Based Services (LBS) Will Rule in 2017
Location based services advanced by leaps and bounds in 2016, and that level of growth and innovation is set to reach new heights in 2017. Using LBS or geofencing, the mobile app will know when customers are close and will send them special offers which can be tailored specifically to that customer to bring them in.
3. Augmented Reality (AR) and Utility Apps Are the Perfect Team.
AR used to be dismissed as a flashy gimmick or something just for games, but when combined with Utility Apps, they can add a whole other dimension of functionality to a device. When combined, they can boost customer engagement which is essential for reaching millennials.
4. Get Ready for Android Instant Apps
Imagine if your app could reach customers who don't have it installed on their device. That is what Android Instant Apps can do. It makes accessing an app, not on a device as simple as opening a web page. It does this by only accessing the code needed by the app at that moment. This means your business can come up on an app search, and the customer can use your app without having to have downloaded it first. You can see an example of a progressive web app from the FT below: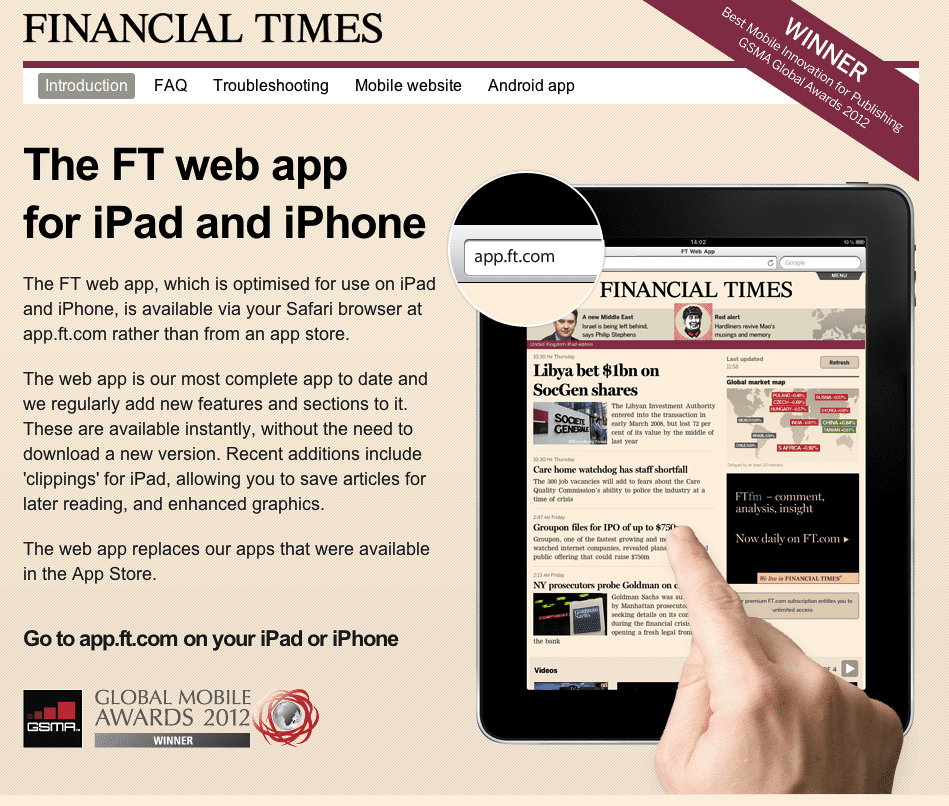 5. Artificial Intelligence (AI) makes smart devices smarter.
A growing number of app developers are embedding AI into apps. The impact AI can have on everything from education, gaming, and commerce is staggering. A learning app could adapt to the way a child best learns. Games could be more complex and challenging. For commerce, AI could be a virtual worker whose only job is to cater to individual needs of every single customer. A personal AI assistant could help a shopper by making a list of what they need, and add the goods "to the cart," leaving the user just to click "Buy."
6. Internet of Things (IoT) Apps Keep Gaining Popularity.
Everything is becoming smart and integrated into the Web, from TVs, parking meters, to crockpots. IoT means that mobile apps will be able to connect with more devices and more customers. This exchange and collection of data will make life and buying much easier and seamless for customers.
7. Mobile Security More Important Than Ever
The more mobile devices are used for commerce, and the more personal information they hold, the more they will be the target of hackers and criminals. Because of this, app developers have made security a top priority. While no security measure is foolproof, apps will continue to remain a safe way to shop and pay.
8. Revenue Generated from Mobile Apps Expected to hit $77 Billion in 2017.
Apps are quickly becoming a focal point for consumers, and the numbers prove it. In addition to the $77 billion, it is expected that 268 million mobile apps will be downloaded this year. Most of this revenue isn't from downloading the apps. It comes from the fact that apps are marketing tools that let customers discover what your business can do for them, and makes it easier for them to buy your product or service.
These three things are what companies must focus on to develop a robust mobile strategy. Utilizing mobile tech, the right way will put your small business on a path to growth.
Improve Customer Engagement
Increase and Manage Customer Loyalty
Use Mobile to Push More Sales
Final Thoughts
Take the first part of the new year to reflect on what worked for your business in 2016, what didn't work, and what you can do to make 2017 a better year. Get ready to make some changes and grow your business by learning how to create a mobile app. Half of your competitors are already doing it. Don't get left behind.