What are the options for promoting a mobile app?
Many businesses are now looking to use mobile apps to encourage customer interaction and loyalty. Fortunately, this seems to fit with the preferences of mobile users; recent research from Comscore showed the popularity of apps compared with mobile sites: 82% of mobile media time is spent with an app. So how do you get users to start using an app rather than a mobile version of the website?
Popular app discovery methods
A good place to start your plans for app promotion is to look at how apps are commonly discovered by mobile users. For popular apps from well known brands like those for Facebook, Twitter, eBay and Amazon, gaining adoption from an existing user base is relatively straightforward it seems. But what about everyone else, how do you encourage adoption of your app from existing and new customers?
This research on mobile app discovery shows that the most popular methods of app discovery vary by branded and non-branded apps: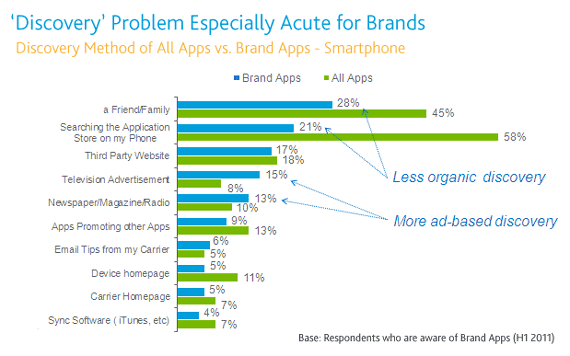 Mobile app promotion options
You can see that brands have a challenge in that for the two most popular discovery methods for brands: friends and family and apps stores, discovery is more limited compared to all apps. Instead more ad-based discovery is necessary. Let's now look at all the main options:
Searching the app store. Apple and Android are getting to grips with making their app store navigation easier, ranking search returns by popularity (based download volumes) and quality (based on review ratings). It's worth also exploring techniques for enhancing the likelihood of your App being found, including the KatAPPult service offered by specialist App advertising company madvertise.
Word of mouth - recommendations from friends and family and through social media. Most of the new Apps I've downloaded in the last 12 months have been recommended by friends, my Twitter and Facebook feeds and bloggers whose views I respect. Recent additions include Viber, which allows free peer to peer calls and text, particularly appealing when I'm abroad; Evernote, which allows me to write this book and sync the latest version in the cloud whether I'm making updates on my laptop, iPad or iPhone, depending on my location; and Instagram, for sharing great photos with our social networks.
Mention on device or network carrier page and app store marketing. There are clear advantages to getting close to OEMs, carriers and the App stores. Each party relies on the very best apps to raise awareness of their consumer offer. Having spent many a long hour working on the Waitrose Christmas Planner App, which was voted simultaneously by Apple and Android as App of the Week, I can vouch for the instantaneous translation of App fame among App top store users to download volumes.
Offline and email promotion combined with handset recognition. Offline mentions in TV and print work serve to signpost traffic to the App stores to download your App. It's worth using handset detection trick to identify the handset then drive traffic automatically to the App in the correct App store to make it quick and easy for mobile users to locate the App.

The customer journey for the respondent is:
sees SMS / QR code call to action on press ad
sends keyword to shortcode
receives bounce-back SMS with clickable link
clicks link and is directed to landing page where handset is detected
receives follow up bounce-back SMS with clickable link to correct App in matching App store
If you're amongst the select few included in the App store's own press and TV ad campaigns, happy days for cut-through and download prospects.
And let's not miss the obvious: your mobile site an obvious place to promote your App using handset detection. For example, mobile users of LinkedIn are presented with this ad to encourage adoption.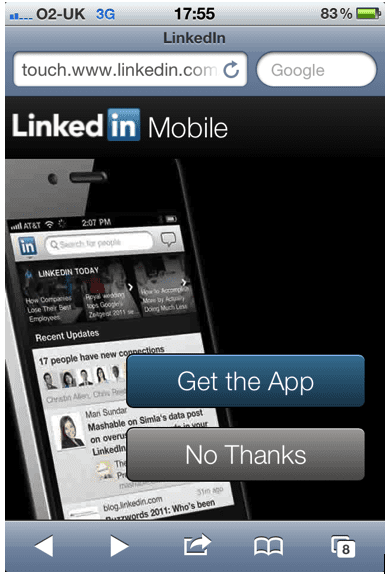 5. Paid search. Mobile search is a smart way to reach mobile browsers with smart phones if you have worthwhile App proposition. The example below shows how my search for 'booking hotel' triggers a quick and easy three step process for me to download the App: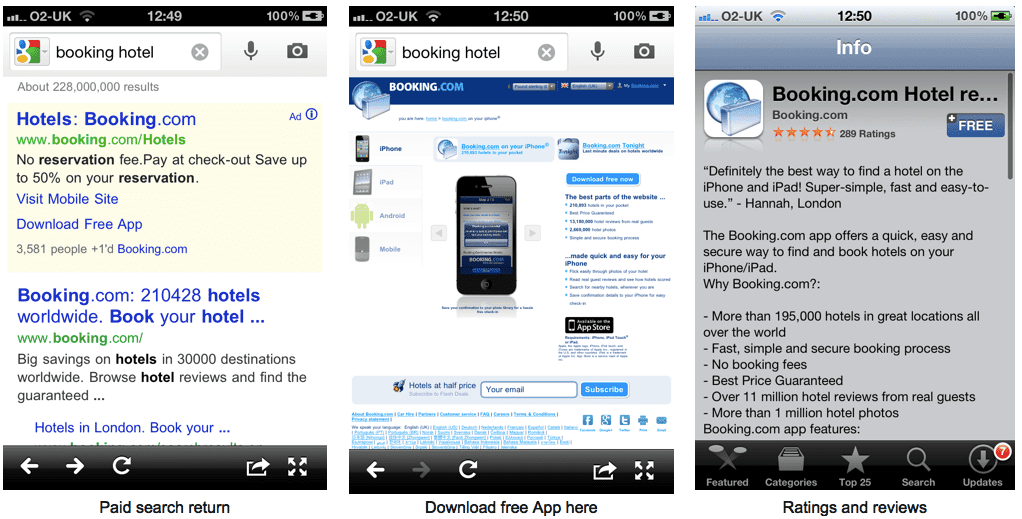 The steps in promotion are:
Step 1 - paid search return for 'Booking.com' which gives me the option to click for the mobile site, or download the free App.
Step 2 – summary of the App: "The best parts of the website … made quick and easy for your iPhone". Option to download free now. Note the handset detection being used here. Android browsers get a link to Android Market instead of iTunes. Note also, this would be a better user experience if the landing page was optimized for mobile.
Step 3 – Description of the App, with ratings and reviews. 289 and 4.5 stars in this case. This one is FREE.
So, these are the five main options for app promotion as I see it. Once your app is launched and you're promoting it, analytics can be used to find the promotion methods that are working best and then revise the approach. You can see which promotion methods, i.e. search, advertising, direct and email are driving visits to your own mobile site app pages, but unfortunately, not those for the app store.