22 Digital Marketing techniques that demand attention
Update: I update this post annually with a new poll on the techniques that readers think is important. You can see the latest poll in this post on Digital Marketing Trends for 2015 - in the article I have also covered what I see as 30 of the top tools for managing and optimising digital marketing in 2015.
Many of the trends I identified below will remain key digital marketing activities in 2015.
Each year, I review the latest trends in Digital Marketing to help define digital technologies and marketing techniques which will give options for companies to grow their businesses. In 2013 we reviewed top-level digital marketing trends, asking which trends will give the greatest commercial benefits, this year I drill down to the next level to give more specific practical recommendations to increase effectiveness.
What are the major trends in digital marketing for the year ahead?
To help define this we repeated our informal poll this year asking Smart Insights readers:
Please select ONE area of marketing which you believe will give you the greatest commercial benefits in the year ahead. In the poll, please select the single most important trend based on that which you think will make the biggest commercial difference to leads or sales in your company, or a typical client if you are an agency or a consultant. Thank you!
The results are below and show a familiar patterns with same 3 "usual suspects" still rated the most important commercially.
So, it seems as if the three core areas of investment in marketing for 2014 are likely to continue to be Mobile and Content Marketing and Big Data in many businesses. The most significant change is in mobile marketing where there is a decline in popularity, perhaps suggesting a realisation of the difficulty of encouraging customers to buy rather than browser via this channel.
But, I would like to think that Conversion Rate Optimisation and Marketing Automation will increase in investment since these are about process and improving performance, so they can potentially offer lower risk returns than other activities.
Since the main top-level trends, the "Usual Suspects" are likely to be similar for 2014, I thought that this, year it would be interesting and more useful to drill deeper to see which specific digital marketing technologies and techniques will be important trends in 2014. I've structured the trends based on marketing to achieve different goals across customer touchpoints in the Smart Insights RACE Planning framework. There are 22 trends I see based on companies I have worked with, examples I have reviewed and our own marketing activity on Smart Insights.
In the next sections I'll briefly run through key techniques I recommend focus on for 2014. If you prefer to browse, here is the full Slideshare deck.
PLAN trends
Trend 1: Defining Future vision of "Modern" or Integrated Marketing
How Digital Marketing integrates with other marketing channels is the biggest challenge of implementing digital marketing I see, more important than any tactics for specific channels. It requires leaders to define a vision of how channels will integrate and the transformation needed in people, process, tools and metrics to make the most of digital marketing. In other words, it needs a long-term strategy.
In 2011, when we launched Smart Insights Expert membership, we defined these 11 factors for marketing success that we believe are important. In 2013, Econsultancy developed their Modern Marketing manifesto which I recommend as a way of thinking through different performance drivers that need to be harnessed for the best results. Modern Marketing has been adopted by other vendors such as Oracle/Eloqua with the "Modern Mark" persona which is a neat device, but I personally dislike "Modern Marketing" as a label since it's a tautology – current marketing is always modern and its not descriptive! Instead I prefer to think of what's needed for Digital Transformation to Integrated or Multichannel marketing... Still, it's better than a simple vision on Inbound Marketing which doesn't emphasise the need for integration.
Trend 2: Managing performance drivers through growth hacking
Growth hacking is a concept from startup companies that is being applied more to larger organisations in 2013 - some even have Growth Hacker in their Job Title. Digital marketers may know it as CRO - Conversion Rate Optimisation, but it's broader than this, looking at testing different business models and refining Product offering and Pricing models too.
We recommend the success factor mapping technique based on the Ishikawa approach as a way of defining investment in platforms and activities to drive growth.
Trend 3: CXM: Investment in Marketing Personas and touchpoint satisfaction mapping
Modern Marketing naturally focuses on the customer and we've seen more focus on use of Customer Personas to help here as part of Customer Experience Management. Our customer persona toolkit is one of the most popular practical resources on Smart Insights.
In 2014, I expect the trend to managing the total customer experience to continue. CXM signifies a change from a focus on User Experience and usability of the first touchpoint to broader touchpoint mapping across customer journeys and through the customer lifecycle including evaluation of post sales support and customer service.
Trend 4: Investment in Brand OVP/YouTility
Success in online marketing has always been about how you invest to build a brand online across different digital platforms. As defined in my books since 2001, defining the right online value propositions for different personas has been key to online engagement, so I was interested in the examples of YouTility described by Jay Baer in his new book where content and interactive tools are developed to deliver the OVP: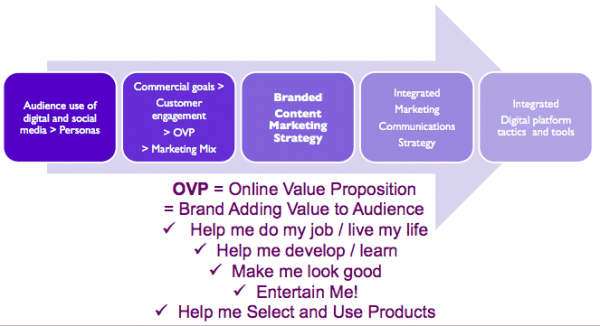 REACH Trends
Trend 5: Increase in micro-targeting using paid and owned media
As we've reported in our weekly alerts, 2013 has seen a growth in targeting options in each of Facebook (e.g. Promoted Posts, Custom Audiences, FBX), LinkedIn (Sponsored Updates adding to targeted ads) and Twitter (Keyword, Interest, Device and Geographic targeting of Promoted posts), these have given many more options to target the user particularly on mobile devices where the majority of social media interactions occur today in many consumer markets. Expect to see many companies will be testing and refining these targeting options in 2014. Will we ad targeting options in Google+?!
Trend 6: Use of attribution models to assess media effectiveness
We have reviewed different media attribution techniques for several years now, but they were never going to be widely adopted until free tools were available as Google has now done through Multichannel Funnels.
Google's earlier developments to bring customer touchpoint point modelling to the mainstream have been added to in 2013 by the new Attribution Modeling Tool and its Customer Journey Mapping benchmark.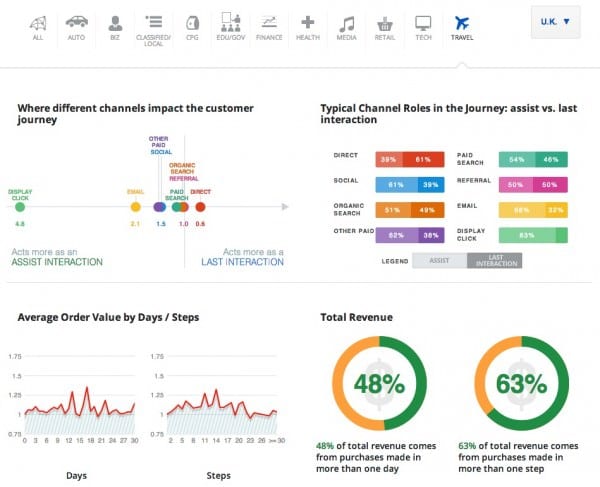 Trend 7. Mobile user online ad investment
Google and Facebook acted in 2013 to increase their ad revenue from customers using mobile devices, this was a major threat to their revenue model. Google's new Enhanced AdWords campaigns have had a large impact on CPC (for example, Greenlight has seen a 30% increase in CPC since Google's Enhanced campaigns ) were introduced. With the increased competition, working through the best way to adjust bids for mobile will be a source of attention for many consumer brands and their agencies. Using RTB and DSP approaches across mobile will also be a concern for larger brands.
Trend 8. Engagement through visual apps + content
In 2013 Twitter's 6 second Vine videos - examples, Instagram - see examples and Snapchat have become increasingly important with many brands trialling campaigns. This isn't a fundamental trend that will help transform most businesses though and there is a danger in chasing these "Shiny Objects" as Jeff Bezos has them.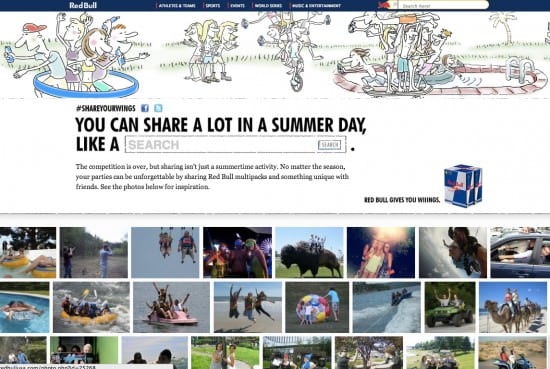 Red Bull Instagram campaign
Trend 9. SEO Signals = Content, author and outreach quality
Search continues to be a major driver of visits, leads and sales for most businesses, so it's important that companies, or their agencies are on top of the latest changes in the Google algorithm. I recommend these 10 trends from the Search Engine Journal summary for the best practical guidance. You can look at the Moz ranking factors, but this is more technical, less practical.
ACT Trends
Trend 10. Evaluation of content and social media marketing investments
In the SEO recommendations, there is a big focus on how to achieve content quality and social signals to show authority, so attention on how to develop what Neil Patel calls "Epic" content, Michael Stelzman calls "Nuclear" content should be a strategic focus of marketing in 2014. Take a look at our Content Marketing matrix to review the options for this type of content… For evaluation, see our guide to Evaluating content marketing ROI across RACE.
Trend 11. Interactive content marketing
The development of more interactive content marketing techniques will be a trend in 2014 – take a look at this interactive HTML5 Match Day dashboard from Man City as an example.
Trend 12. Investment in Outreach and Partnership
Of course Content Marketing is two words and I think marketers' efforts often focus too much on the Content rather than the Marketing – I think we're guilty of that. More investment in resource to help with outreach and partnership by segmenting influencers will help here.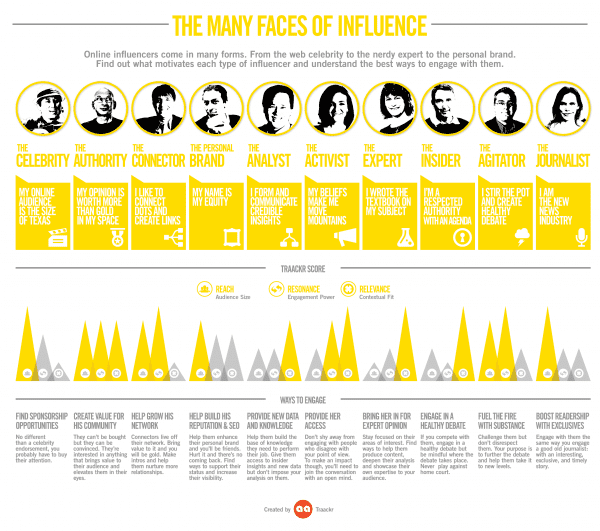 Trend 13. More immersive mobile responsive landing pages
There are some really interesting examples of mobile responsive landing pages being developed - rather than traditional, static form based pages, it will be interesting to see how these develop in 2014. Take a look at the examples for Google Nexus and Salesforce.com.
They both use a model of a scrolling approach so they work across devices. A bit like old-school squeeze pages with calls-to-action for each key message/feature, but more immersive through the styling and use of imagery and video.
CONVERT trends
Trend 14: Evolutionary website design
When we asked recently "when did you last update your website?" Over 50% in the poll hadn't done a major update in the last year – shocking! In the talk I describe our approach to 90 day planning and Evolutionary site design using RACE.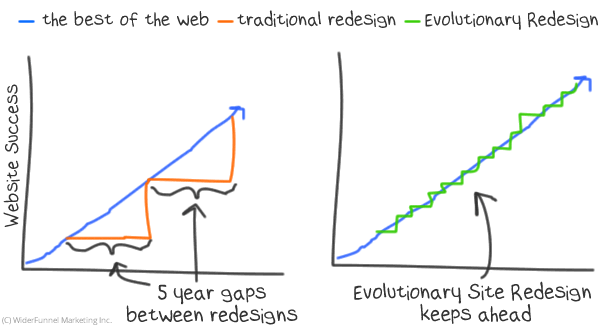 Trend 15: Mobile CRO
The increased use of mobile technology means that all structured testing and experiments need to take this into account too. It becomes more important to segment your CRO efforts and test on tablet and smartphone. I recommend this deck by Chris Coward introducing a structured approach to mobile CRO and this by Craig Sullivan covering technical aspects of mobile CRO.
Trend 16: Deeper use of analytics
We regularly advise on better use of analytics to drive sales improvements on Smart Insights. Google have released a number of improvements in 2013 to encourage this like Universal Analytics, Advanced segments and improvements to conversion attribution modelling mentioned above. We hope this means they'll that there will be deeper use of analytics in 2014.
ENGAGE trends
Trend 17: Customer feedback tools mainstream
To develop the best customer experiences you have to go beyond the hard data from analytics and get real feedback from real customers. The use of customer feedback and satisfaction tools like these to help with this should increase too as companies take a more holistic approach to CRO.
Trend 18: Integration through Social CRM
While discussion of using the individual social platforms will continue, a more holistic approach looking at integrating social media with web and email touch points should continue as part of Social CRM.
Trend 17: Mobile email popularity
Throughout this review, mobile has played an important part and email marketing is no exception, since the data shows the majority of email interactions are now in Mobile for consumer brands. So getting the mobile experience right through responsive email design is where many companies will focus if they haven't already.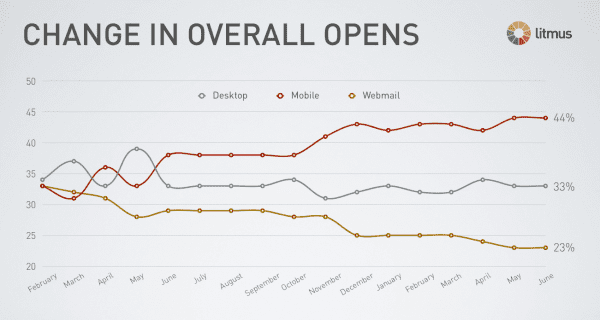 Trend 20: Marketing Automation. Behavioural email gets serious!
I've been recommending the use of the event-triggered email marketing or what we now call behavioural email for many years. The increased focus on marketing automation means that more sophisticated lifecycle email programmes will be developed as part of MA initiatives.
Trend 21: Email testing increases in sophistication
Attribution research showing the channel that influences online sales typically shows for retailers that email is usually one of the top three sales drivers whether first touch or for last touch. It's also important for generating sales for many other types of business. Perhaps some of the social media and content marketing budgets should be allocated to more sophisticated testing like the examples that we look at in our email marketing course and 7 Steps Guide to Email marketing.
Trend 22: Wearable tech and lifelogging
Our final trend is one of the most exciting, but also one of the most frightening, as will be discussed a lot in 2014 as Google Glass goes on sale. Marketing applications of Glass and its impact on search will be limited, but one Glass app, Glashion, was recently released this week where you can snap clothing and bags of footwear of other passers-by and then complete a comparison shop. Is that exciting or scary to you?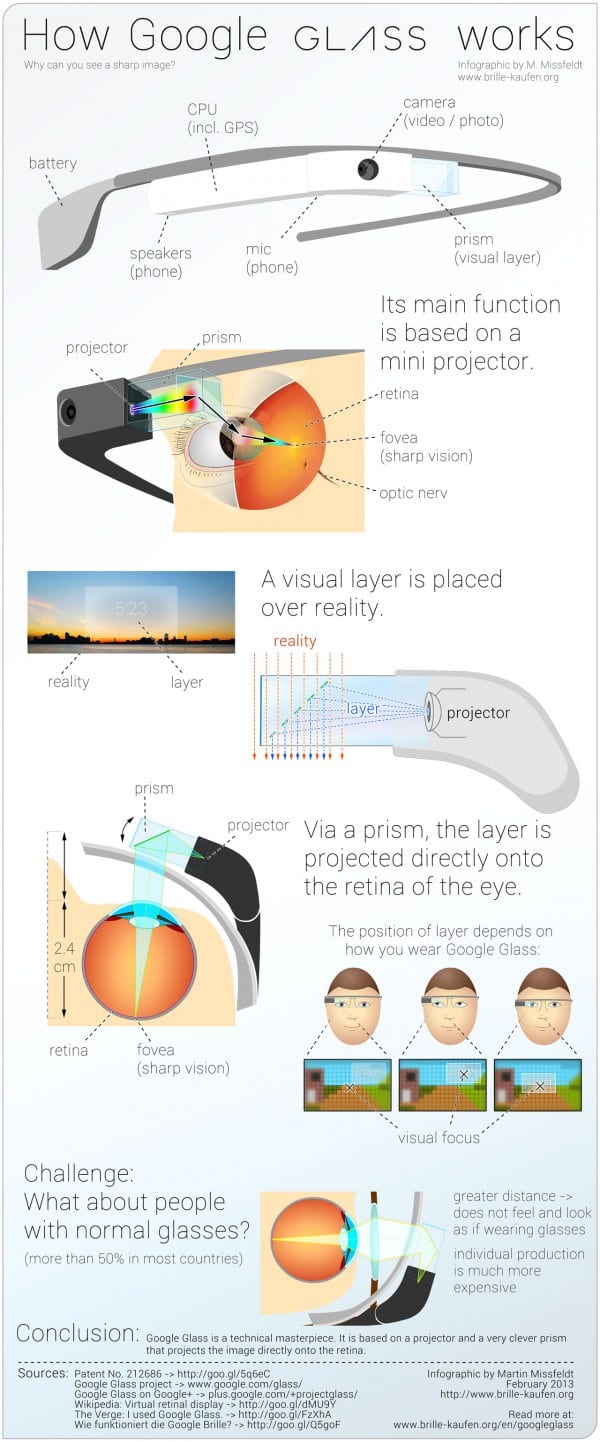 So that's how I see future marketing trends at the moment. I hope my review sparks some ideas on where you should be increasing or decreasing your investment in online. How do you see it? What are the top marketing tools or techniques you're using now, or expect to use in the year ahead which weren't so important previously? I'm interested to know your views.
If you prefer to listen, hear my interview discussing the trends with Ciaran Rogers of Target Internet.
This is part of the regular Target Internet Digital Marketing podcast which is one of the best ways of keeping up-to-date with the latest in digital marketing.