Trends in marketing with the best potential for commercial growth
Update: My review of 22 Digital Marketing Trends 2014
Throughout the year I'm asked about What's New, What's Hot and What's Next. This is one of the reasons why we've created the [What's New in Marketing" updates, to give a monthly summary to help people working in marketing and using digital technologies see the latest developments which really matter. So much of what's discussed daily in digital marketing is useful or interesting, but just noise.
In this review I will focus on the major trends which we think will be significant in 2013. What's "significant'? These are marketing activities where we expect to see the most increased investment and focus in 2013. The activities will gain the funding since they will have the biggest impact in creating additional leads and sales and strengthening brands. It doesn't focus on the latest new Ecommerce technologies and marketing techniques, I will create an additional post on this.
Poll - what do you rate as the most important digital marketing trends
In this review I picked out what I saw as the major trends in marketing activities and asked readers to vote on what they saw as important. These are the results: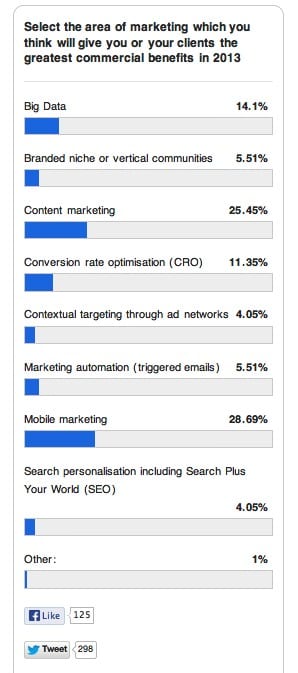 The trends are listed in the poll in alphabetical order, with my list later in this post in order of how I see popularity. It will be interesting to see how they compare. I have put my eight trends in order of current interest in marketing based on marketers I've spoken to while at conferences, workshops or when consulting. I have spoken at three mobile marketing conferences in the Autumn, so that skews it a bit, but does indicate the interest.
1. Mobile marketing
The importance of mobile marketing varies dramatically by sector. It's incredibly important to sales in some consumer markets where there is a sweet spot of mobile use to sales. In other types of business, the proportions of tablet and smartphone access are lower, less than 10% in some cases, but they're only heading in one direction. The debate continues as to whether mobile access will exceed desktop by 2014 or 2015 (see our mobile statistics post for the latest). See the latest Mary Meeker review at the end of this post for more on trends in mobile adoption.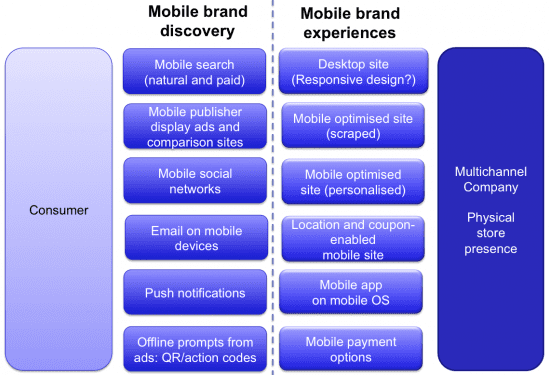 The examples from the start of this presentation like Betfair, Autoglass and Dominos show the impact mobile commerce is having already.
Hub page: Mobile marketing
2. Content marketing
We rate a focus on content marketing as more important to marketing success today than social media since successful content creation and amplification supports leads and sales generation and engages existing customers across a wider range of digital channels than social networks. Content marketing supports SEO, Pay-per-click, landing pages and conversion rate optimisation, social media marketing and social media marketing.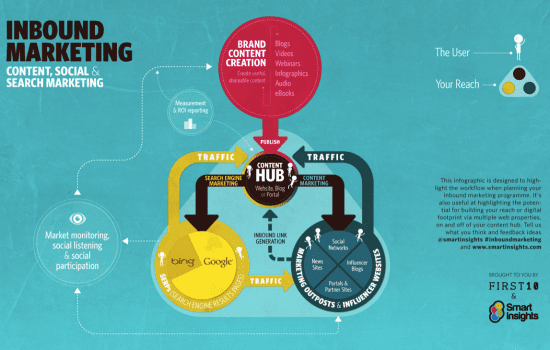 Hub page: Content marketing strategy
3. Branded niche or vertical communities
Interacting with customers and prospects via social networks has the benefit of increasing promotion and awareness about brand through sharing and it gives an alternative to email marketing to broadcast promotions and content to customers that don't favour email marketing. However, social networks have many limitations compared to communities developed on a brand site including the need to use paid advertising (Facebook EdgeRank), limited direct sales from social networks, limited options for creating tailored experiences, limited data capture and personalisation at an individual level). So we expect to see more medium and large companies growing branded communities on their own site alongside their social presence.
Here are some examples from across different sectors.
Hub page: Customer communities
4. Conversion rate optimisation (CRO)
We have featured many articles on [CRO processes[() and [CRO examples] in the past year. We believe it often doesn't get sufficient budget compared to driving traffic to sites. CRO isn't only important for Ecommerce and transactional sites. Every site should have conversion paths to marketing outcomes which contribute to the business. This area gets more important when tactics and techniques centred around social and content marketing are used to increase leads, since the 'quality' of leads generated can start to vary, which also leads us on to the next point, number 5. See this article for detailed guidance on conversion rate optimisation process.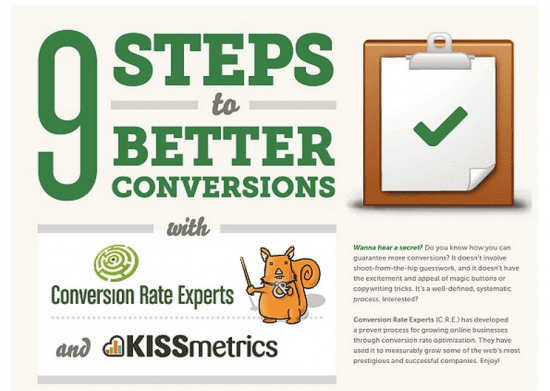 Hub page: Conversion rate optimisation
5. Increased use of marketing automation
We have given several examples of the power of targeted email sequences during 2012. Once the preserve of larger companies. While not new and possible for many years, we are seeing more triggered emails such as welcome sequences. Increased adoption is made possible through low-cost email systems like Aweber, MailChimp and Office Autopilot. These platforms are moving quickly to enable, automated, multi-channel customer centric communications previously only available via Enterprise systems such as Marketo, Eloqua and Genius/Salesforce.
Hub page: Marketing automation, Behavioural Email marketing
6. A move from #bigdata to #smalldata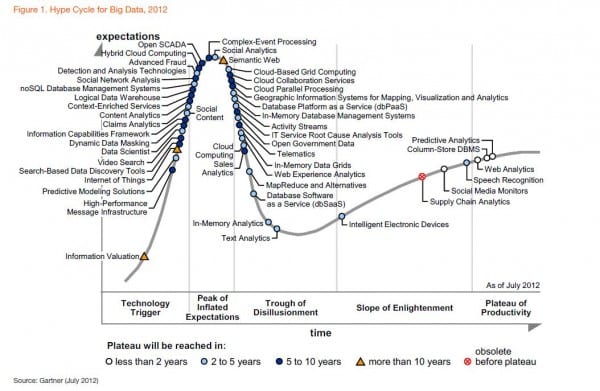 As Alan Mitchell explained in our briefing on big data, in many organisations…
"Big Data is actually customer data: data about customer behaviour. This is something that organisations collect about their customers in order to do something like offer them a product or send them a message. It's all about helping organisations do more, more efficiently.
We think there are bigger gains in connecting and using customer data using social, transactional customer data and with digital analytics to refine marketing through approaches such as social media outreach, conversion rate optimisation and marketing automation. Some say we need to exploit #smalldata before worrying about #bigdata.
7. Contextual targeting through ad networks
2012 has seen more use of the relatively new Adwords Remarketing technique and we can expect to see this increase in 2013.
Other networks.
Hub page: Behavioural ad targeting
8. Search personalisation including Google Search Plus Your World
Google has always been about increasing relevance; it's based its success on this. Over the last several years, Google has been increasing its ability to tailor results for the individual. The advent of social recommendations in Google+ and Google Authorship favours brands with the biggest engagement who do more than simply promote through social media, but take customer engagement seriously.
Hub page: Search Engine Optimisation
Digital technology adoption trends
If you're looking for more data summarising trends in technology adoption I recommend the annual Mary Meeker report published on the 3rd December. Meeker, a former securities analyst works for Kleiner Perkins Caufield & Byers (KPCB).
For me the two most telling technology trends from this compilation are again around mobile marketing where we can see the rapid adoption of Tablets and Android compared to previous compilations. Supporting users on these platforms must be a priority in 2013.
Tablet adoption trends after launch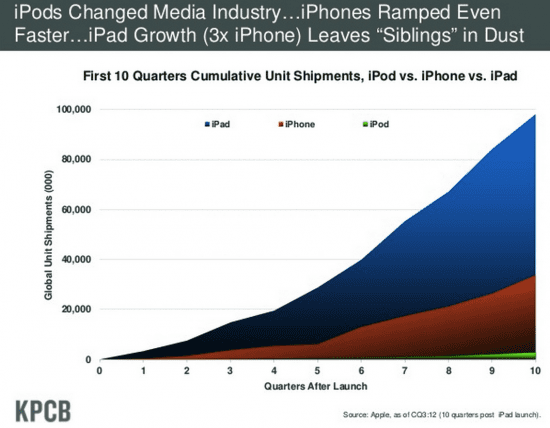 Smartphone adoption trends after launch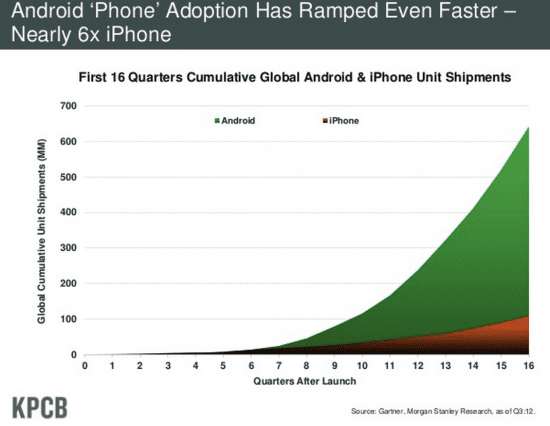 We hope you find this look at the major trends in marketing useful as a prompt for what to include in your digital strategy and roadmap for new developments. We will follow-up with a more detailed post looking at innovation across the other areas of RACE and how they impact on Ecommerce.
What are your priorities in 2013?
Dave Chaffey and Dan Bosomworth