Digital Ad Spend grows at fastest rate in  7 years.

Recommended link: Latest UK online advertising spend research - IAB
InMid- April 2016 the IAB and PwC  published their regular survey giving full-year figures for online advertising in 2015-16.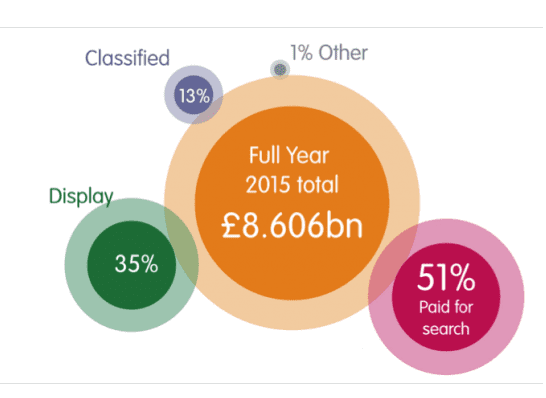 We recommend using this annual research on online advertising to benchmark your investment in online media with other organisations in the UK. The main headline which should prompt examination of brands are reaching their audiences on mobile devices is that:
Advertisers spent a record £8.61 billion on UK digital advertising in 2015 – up 16.4%
Other headlines from the latest ad spend report are:
Mobile accounted for the vast majority (78%) of digital ad spend growth, increasing 60.3% year-on-year to £2.63bn – or 30.5% of all digital advertising.
Video ad spend, overall, grew 50.7% to £711 million whilst video spend on mobile alone increased by 98% to £353 million due to the increasing numbers of people watching video, TV and film on smartphones.
Content and native advertising spend – which includes 'advertorials' and ads in social media news feeds – increased by 49.9% to £776 million.
Ad spend on social media sites grew 45% to £1.25bn – now accounting for 41% of banner/video display ad spend. Over 71% of social media spend goes on mobile.
Percentage of overall ad spend on digital media advertising?
This research can be used to have an impact when discussing with colleagues how much a company should spend on digital media. Back in the 2011 IAB report it was reported that more than £1 in £4 of ad budgets were spent online  for the first time and online ad spend is now closer to 40% of all spend although the figures weren't disclosed in the latest announcement.
We know many organisations spend significantly less than 25% of their communications budget on online media, but this may well be right for their market...
However with £3 in £4 still spent offline in traditional media like TV and print advertising it underlines the continued effectiveness of traditional media and the need to integrate these with online media.
Our summary of percentage spend on different ad formats for UK advertising budgets
The research shows the most popular online advertising tactics, but beware the methodology - spend on other digital marketing channels such as affiliate marketing, SEO, content marketing and online PR/Social media aren't included - it's pure media spend only.
This is the breakdown of different Internet advertising types:
Paid search advertising: Paid-for search grew 15.3% to £4.36bn – a 51% share of digital ad spend.
Display advertising: Display ad spend rose 24.5% year-on-year to reach a 35% share (£3.03bn) of digital ad spend. The share traded programmatically rose from 47% in 2014 to 60% (£1.60bn) in 2015.
Classifieds :Classifieds, including recruitment, property and automotive listings, grew 5.2% to £1.11bn. That gives them a 13% share, which is a decrease from the 14% share they saw the year before. Clearly classifieds are starting to lag behind.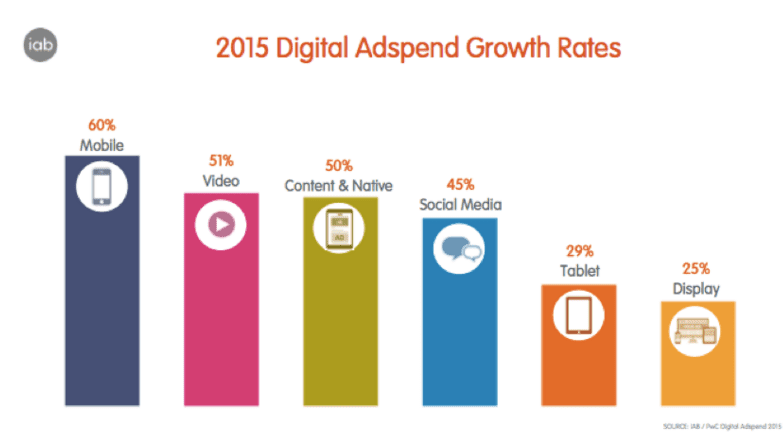 The latest Figures on US online ad spend are available from the US IAB. These have more detailed disclosure on the breakdown of digital media.