Using staff email signatures to communicate your brand messages - a case study of British Red Cross
My journey with staff Email Media started 3 years ago when I rocked up to start a new job and had a loooooong list of induction meetings, one being with my Email Media Account Manager Tamsin. Now I will admit something here, I like to think that I have a good understanding of email marketing, transactional email, and trigger emails, but I was feeling slightly red-faced that I didn't know much about what you could do with your employee emails.
Email Media is simply a technology that links up with your employee email system such as Outlook, google apps or lotus notes etc., it adds dynamic (and trackable) footers and headers to all employee emails which supports the brand and your business objectives.
In my role at the time I used Email media to support revenue, lead gen, customer service, cross / upselling , and brand messages. We segmented our messaging by department and had multiple messages on rotation so we could communicate different marketing in the course of email conversations.
For those reading this thinking 'well, I don't know about email media either…' I am pleased to report that there has been a new white paper on this topic from Gleanster Research and it was this paper that got me putting my learning hat on again, as there have been some interesting and exciting developments with employee email that brands are taking full advantage of such as the segmentation, data and CRM opportunities.
One of the key case studies that the white paper features is the British Red Cross. Having worked in the charity and non-profit sectors, I can definitely relate to the challenges that they face and why email media would be such a good channel for them. So I dug a little deeper into how the British Red Cross use it, with the aim of highlighting how all companies , not just charities can benefit, and to share my top tips when thinking about how you might use email media in your company's employee communications.
A case study of how the British Red Cross (BRC) used Email media
We have all heard (I hope) of the British Red Cross and all the fantastic work that they do. You will all relate to their challenges of having multiple stakeholders, numerous campaigns and activities that all need support. Add to that a shrinking budget with a cry from the C suite for clear ROI on marketing spend and the goal of having all your marketing touchpoints working in a complementary way with each other. Sound familiar?
The British Red Cross started to use email media over 5 years ago, and it was set up as a way to control their branding (we all have staff that have created their own take on the brand in their email signatures!) but they also used it to bring in a new revenue stream for the charity.
The BRC have 3,500 staff sending 4 million emails a year, highlighting just how far your employee emails reach.
The biggest 'stop and think' moment for me which was highlighted in the Gleanster whitepaper is that '50-60% of the people that your employees are emailing do not exist in a company database'.
The BRC knew that they had a lot of people sending a lot of external emails, but as well as gaining an opportunity to reinforce messaging with donors and volunteers on their database, adding relevant branded media also plugged a gap and got a message out to people who were not yet ready to sign up to that monthly newsletter.
What does it look like and what do they link to?
With a presence in 188 countries and a number of businesses under one brand, from responding to an overseas crisis, or key work in the UK such as emergency evacuation, the British Red Cross have multiple messages that they need to deliver to a wide, segmented audience so email media helped to tick that box of delivering their many campaigns to the relevant stakeholders.  These included:
Appeals - Urgent appeals and donations to an overseas crisis or conflict, flooding or earthquakes (which they could launch immediately, by using email media software). Here is an example of how they used it for the Typhoo Haiyan Appeal: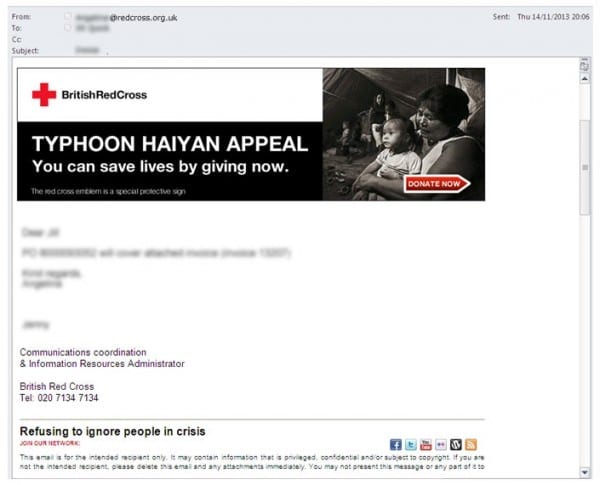 Social – Integration of their social media channels promotes and increases the number of followers or users on their social profiles.
Content – they bring together material from a range of digital platforms, such as YouTube, so if they have an advert on TV, they post to YouTube and their website, and use employee emails to drive more views increasing the reach of their content.
Apps and Web -  awareness and encouragement to download their Red Cross first aid app (check it out, it is definitely worth a download!) as they use a provider that renders on email. This is a great link as your one click away from downloading that app directly onto your phone.
Here is how they promoted their app in their emails: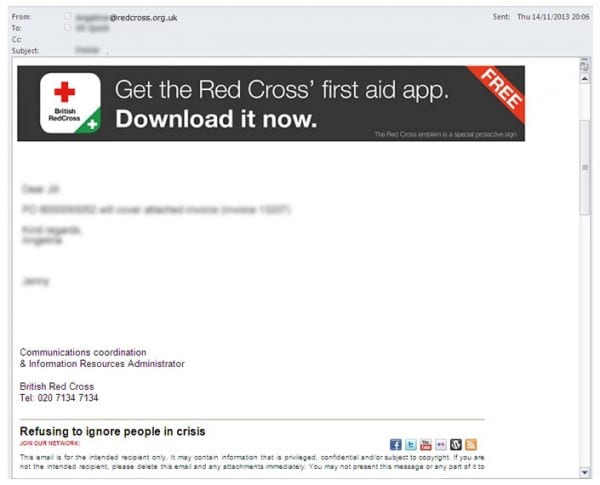 Awards - promotion and awareness of awards such as the Humanitarian Citizen Awards.
Events - From high profile Marathons to local events.
Education - First Aid awareness and training.
What does success look like for the British Red Cross?
Their marketing has to work hard, and deliver clear ROI, their teams are always looking for opportunities to improve their marketing performance and maximise their message and fundraising.
More than just the brand team being happy that everyone has a consistent look and feel in their emails, they found that people engaging with the media in their employee emails  are 20% more likely to engage in the donation process than those in other channels.
Now this makes sense as you are already emailing someone on a one to one basis so they are already engaged, but what email media is enabling you to engage them further and drive them along the customer journey.
Click through rates to their website are up to 4 times greater, than those achieved with dedicated e-newsletters, showing that the quality of the click is deeper.
Their employee emails drive 80 times more click through per impression than their equivalent web campaigns.
What I love about the BRC case study was that they really know this marketing channel, like any marketing tool you have to work at it.
They segment their email media by departments, they a/b test their creative, and as it is centrally managed and quick to deploy, if they have an emergency appeal they can get a new campaign up within the hour, and with the results in the case study it is easy to see why email media is one of their core digital channels.
Top Tips for using Email Media
A question I ask my clients who use email media 'What are the business goals you are trying to achieve?'.  As with all marketing campaigns, make sure they are aligned with your overall business strategy; be it lead-generation, building your database, awareness or revenue. I have given you some examples of how the BRC use email media, here are some other ideas based on my own experience in using this channel.
Cross and up sell - a classic, you will either have a different product or service or a different level of your product or service. From my hospitality client, we wanted to sell more rooms, shout about a new hotel, and the restaurant, and spa, and gym etc email media made that easy.
Example of promoting a will service: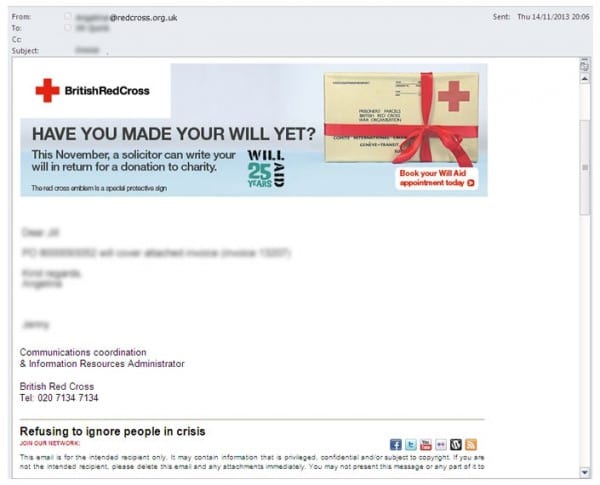 Grow database - another classic, use email media to invite people to sign up to your newsletter- remember there are people your employees are emailing that are not on your databases. Alternatively, use email media software to collect organically the addresses of recipients so you can invite them to opt into your other marketing channels.
Content- I know I mentioned this in the case study above, but email media can literally link to anything, one click of the banner and they can download a white paper, presentation, brochure, case study, webinar, press release. If you have the content you can link to it!
Awards – Have you got an award? Did you just get nominated for something? Are you a member of an organisation? Let people know.
Events, trade shows- from going to an event, speaking at an event, exhibiting at an event, hosting an event, promote it, link it to landing pages and forms, and drive traffic and awareness of your big event.
Recruitment- externally HR departments looking for staff, use the banners to promote jobs, refer a friend, or promote key company benefits.
Customer Service - Rate my service banners. I love this one as it has saved me a lot of money in potential lost business, and found me advocates. My email media provider included real time click alerts, so if someone clicked 'excellent' we got an email to say who clicked on it, we would call them up, see if there was any other business, a case study, testimonial etc.On the flip side, if someone clicked 'poor'. then that alert would trigger our best customer service reps to contact them asap to find out why, and how we could help before that user took to social media to tell people the service was poor, or we lost that person forever.
Be social – encourage people to follow you on Twitter, or read your blog, you may already do this with a static banner under your signature, but with email media you can be more targeted, vary the message and also have the data to optimise and understand the results or revenue you are delivering through your employee emails.
Attribution - if you can't track it you can't measure it! Link your email media to your web analytics platform so you can marry up your email media activity with real results.Just like email marketing the reports and analytics provide similar data, which when I started my employee email journey I was thankful for.

Make sure that the KPI's you set are not vanity metrics that get the C suit in a huff, you want to walk in and say the services department converted x revenue this month, or accounts provided x additional % on our database increasing bookings or actions by y. They don't care about time on site, engagement or other how many other followers you got on Facebook.
I hope that this post has got your thinking hats going about how you can use this. I have seen benefit from this channel working with small 10 employee businesses right up to large scale enterprises. There is a real opportunity to set something up quickly, that can support all the other marketing you are doing, and get great results fast. If you want to find out more you can download the free white paper.