Facebook COO Sheryl Sandberg recently caused a stir at the Nielsen Consumer 360 conference by reportedly stating that Email is dead (she would say that wouldn't she and if you listen to the whole clip she didn't actually say what she was widely reported to have said).
However, her argument that only 11% of teenagers use Email daily is compelling and I find when talking to students they don't really understand the concept of email marketing - they just perceive most marketing emails as Spam while being positive about integrating with brands through social networking sites.
What consumers say about their email and social media usage
Two recent surveys from the email industry suggest email is very healthy in terms of account usage and here to stay for the foreseeable future (they would say that wouldn't they). Social network usage is surprisingly low although for a fairer comparison, SNS usage should be broken out by age group.
I've presented these figures since they can help inform your investment in email and social media and help argue against colleagues that have been swept away by the social media hype. Ask them whether they knew that 31% of UK folk don't use social networks at all while only 11% use Twitter.
Here are the relevant surveys :

1. e-Dialog global consumer attitudes survey of 13,000  consumers  worldwide- June 2010
This survey shows the variation in social network account ownership in different countries and the significantly lower level than email marketing.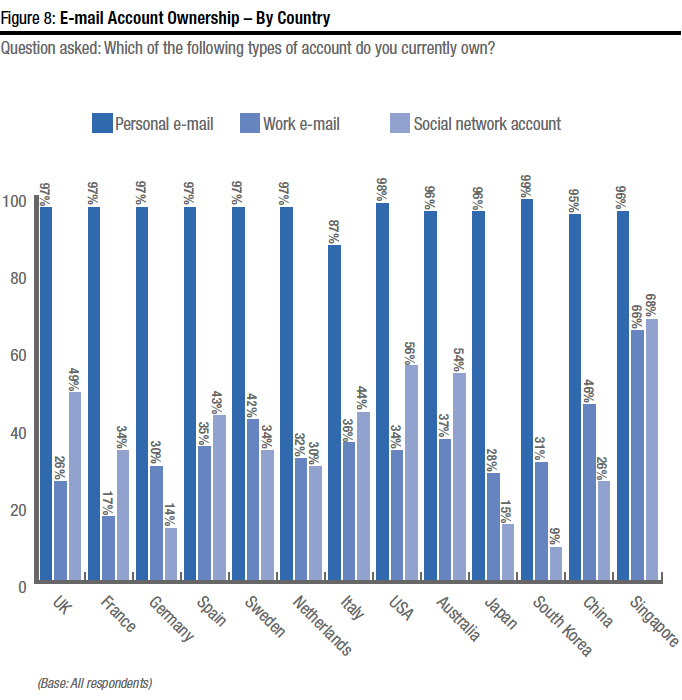 The survey also showed that 58% having been driven to make a purchase in a store or over the phone by a marketing e-mail. And while Websites are the preferred place for consumers to opt-in, they are also willing to subscribe to e-mail messages offline, for example when placing a catalog order (46%), at the point-of-sale (29%), or via SMS text message (13%).
Implication: Review your offline email signup options.
2. DMA Digital Tracker of 1860 UK consumers - May 2010
These are some of the most relevant answers:
Q. Which of the following social networks do you use?
Facebook 58%
Do not use any 31%
Youtube 24%
msn 16%
Yahoo 12%
Twitter 11%
MySpace 8%
The Gumtree 6%
LinkedIn 4%
Bebo 4%
Flickr 3%
Some other questions also show the risks of email:
Q. What is most likely to prompt you to mark email as Spam?
I suspected them of phishing attack 32%
Too many (frequency) 19%
Don"€™t remember signing up 18%
Lack of trust in the brand concerned 11%
Products offered are illegal 10%
Lack of time to go through the opt-out procedure 5% (marking as spam is easier)
The unsubscribe mechanism was too hard 3%
Don"€™t like brand 2%
Implications: Get the frequency right, remind subscribers of how they opted in and make the opt-out easy.
Q. How many promotional emails do you receive in your in-box on average each week?
Over 20 43%
16-20 9%
11-15 11%
6-10 14%
3-5 13%
1-2 6%
None 5%
Implication: Getting cut-through is going to be hard due to inbox competition - over half received more than 15 a day, so maybe reducing frequency or investing more in creative and offers is needed.