5 real-world examples showing the value of rich media in Ecommerce
Ecommerce professionals and conversion rate experts have been lauding the benefits of rich media like video and 360 degree views for retailers more and more over the last couple of years.  Yet a huge range of high profile ecommerce businesses are still yet to adopt product video, high resolution imagery or 360's.
A number of the clients I work with have benefitted a lot from adopting rich media and have seen big increases in engagement and conversion. I've been talking about how rich media can add value to your proposition and general user experience for ages (such as here on SEJ and here on my personal blog) but I thought it would be useful to feature some quotes from expert retailers who have reaped the benefits. Thanks to the the five featured here for sharing their experiences.
The following quotes have been taken from experienced professionals who have invested in rich media and seen the benefits first-hand.
Steve Mills, Head of Ecommerce at Wiggle
"At Wiggle, we have invested significantly into our photography in 2012 both for flat, 360 and 3D (you can spin & zoom round and over). Through multi-variate testing we have seen adding 360 images lead to double-digit conversion increases across certain categories".
"With some products, such as our range of high-end bikes (typically £1000-£5000) we may not see such an impactful response on conversion, but we know that they are heavily used and loved by customers. In premium categories this emotive connection and increased level of engagement can be equally as beneficial long term.
It's important to consider many KPIs to monitor the benefits, as it will all be very different across various products, categories, brands, customer profiles, etc."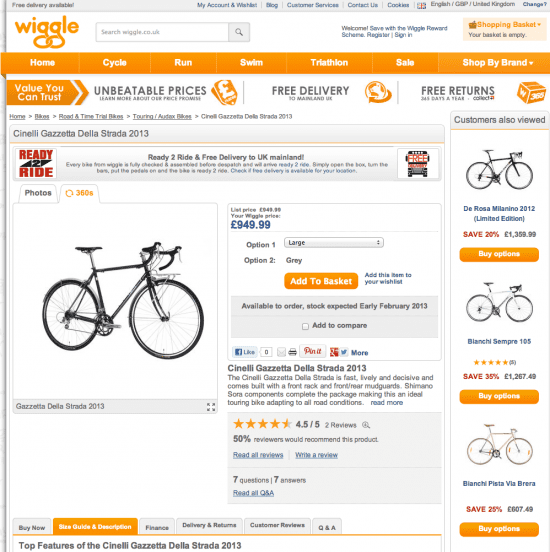 Matt Lawson, Head of Conversion at ao.com

"At ao.com we put the customer first. We strive to deliver what they want in everything we do; from our proposition to the content they see on site. To understand what they want we watch hundreds of customers using our site, and we always hear a "wow" when they discover our video!"
"Video gives us the opportunity to wow our customers and this in turn delivers results. We have tested and proven that when someone watches our video reviews they're 120.5% more likely to buy, spend 157.2% longer on the site and spend 9.1% more per order. So my focus this quarter is increase customers watching video. Simple."
"For an online luxury brand today, the impact of using high quality photography and video media cannot be understated. Being able to show the qualities of a beautiful and much-loved gemstone such as the pearl has been important to us from day one.
We want to offer our customers an experience that is luxurious, aspirational and yet fully transparent to the online shopper".
The evidence strongly supports the use of rich media. Since we introduced video to Winterson in 2012, we have seen significant improvements in average page time and conversion rate, with corresponding decreases in other metrics such as page exit rate."
"As we have our base solidly in 3D technology we decided a few years ago to license our tooling to non-competitive retailers, as we were convinced that 3D imaging will be the future in retailing. One of our earlier B2B clients who uses the MyDeco tooling in-store noted that the 3d home planner helps our visitors to visualise how our furniture will look in their home and has lead to customers buying 25% faster. It also increased the average order value by 141% and delivered return on investment within just 6 months of launch.
"After we launched the new ecommerce experience on mydeco.com in December 2011, we started to experiment on a continuous basis with how we can use imagery and some 3D magic to improve the customer journey and therefore the conversion rate and basket size. After dozens of experiments it's particularly interesting to see how you can enhance the user experience with 3D experiences, but it cannot replace images".
Our Experiment: In one of our experiments we replaced all imagery on our product page from lifestyle shots to photo realistic 3D renders with the idea that if users like a clean experience, the conversion rate might go up.
Result: our conversion rate halved! Not giving up, we replaced the 3D images with clean cutouts of photography, but we had the same result. Replacing the renders with lifestyle photography improved the conversion rate slowly but only when we put the lifestyle pictures as primary images, when using the 3D pictures as assisting shots we reached the best result possible.
We see the same with other visual elements like video, which has clearly assisted our conversion rate. If you remove the video, the conversion rate will be affected slightly but helping the user to make an informed choice might also explain why we have extremely low return rates in the low single digits.
Although we cannot prove this experimentally until we hit the double digit million sales per month, it will certainly remain a focus of our testing strategy. We are committed to looking further than the conversion rate and concentrating on customer retention, goods returned and Net Promoter Score, which will launch on our site as part of the next level of testing the influence of visual elements."
Laurie Williams, Senior Manager of Website Operations at Zappos
"Since Zappos started producing product information videos in 2008, we have seen an increase in conversion, decrease in returns, increased organic traffic through SEO, and an enhanced social presence.
Our goal when creating product videos is to educate our customers in making the best buying decision.  Even with the offer of free returns, if a customer receives a product and it isn't what they had in mind, they can become disenchanted."
Metrics to track rich media
Once you've started introducing quality imagery and video content, the next important thing is to track the impact it has. I would recommend using the following metrics to analyze how the introduction of rich media has improved engagement, particularly on product pages:
Conversion rate
Conversion rate for people that have watched videos etc
Time on page
Events (clicks on extra images, plays of videos etc)
Goals (based on events that track usage)
Revenue per visit.
This article from ReelSEO also details how a paintball company increased their conversion rate by introducing product videos, they also wrote this sales conversion article about Zappos' product videos.
Here are some more resources focused on the benefits of investing in rich media for ecommerce: