Practical advice on WHO you need to execute your content marketing strategy
Many content roles I see are the domain of trained Journalists and Copywriters, but this doesn't always add up. On the web, many of the best examples of engaging content, and certainly the most sharable, are visual in nature, and often application based. Thus creating content teams made up of skilled writers will limit success.
If you have a large site, with hundreds (or perhaps thousands) of product pages that need writing, then hiring copywriters to get the job done makes good sense. But if you're also looking to create a good blog, regular email newsletters and possibly applications that integrate with social networks, then you're going to need some Designer / Development resource as well.
If things are going to be promoted well, then a Community / Outreach Manager would be useful. Finally, to measure everything properly, getting an Analyst to review and report on the strategy is essential.
Content Marketing Team Model
The operations of content strategy therefore rely on five fundamentals to be effective. This is explained in The Content Marketing Team Model below: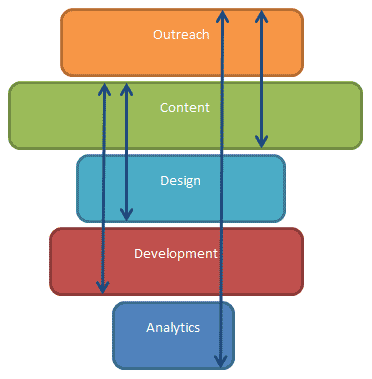 In this model, the size of the 'block' visualizes the investment in each department. Thus in the model above, analytics has the lowest investment and content the highest (something common within publishers for instance).
The arrows represent relationships and dependencies between departments. Analytics effects everything, but if we take content as an example, it is reliant on design and development, while outreach relies on content to be effective. 
Practicalities of the Content Marketing Team Model
Content Marketing relies on five different departments to thrive – and only one of them is content! This may give the impression that to do well, content marketing is expensive and resource heavy. It's possible to do things on a shoe string, but finding the most effective people without the right remuneration can take a very long time, and is often down to luck – you can't simply expect a content marketing strategy to be cheap and easy because you're not paying for media. Getting a strategy properly lined up and working effectively will come at a cost.
However, it may not be necessary to invest in even one full person for each department. But it is important that the strategy has access to at least some resource from each department within an organisation.
For instance consider these scenarios:
If you never get any reports or information on performance, how could you know that the strategy is being effective?
If your Content Management System is unusable, then content creators may struggle to be time efficient.
If your design is outdated, then your user might not engage with the content.
If no one is assigned overall responsibility for content, how will it be governed, edited and published?
If you content isn't promoted on social media, then it will get shared and linked to less.
All of these scenarios point to the reliance that effective content marketing has on other departments. But they do not mean a full time employee is required to see to each element. Thus a content marketing strategy does not demand a budget of £100,000+ to hire five dedicated professionals. But resource from an organisation should be expected to contribute to the strategy for it to be effective.
Who Do You Really Need?
Bearing all of this in mind, it's worth considering what you really need to drive a content strategy:
The linchpin of the process is the Content Strategist – as they are the one that plans, commissions and possibly creates assets. In some cases, this person might be multi-disciplined – they might be able to oversee elements of design, interpret analytics meaningfully and even write their own code. However, people with such broad experience are rare.
The Analyst is there to measure elements of the Content Strategy. They may monitor website traffic, social media performance and metrics related to SEO, such as number of inbound links built. Crucially, they will be able to explain which elements of the strategy are having the best effects.
Developers can contribute through the creation of front end User Experience (UX), or through the enhancement of the backend to enhance editorial workflow. They may also be involved with other team members to create specific applications – for instance an onsite calculator or a Facebook app.
Designers will typically be involved with designing or retouching visuals. For instance, they may collaborate with the Content Strategist to create infographics, or take photos to compliment written content. They may also collaborate with a Developer to make enhancements to front end UX design.
Finally a Community or Outreach Manager will deal with content distribution via social media or with other websites. They may be part of wider marketing teams or inhouse PR teams.
As mentioned, not all content strategies need a specific full time person to fill these specific activities. On occasion, the Content Strategist role may have responsibilities divvied between the marketing department, while a 'virtual team' can contribute from the wider business. However, the better they are covered, and the more efficiently the team collaborates, the higher the chance of the strategy being a success.