9 types of Email Marketing to engage B2B audiences
E-mail is the go-to form of customer and prospect communication for many businesses today, allowing clear, concise and detailed conversations. In fact, 73% of marketers agree that the e-mail marketing is core to their business and 40x more effective than social media for lead generation.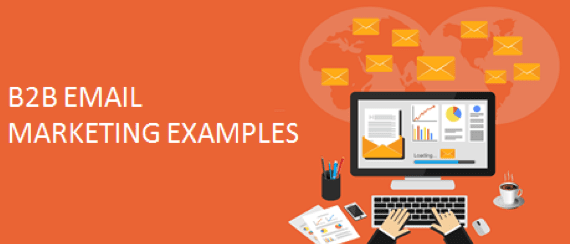 Is your business capitalising on this B2B marketing opportunity?
The longer life-span of e-mails in comparison to social posts means there is more time for businesses to leverage on making a sale or closing a deal. With a current estimate of 100 billion business e-mails being sent every day, this number of business e-mail accounts is expected to rise to 4.9 billion by 2017.
Overall, e-mail marketing continues to be ranked as the best channel in terms of return on investment, with 68% of companies rating the channel as 'good' or 'excellent', and with companies crediting e-mail for bringing in 23% of total sales.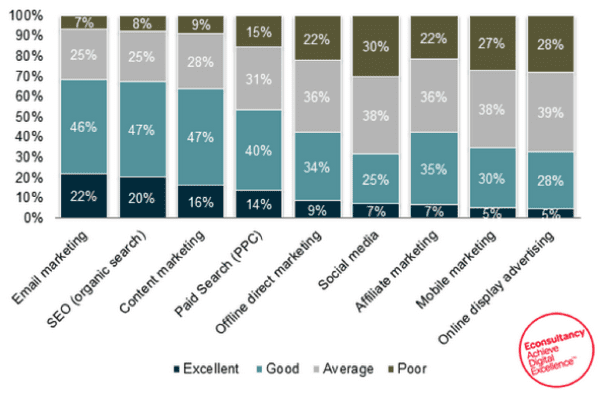 These statistics are impressive, but what about your business?
Have you reached the full potential of e-mail as a B2B marketing channel?
We've compiled a quick introduction to B2B e-mail marketing, and have included 9 B2B email marketing examples to set you on the route to success.
1. Curated e-mail content
Your prospective clients will provide their contact details for one reason: they believe you can offer them value. As always, the customer wants to know what's in it for them and it's up to you to deliver their expectations and more.
Do this successfully with curated e-mail content based on their industry or area of expertise, ranging from 'Must-Know Trends' to 'The Cost of Mobile Ads on 50 News Websites as used in the example below by Moz.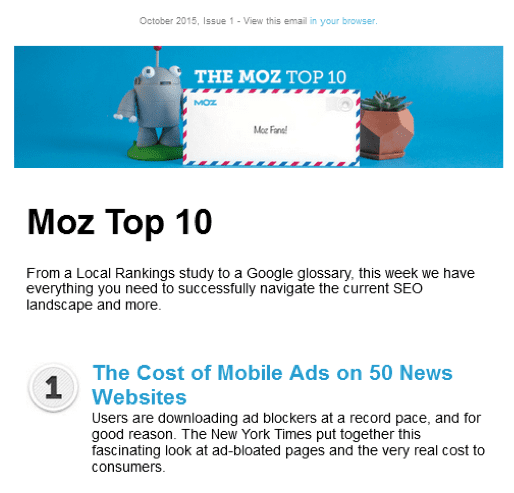 2. Activation
As time goes on, you're likely to build up a list of active and inactive client profiles. This creates a fantastic opportunity to reach out to those customers that may not have logged in to use your site or software for some time. Dropbox keep their activation email simple, focusing on the benefits of why you should install their product.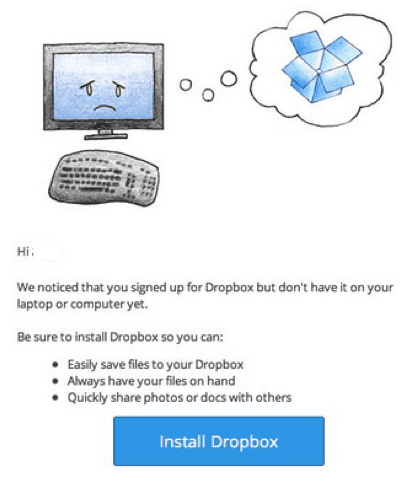 Use an automated e-mail process to encourage these clients to log in after periods of inactivity and offer them an incentive for doing so. Whether it's the lure of new functionality or recent industry statistics to back up for your product or services, you can easily entice clients to return to your site.
3. Announcement
E-mail is a cost-effective and non-disruptive way of making targeted announcements to your database of contacts. Has your business recently won an award? Updated your site? Or released a new product?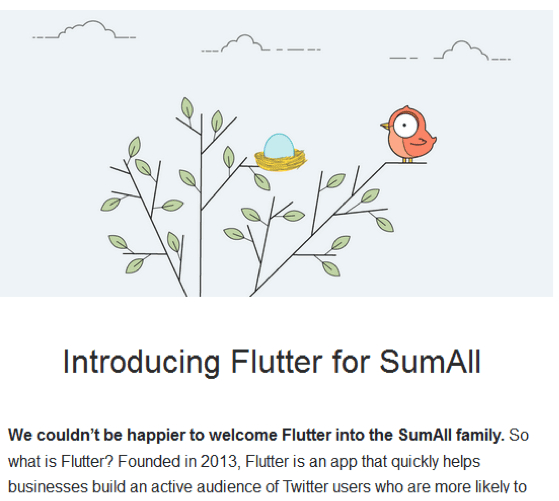 Well, these are all perfect opportunities to get in touch with your client base and announce your big news. Announcement e-mails work well to bring your business back to the attention of current, previous and future clients. When SumAll acquired Flutter, they used an announcement email as an effective way to share the news.
4. White paper
Your clients want content that is of high value. Whether it's research-led insights, detailed how-to guides or proven ways to conquer specific business challenges – white papers are a fantastic way to share longer-form content that provide value.
Of course, this type of content takes a little longer to produce and may involve a lengthier research process, but the chances are you will receive a much more positive response from it. After putting the legwork in to creating your white paper, increase readership by e-mailing a free download link to your contacts, as shown below in the example from SuperOffice.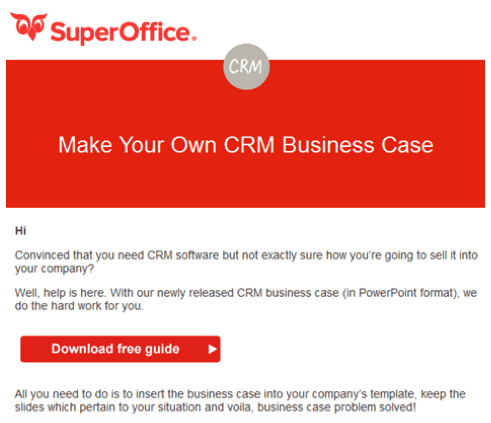 5. Campaign
E-mail is an ideal tool to support any of your campaign-based marketing activities. You have the opportunity to carefully plan and time the delivery of content directly to your audience's inbox.
This content can help you drive action, traffic and any other key objectives for your campaign in place. Campaign e-mails can help you get new clients on-board by offering something for free, such as a toolkit (like the Desk example below) to strengthen the relationship with your audience.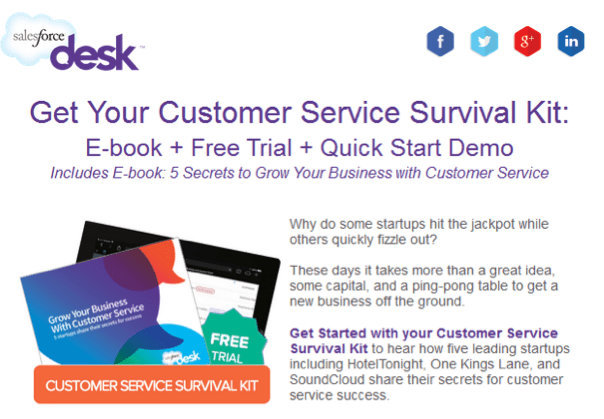 6. Events
Are you planning a business event, webinar or Twitter chat?
E-mail is an ideal tool to inform your client list about an upcoming event and invite them to join. Share information and snippets with your audience about what the event will involve and don't forget to include a catchy subject line to ensure they read it.
Sales strategist Jill Konrath makes it easy for people to attend an event by including the event time and location, as well as a straightforward RSVP call to action.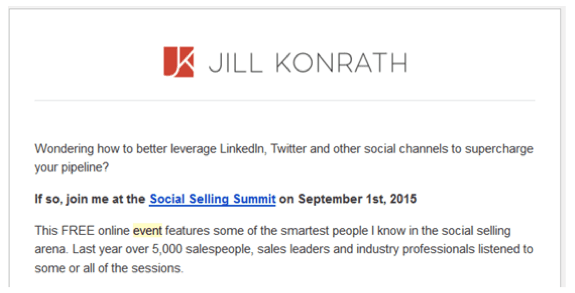 7. Webinar
Which business doesn't want to position themselves as a thought-leader in their industry?
Webinars are a great way to showcase your thought-leadership and enter into dialogue with clients. To grow the number of virtual webinar attendees, e-mail a simple registration form to your client base.
HubSpot's webinar email clearly states the webinar topic and provides concise benefits to joining, as well as a clear call to action.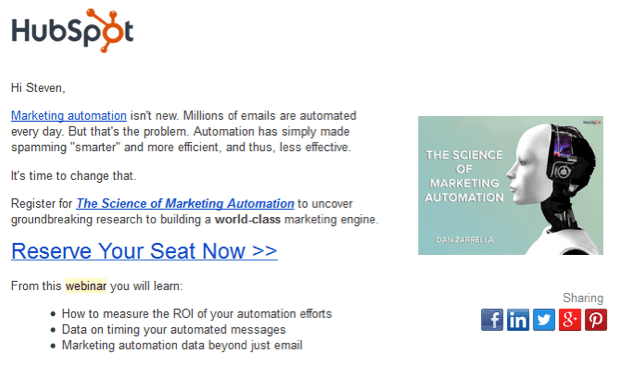 8. Case study
If you want to show your clients exactly how they can benefit from your products or services, a case study is the way to go.
After all, the proof is in the pudding. Once you've created an in-depth study into the benefits your product or service had for a previous client, e-mail it out to your client list.
Be sure to include details such as revenue growth, like in the example from Perfect Audience, as well as client retention rates and sales figures to back up your claims. To ensure your e-mails are relevant to recipients, target these case studies by industry or job role.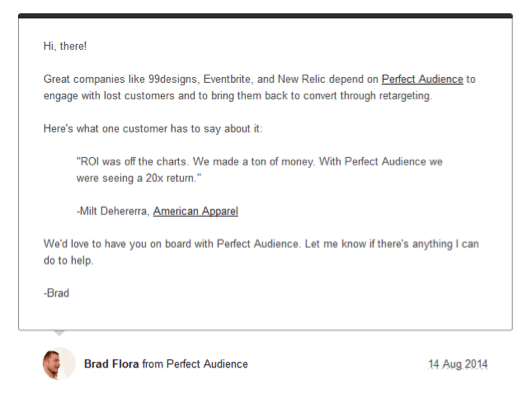 9. Trial/demo
Who doesn't want something for free?
Target prospective clients by e-mail with a free product trial or demo, giving them first-hand insight into what your business can offer. For those recipients who do not sign up, use an automated e-mail to follow-up with a limited-time offer.
KISSmetrics makes it easy to sign up to a personalized demo and makes their prospective client feel valued by arranging the demo around his/ her schedule.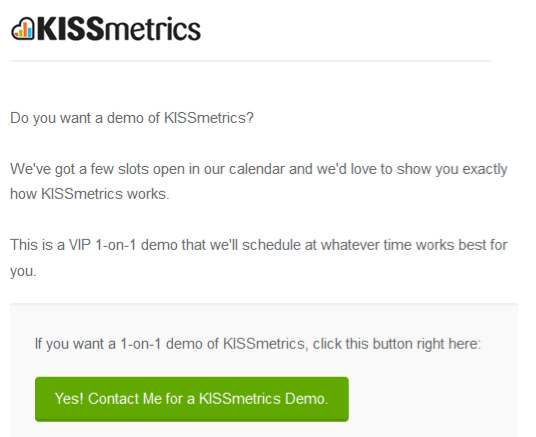 Conclusion
The role of e-mail for B2Bs as a measurable, cost-effective marketing channel is clear.
Backed up by both professional opinion and industry statistics, e-mail has an important value for businesses in gaining ROI - enhancing lead generation, up-selling opportunities and client retention.
By delivering engaging snippets of information to a targeted contact list, you can build your client base, establish your business as a thought-leader and positively influence your bottom line. And after all, that's the ultimate goal of B2B e-mail marketing.