Twitter tweaks timeline to show most engaging Tweets top
Importance: (For Marketers using Twitter)
Recommended source: Twitter's blog
Twitter has been grappling with a series of problems of late. Falling share price, stagnating user growth and some high profile exits from some of the top brass. It's looking to re-invigorate itself, and has decided to do so by introducing a sprinkling of the magic that has made Facebook's newsfeed one of the most powerful forces in the world of digital marketing. I say magic, I mean algorithms.
This doesn't mean that Twitter is doing away with the chronological ordering of Tweets, that would be a big mistake given that it is what sets Twitter apart from other social networks such as Facebook. Instead it will use an algorithm to decide which Tweets you are most likely to care about (based on past interaction with the account there from). Then when you log into Twitter it will show these 'engaging' Tweets ahead on the usual firehose of content. But don't worry, once you scroll down you'll quickly get back to the un-curated, reverse chronological order feed of Tweet you know and love. Twitter said last week that 'they'd be turning on the feature in the coming weeks', and it seems to have started rolling out globally
The changes will be initially opt-in, but users will at some point in the future get the option to turn the setting on via notification. Users can of course also turn off the setting should they want to.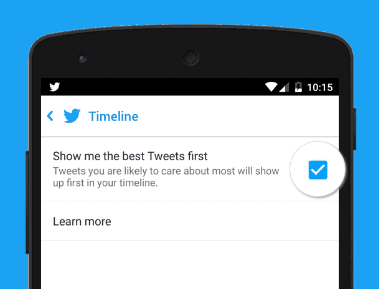 The change should be good news for brands, as if they have a loyal following their users will see their posts more, and it means organic content from Brands has a better chance of getting seen by more people as they are logging into Twitter. In theory the changes should also drive more engagement from users, meaning more clicks, more re-tweets and more replies. Good news for everyone if it works the way Twitter intends.
Some journalists initially expressed outrage when Twitter floated the idea of an algorithmic timeline, causing #RIPTWITTER to trend, as they feared making the site more like Facebook would destroy what makes Twitter unique and thus leave it as a useless appendix. It's now clear that the changes are not going to do away with the reverse chronological news feed, and are more of a tweak which continues what Twitter had been doing with 'moments' for some time anyway, rather than a big overhaul of the way the platform works.
Let us know what you think of the changes. Will you be activating the new feature or keeping it off?