Facebook releases new marketing advice for businesses
Value:
Recommended link: http://www.facebook.com/business
Our commentary: In the first week of August, Facebook announced "Facebook for Business". While this sounds like an attempt to compete with LinkedIn or Google+, in fact it's just an update to their guidance notes which had been lacking for quite a while.
The most useful guide is this practical download that works for small and large business.
24/11/2011 update - New Facebook Insights features and learning course
Facebook have announced a microsite, www.learnpageinsights.com which steps you through how to use the new features. If you're short on time and who isn't I recommend the "Quick Reference" feature, where you can hover over and see what's what: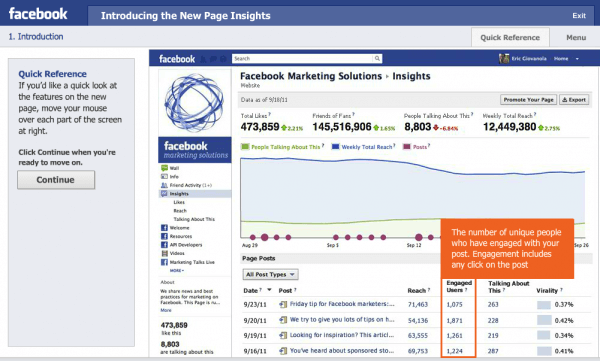 Alternatively, Hubspot has a step-by-step guide that's worth a scan if you're a Facebook Admin.
10/10/2011 update - New Facebook Page Insights guide
We advised last week that Facebook that was introducing two new features and it hasn't taken long for Facebook to roll these out. The main change is that Facebook Page admins will see a new "People Talking About This" measure on the page and in Facebook Insights:

This measure gives you an overall idea of conversations about a brand within the past 7 days. Facebook have introduced a new guide on Page Insights (below) which explains this measure and how you can use it to help review your marketing. This is what they say about the new measure:
The next metric, "People Talking About This", indicates how many people are actually talking about your
business to their friends. This metric includes everyone who:

Liked your Page
Liked, commented on, or shared your Page post
Answered a Question you've asked
Responded to your event
Mentioned your Page
Tagged your Page in a photo
Checked in or recommended your Place
Here's the full guide:
03/10/2011 update - Facebook advice on SEO
03/10/2011 update - Facebook advice on SEO
Facebook has added another small guide encouraging companies to rank for brand searches for their Facebook page and so encouraging more engagement on its platform. I think most companies will want to do this, except those with reputation issues - Nestle? The example they give is http://www.google.com/search?q=macys. In my experience Facebook Pages won't ever rank for generic phrases because it's difficult to create backlinks to them and unique content. However, many companies don't have a top 5 listing in the search results for their brand name, so this is worth considering.
Here's the advice - I'd recommend gaining links from other sites also to get a top 5 position.
Marketing implications: Our update summarises what we think are the most useful guides available to help your Facebook Marketing. We've used the Google Docs Viewer to share the guides from the Facebook site so they're in one place.
1. Facebook Pages
This guide shows how to set goals and manage the conversation through a "conversational calendar" which they have an example for.
2. Facebook Ads
There are downloadable guides on improving ads and the analytics available from Facebook Insights. This is the Ad Optimization guide:
3. Sponsored Stories
Although Facebook Ads are discussed a lot, we haven't seen much separate coverage of sponsored stories where Likes are enhanced through sharing them in the right column of Facebook. This guide goes through the 7 different types of sponsored stories and how to set up budgeting and targeting criteria.
4. Facebook Platform
There are no downloads in this case, but this section reminds us of the importance of making the site social to integrate with Facebook through the range of Facebook Social Plugins for sharing and logging in.