Examples showing how building your network in Google+ gives you more visibility in the search results
This post highlights part of the importance of Google+ for SEO purposes. It does so by contrasting 2 screengrabs of Google search results pages, illustrating how H&M have managed to use Google+ to radically affect results for their network of followers, or circlers if you prefer.
About the Images
Both images are from Google.com, where the feature which makes this important to SEO, 'Search Plus Your World' have rolled out more fully than in other countries.
The first image shows search results for 'David Beckham' when not logged into Google+
The second image shows search results for 'David Beckham' when logged in. 

The important thing to note here is that H&M's business page is circled by the account I've used to take the screengrabs.
Image 1: Not Logged In to Google+

Image 2: Logged In to Google+

In other words, simply due to the fact that I've circled H&M on Google+, I now see lots of extra content related to their brand, simply because they've posted that content to Google+ and it's vaguely related to the search term I've used.
The Images Side By Side
To illustrate just how much Google have changed here, let's take a look at the images side-by-side:


How Google+ can help you grow your community in Google+
There's a further way in which Google+ can have an impact. This time, the example is a generic search where H&M get's featured in the right sidebar of Google+ even when the user isn't logged in. When discussing this post with Dave Chaffey, he said he had captured this image in the initial alert of the Google+ search announcement.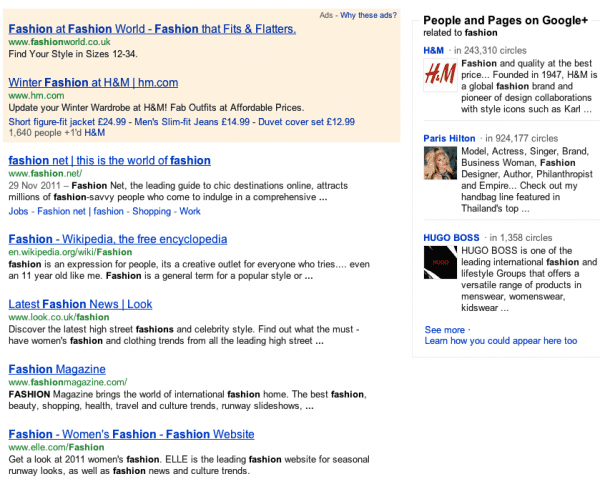 If you repeat the search today, you'll see the figure in the top right for H&M shows their network has roughly doubled from 243,000 to 535,00 in two months. Of course, we don't know the monetary value of having someone in a circle, but I hope I've showed through the screen captures that a large network helps increase visibility of a brand online.
Summary
Simply by doing 2 things, H&M have managed to hijack a large portion of the search engine results page for 'David Beckham'. If you count up the individual items, there are more than ten individual links through to H&M's Google+ content when logged in, zero when not logged in.
At the most basic level, the 2 things they've done are:
Grown a large Google+ following - big enough that they affect more than 500,000 peoples' search results when they are logged into G+.
Shared a lot of content related to David Beckham on Google+.
And of course, if H&M's followers reshare their Google+ content, and you're following their sharers, the effect spreads much further.
This is just a single example among many ramifications of Google+ on SEO, but I hope it helps explain part of the importance. Do leave a comment if you have any other good examples, or any other notes on Google+ and SEO.