The 5Is model from Forrester can help to structure your digital marketing
Forrester is a well-established market research company focusing on business applications of digital technology and media and over the years, the team from Forrester have developed a number of models that we can apply to digital marketing. Occasionally they extract insights from their research and share in the form of a blog article. In 2007 they created a measure of engagement which was termed the 5Is although their focus was on 4 specific elements beginning with the letter 'i'.
What are the 5Is?
The 5Is stand for the level of involvement, interaction, intimacy, and influence an individual has with a brand over time.
The concept was based on research conducted by Forrester where they concluded that the traditional marketing funnel was dead and they proposed 'engagement' as a new metric. Engagement as a term had been discussed by many scholars as far back as 1991 when a team from Western Michigan University shared their research on 'the experience of flow in computer-mediated and in face-to-face groups'. In this instance 'flow' is about being 'in the zone' or being very involved with something - a characteristic often used to describe Pinterest users, where they start seeking a specific item and end up spending hours in the social media network, as they delve deeper and deeper into shared items. The 5Is were the answer to a marketing funnel that no longer worked and the more a user, visitor or customer was 'engaged' with the brand, the more successful the outcome for the brand.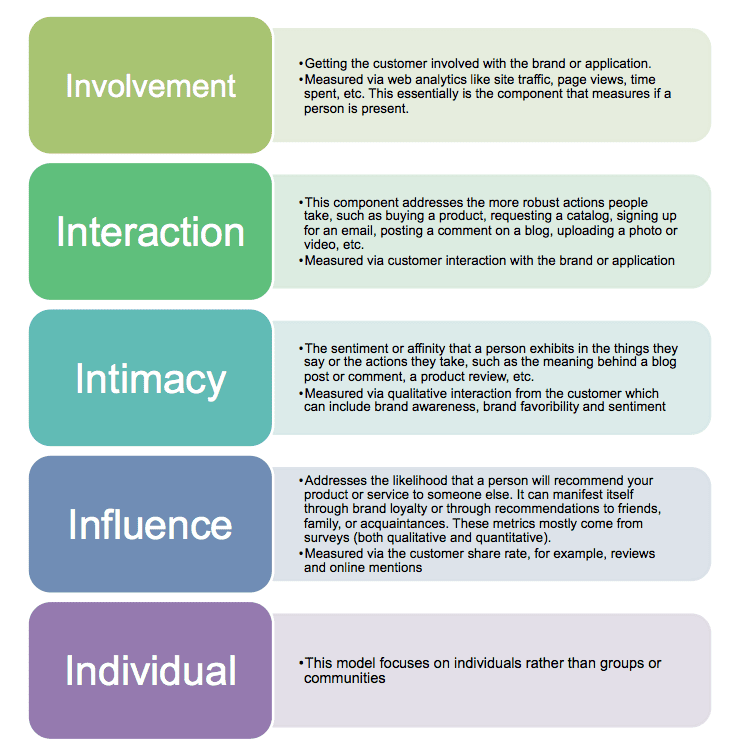 What to watch for
In 2011, four years' after the original concept of the 5Is was launched, Sean Corcoran, another member of the Forrester team, reviewed the 5Is and commented in an article on revisiting the meaning of engagement noted that "any good marketer knows that just getting a customer to be involved or to interact with an application or campaign is typically not enough to drive results — even basic awareness" he explained that whilst the 5Is could be achieved, it did not mean a campaign had succeeded and suggested the only way to ensure this model works is to focus on the company's objectives and ensure that any campaigns or plans were built around relevant engagement, to gain results.
Engagement of an audience with an online brand should always be referenced against timescale. For example, the Smart Insights RACE framework considers short-term interactions in social media which can lead to conversion and longer-term customer engagements.