How do the trends of 2015 compare to 2016 and what are the implications for your marketing investments in the year ahead?
Around November/December/January of every year, there is a flurry of posts discussing the trends for the following Season. This time around is absolutely no exception!
With trends posts already creeping including Dave Chaffey's Digital Marketing Trends for 2016 post), they undoubtedly make for interesting reading and help you consider further where to prepare for the year ahead. In Dave's post we asked Smart Insights readers to vote not just on 'what's hot' or what they expect to drive the most leads and sales, but what will give the biggest increment - or improvement - a key difference when looking at changes.
In early December we'll be doing a 'deep-dive' into trends for the different channels too at our free online summit - check out the agenda below - you can register in advance or view a recording if you read this later.
However, in this post I thought I'd do a slightly different take on trends. With the (not so) recent excitement around Back to the Future Day, it got me thinking. With everyone comparing how Robert Zemeckis (The Director/Co-Creator of the trilogy) thought 2015 would look back in the late 80's, why don't I compare our predictions from last year to this.
The purple represents the trends predicted for 2016, whilst the grey shows those predicted for 2015 back in 2014.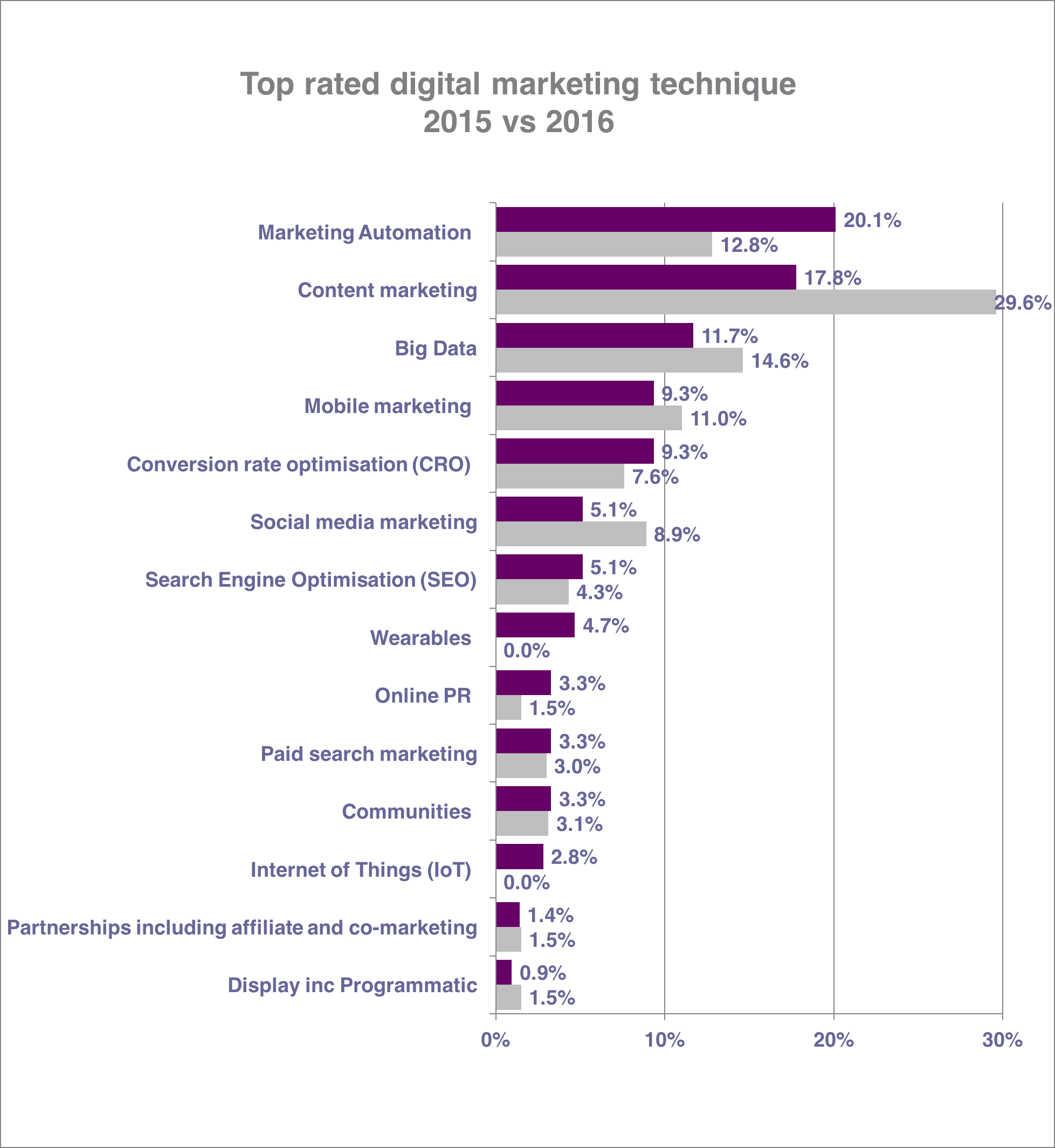 2015 Trends
Looking back at our 'Digital Marketing Trends 2015' post and the chart below, it was overwhelmingly clear how important Content Marketing was viewed; which was by far and away the most commercially important digital marketing trend. This came as no real shock, as it had been top the previous two years, however the distance by which it won was perhaps a little more than expected. This was something that was, in part, helped by the perceived diminishing importance of Mobile Marketing and Social Media (although they still ranked fairly well).
Rather ironically, although not strictly Mobile Marketing, Google updated their algorithms with the Mobile-Friendly update, or 'Mobilegeddon' as it was so affectionately referred to by the media. Perhaps, suggesting that prominence of Mobile Marketing has not quite gone away yet.
As you can see from the chart, second place went to the much hyped 'Big Data'. Which, in essence is the "collection of data sets so large and complex that it becomes difficult to process using traditional data processing applications" (thanks to Mick Hollison for that one). The increase in technology available and the appeal of applying this to digital marketing (allows you to get a far more reliable data set, analyse and understand consumer behaviour in detail, forecast more reliably sales, gives companies the chance to provide more tailored services/products and optimise ROI) it was easy to understand why there was a big surge in the popularity of Big Data.
In third position was Marketing Automation, which in recent years has become a bit of a Buzzword. It's also relatively self-explanatory term whereby you use Software and Web-Based Services to streamline, automate, manage and execute tasks, which would otherwise need to be performed manually. Affecting tasks such as customer segmentation, email marketing, campaign management, scheduling, tracking etc. Again thanks to the advances in technology and frankly more intelligent use of software, Marketing automation saw a transition from something which had previously been perceived as "Spammy" into something which has become incredibly user-friendly and personalized.
How did these translate into 2016 then?
Digital marketing trends for 2016
Compared to 2015, there appears to be a new kid on the block. Again the top three are the same, with Content Marketing, Big Data and Marketing Automation receiving the most votes. However, there has been a slight, but we think significant shift with Marketing Automation creeping up from Third position in 2015, up to Top Spot in the 2016 poll, closely followed by Content Marketing and then finally Big Data.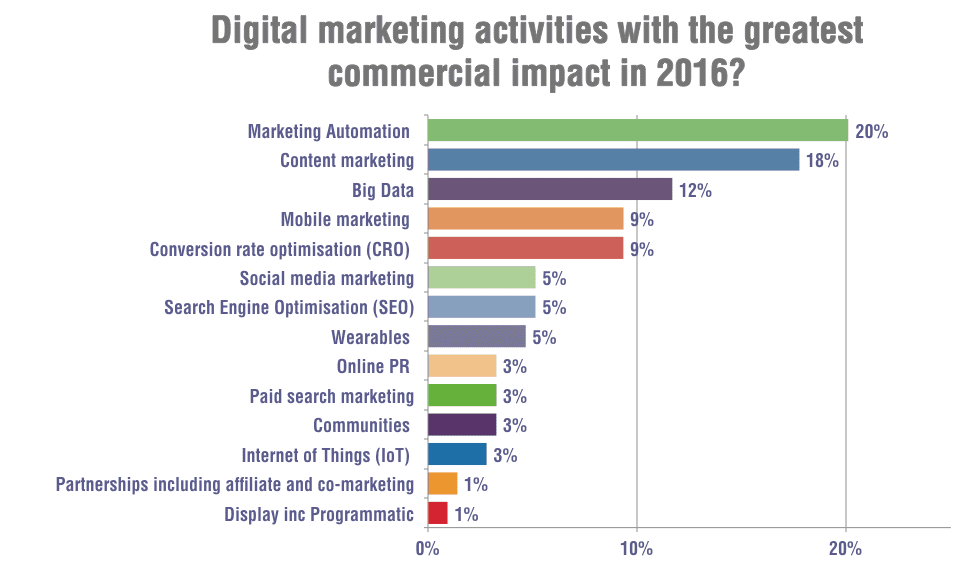 This shift in power seems to be with some disillusionment with Content Marketing - there's even a name for this - Content Shock! It's a direct result of more and more marketers spending more and more effort and budget on content, with an estimated 50% of a marketers time spent on content creation and delivery.
Instead, the top trends for the year ahead is Marketing Automation. We think this is because our research on Marketing Automation shows that marketers can see the benefits of making improvements across the customer lifecyecle from engaging and nurturing prospects, qualifying leads, shortening the overall sales cycle and communicating to existing customers. So it's no surprising that many rate it as having the biggest incremental improvement across digital marketing
Interestingly enough, the next trend, Big Data can have a direct effect on how successful your marketing Automation actually is. Deepak Gupta of Marketing by Deepak suggests "It is extremely important to truly understand, using deep dive data analysis, the segmentation and persona that resonates within each channel," highlighting the importance of understanding your customer as well as possible do deliver the best results.
We're always surprised how #BigData is rated since we think it's a case of 'Emperor's new clothes' when we talk to marketers they don't rate it. However, they do see the power of actionable insight and data-driven marketing - it's applying #SmallData they rate.
Moving away from the poll, other trends which are starting to appear include the likes of the increasing complexity of the purchasing decision, something which as Digital Marketers, we must be aware of. Research analysts Gfk recently put together an example of today's consumer purchase behaviour using car insurance as an example.
One of the reasons behind this increase in complexity, is due to the multiple devices available to consumers and their Increasing Mobile Usage. Their search behaviour is becoming increasingly erratic, as a spur of the moment thought may prompt a search on a phone or tablet, which may ultimately bring up different results and or have a different user experience. Impacting their perception or even awareness of your product or service. This continued growth in Mobile use, as highlighted by the graphic below, is just another of the Digital Marketing Trends in 2016, to keep an eye out for.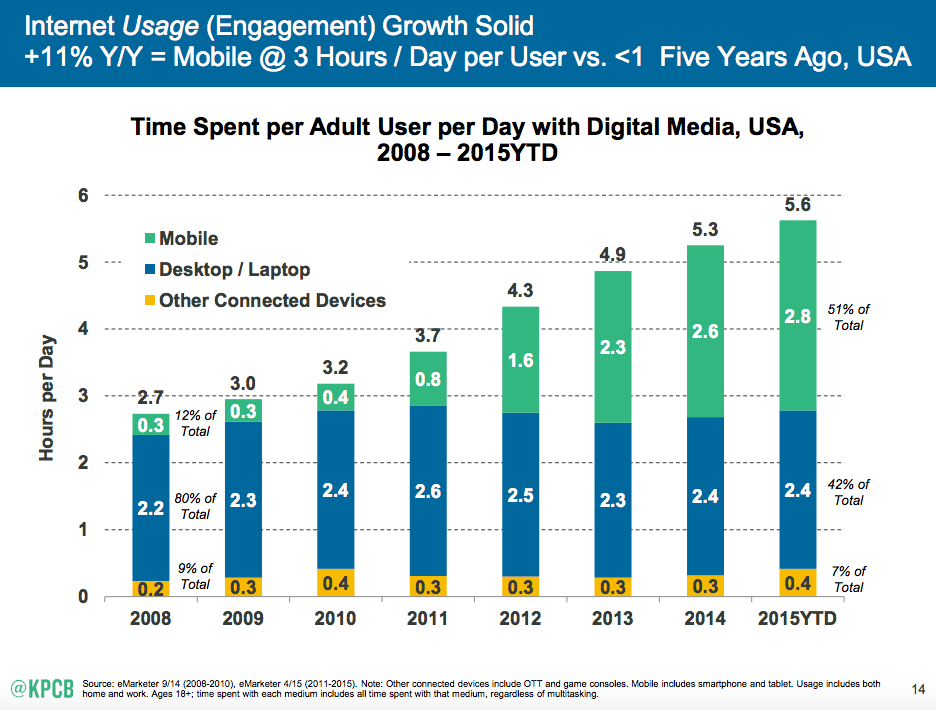 Finally, one trend which will be coming into 2016 is a change from 'Digital Silos' to an integrated team as part of the stages of Digital Transformation. The idea of a "post digital world" is one that has been banded around for a little while, as the use of digital media and technology in marketing has become commonplace in the majority of marketing landscapes, the idea of having a separate Digital Team and Marketing team appears to be becoming a thing of the past.
---
If you have any questions about the webinar or our resources for planning or particularly if you think we're missing a key digital trend do comment below or get in touch to give your own views in an article.