Vision-setting examples for digital examples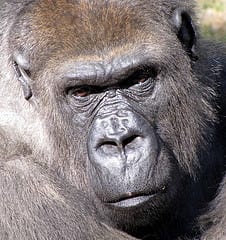 When we discuss goal-setting and measurement for Internet marketing and Ecommerce, it's all too easy to start reviewing nitty-gritty measures from analytics like bounce rates, conversion rates and average order-value.
But if you do this, you fail to capture the big picture and create a long-term vision of how the Internet and other digital channels can really contribute to your business as a whole.
Using BHAG thinking can help you think out-of-the-box and think BIG.
BHAG stands for "Big Hairy Audacious Goal" and was popularised in a 1996 Harvard Business Review article by James Collins and Jerry Porras on Building Your Company's Vision.
Here are two examples of how companies define their long-term vision with BHAG.
Case study 1. How ASOS reports it's Ecommerce KPIs
Pureplay fashion retailer Asos has been very successful in taking on the established providers in the sector. If you take a look at the latest ASOS full year results in its annual report providing more insight into the effectiveness and efficiency of its Ecommerce operations than many.
ASOS has recently clarified its BHAG - it's both audacious and specific: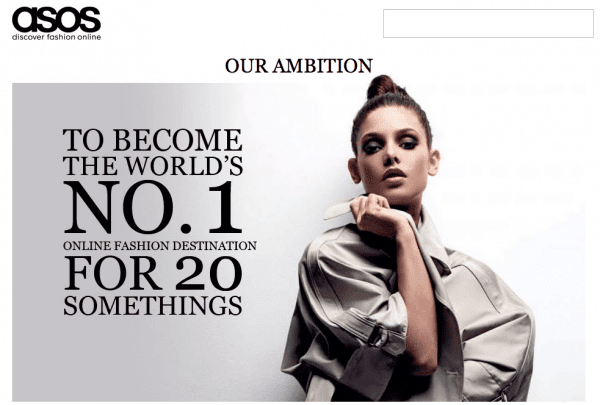 One of their main KPIs used to assess this BHAG is "active customers" which always prompts the question "what is active"? For ASOS, active is not actually that active, they're defined as active since they have shopped in the last 12 months.

Case study 2. How Google sets BHAGs
Here's a great, but perhaps scary example, of how relentless Google are in pursuit of BHAG. The Google approach of setting goals and measuring success is shared by Google manager Don Dodge. Don gives this example of BHAG goal setting at Google:
"OKRs are Objectives and Key Results. I submitted my Q1 OKRs with what I thought were aggressive yet achievable goals. Not good enough. My manager explained that we needed to set stretch goals that seemed impossible to fully achieve.

Hmmm I said... This is just a 90 day window and we can predict with reasonable accuracy what is achievable. Why set unrealistic goals?" Because you can't achieve amazing results by setting modest targets. We want amazing results. We want to tackle the impossible".
Why do you need Big Hairy Audacious Goals?
Collins and Porras 1996  explain the thinking behind BHAG as follows:
We found in our research that visionary companies often use bold missions or what we prefer to call BHAGs (pronounced BEE-hags and shorthand for Big, Hairy, Audacious Goals) as a powerful way to stimulate progress.

All companies have goals. But there is a difference between merely having a goal and becoming committed to a huge, daunting challenge such as climbing Mount Everest.
Why BHAG are needed for digital channels?
You can see why BHAG help support digital marketing strategy since moving from a traditional to a new way of business is a also a big climb, or a long journey at least. Setting BHAG helps show your colleagues how big the mountain is and the camps required to transition to an ebusiness. It also implies the need for commitment in terms of budget and internal and external resources.
What are the characteristics of a BHAG?
They go onto explain the essence of BHAG as follows...
A true BHAG is clear and compelling, serves as a unifying focal point of effort, and acts as a catalyst for team spirit.

It has a clear finish line, so the organization can know when it has achieved the goal; people like to shoot for finish lines. BHAG engages people; it reaches out and grabs them.

It is tangible, energizing, highly focused. People get it right away  it takes little or no explanation.
From a digital marketing point-of-view we can say that a BHAG should explain your long-term vision and should be:
Aspirational - it should explain where your organisation wants to be in 1, 3, 5 years time
Transformational - it should highlight the change require. Ecommerce manager @mattcurry has commented to me via Twitter "how good BHAGs are for forcing innovation - because they're impossible to achieve without it".
Realistic - BHAG need to push boundaries, but they need to be achievable based on market insight so that they are believable by those who have to deliver on them
Examples of BHAG for digital channel management
For the Internet, BHAG are usually around big increments in leads and sales originating from online channels. It's what the digital channels contribute to the bottom line. In my books I call this "% Online revenue contribution".  Alternatively it can be a service contribution which can result in a big cost-saving - imagine the savings through web self-service for a bank, travel company or a mobile operator for example.
To help explain them Ecommerce managers have told me that they use analogies such as the growth in crowds from one football stadium to another or number of jumbo jets from different product categories.
Whenever I explain goal-setting for  digital within my books or workshops, I always turn back to a tried and trusted example about easyJet. In the mid 1990s Stelios Haji-Ioannou of easyJet reputedly didn't "get the Internet".
He  denounced it as something "for nerds", and swore that it wouldn't do anything for his business. But as a flexible entrepreneur,  he decided to experiment with a prototype site, and sat up and took notice when sales started to flow from the site.
To help achieve implement their strategy easyJet set a BHAG which was an initial target of 30% online sales of seats by the year 2000. By August 2000, the site accounted for 38% of ticket sales and by 2001 over 90% of seats. Today, phone sales are down to just single digit percentages.
Based on early successes, easyJet decided to invest in the new channel and proactively convert customers to using it. Key elements of their strategy which supported the BHAG were:
A clear online value proposition of a £2.50 cost reduction compared to phone bookings which persuaded customers to switch channels.
Clear definition of marketing messages  the home page highlights it's proposition on the left side of screen with "hero" promotions interspersed. The top menu option clearly shows the range of services also.
Focus on conversion efficiency - a simple example of this is that easyJet were one of the first
Offline promotion of easyJet through emblazoning their planes with the URL (still innovative in the 1990s)
Relatively early adoption of online communications techniques like paid search marketing, search engine optimisation and e-newsletters