How many subscribers open and then click on your emails on different types of mobile devices?
The growth in mobile web access and the implications for mobile optimised web design is now well-known, but what about the implications for email marketers and email design?
Some new research by Pure360 Missing a moving target: Mobile device opens and click through rates summarised in this infographic reviews the impact across different sectors.
Litmus also have some great research on the popularity of accessing email over mobile - see their research at the end of this post.
For me, this data point from the infographic had the biggest impact, how does your mobile unique click to open rate compare?
28% of Emails are Opened on mobile devices...
but only 10% lead to clicks.

This research is based on detailed analysis of over 35,000 different emails sent by over 119 companies in 23 sectors.
The Litmus data on mobile email opens  shows the growth in mobile email platforms through time - it is now the major platform for open in their breakdown: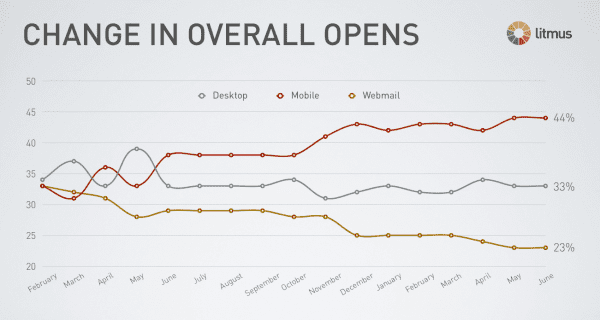 It's also worth checking out the excellent Litmus Email Client Share statistics which give another way of seeing the importance of mobile email today with Mail on iPhone, iPad and Android all within the top 5.