Which email clients should we design and test for?
It's important to agree the target email clients you want the email to be displayed in when briefing an agency to develop a new email template or enewsletter layout. Of course, large volume senders will want the email to render in all, but for smaller businesses it's OK to target and test a smaller number.
Traditionally the main email clients to target are the main webmail services plus different Outlook versions.
Hotmail
Yahoo! Mail
Gmail
Outlook 2003, Outlook 2007 and Outlook 2010
B2B marketers will probably have added different versions of Lotus Notes and Blackberry.
Today, you also need to think about how emails will render on different versions whether desktop or mobile.
To find the popularity of the different clients, it's worth checking out the market share compilations. This new infographic on popular email clients from Litmus shows the current popularity of email clients that email marketers should target. It's based on 1 billion opens from marketing emails sent worldwide over 2011 and into 2012.

For comparison – Email popularity in 2010
Litmus also had a useful review of the most popular email clients from 2010.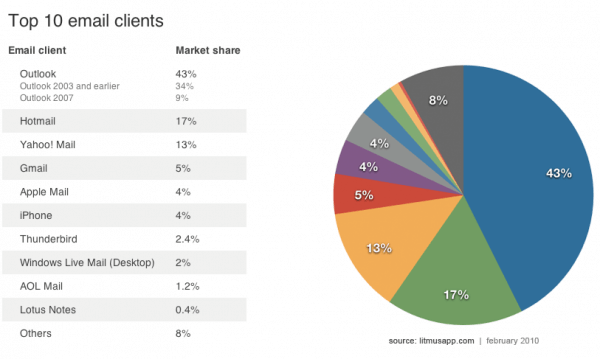 This compilation shows that the ones most companies should check for are as above, but Apple Mail and iPhone are getting more important and perhaps surprisingly are more important than Gmail, so those should definitely go on the list to target and test against too.
Mark Brownlow has written a companion post comparing email preview software tools.