An introduction to the main social signals used by search engines and how this changes SEO
If you have followed the first 9 steps in this SEO series, you'll have picked up tips on what have been the core elements of SEO since the optimisation of organic search listings began. In step 10 we move on to one of the newer components of SEO, one that is increasing in importance and likely to have a greater impact as search engines evolve from thinking about optimisation to rewarding interaction and influence.
Social media signals started to play a part in search engine algorithms back in December 2010 but it wasn't until 2011 that the likes of Google really started to pay attention and dedicate more effort to indexing social content and using social signals to boost content in search results. For a neat history of Google algorithm changes, turn to SEOMoz.
Furthermore, as Google ploughs on with its paid inclusion Armageddon, less and less organic content is appearing above the fold. This means web marketers need to think of SEO in broader terms – not focussing on keywords and markup, but rather using content to excite customers and encourage them to click and share. This will tick the current SEO box but also help ensure there is a level of protection when and if pure SEO experiences diminishing returns.
Which social signals currently influence search results?
With over 200 search signals and constant changes, it's hard to be precise. However, there are some key signals that are worth noting.
Google+
Ever since Google launched Search Plus Your World in 2011, it has been playing with ways to increase the importance of G+ content in SERPs. This was clearly a play to 'motivate' more people to create a G+ profile as its social battle with Facebook and Twitter continues.
There are four main ways that Google+ content influences SERPs:
Your G+ posts are prioritised for people in your circles when there is a match.
Google+ profiles (people & brands) appear in search results.
Posts from G+ are returned alongside other organic search results.
Webpages with large numbers of +1s send a strong relevance signal.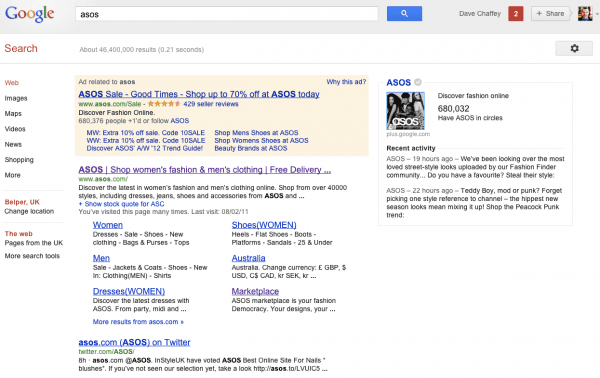 Please note that this isn't the case with every search – there seems to be a lot of variation in what G+ content is surfaced in SERPs depending on personalisation and the strength of the brand in Google+.
Recommended reading is Russell McAthy's blog on the potential implications of G+.
I'd also recommend these other Smart Insights resources for learning about marketing using Google+:
Social votes
Search engines are looking for signs of influence and relevance. Each time a customer completes a social action for a webpage (e.g. they 'Like' the page on Facebook, they add a customer review), this sends a social signal.
The more signals your webpages gather, the stronger the signal. Therefore, all other things being equal, if you come up against a competitor with limited social love, your webpage will be considered more relevant, increasing the likelihood you will appear higher in search results.
Social bookmarking
Social influence is another important search signal. When your webpage URL is posted by other people to their social networks, another signal is created. Again, the greater the share rate, the stronger the signal.
Using social bookmarking tools like AddThis gives your customers the ability to quickly share content.
The value of being recent & fresh
You've only got to look at Google's May Search Quality Highlights to see that these two signals are increasingly important:
Recent
To be loved by search engines, you need to be loved. So if your webpages are of course keyword targeted (optimised page title, H1, meta description, body copy, external links etc) but passive, with limited traffic in the last few months and nobody bookmarking or posting comments, sharing socially etc this will send a signal that says "well optimised and relevant for this keyword but old, so look for pages with current activity".
Now the exact weighting of recency in the algorithms isn't known, and it's not an exact formula, but the emphasis should be on keeping content current and using your marketing channels to encourage customers to keep reading, commenting, sharing, liking etc. And if you think about it, that makes sense. Why would you want lots of pages sat on a sever that never get visited and are shrouded in digital cobwebs?
Fresh
This means that old, unused content will not be considered as relevant as new content or regularly updated content. So sticking up lots of content pages for SEO and then leaving them to gather dust will have short-term impact but is unlikely to give you sustained SERPs uplift.
What counts is to keep updating old content, produce new content and keep the content relevant so people visit and interact with it e.g. people keep bookmarking the content via their social networks so there is 'fresh' conversation.
From the horse's mouth:
Smoother ranking functions for freshness. [launch codename "flsp", project codename "Freshness"] This change replaces a number of thresholds used for identifying fresh documents with more continuous functions.
Better detection of searches looking for fresh content. [launch codename "Pineapples", project codename "Freshness"] This change introduces a brand new classifier to help detect searches that are likely looking for fresh content.
Your comments
Enough info to digest for today? The reality is that the best way to 'use' social media to support SEO is not 100% understood yet as the search engines are evolving their indexing of social content and weighting of social signals.
In my next article I'll look at how Google's new social analytics can be used to learn more about how shareable your content is, so that you can see whether you're sending the right social signals to the search engines.
The key take-away is this – SEO is changing, has changed. Obsessing over ranking signals to please search engines is the past. The present, and future, is focussing on using quality content to inspire, motivate and excite your customers so that they interact with this content and share it socially. The more you inspire people to like what you do, the more they will talk about it and the greater the social influence of your content. This in turn will send the strongest possible quality signal back to the search engines.
Your challenge is to determine how best to use social media to increase the impact and reach of your content, and then dig into the available reporting suites to ensure you are measuring impact and using the learning from the analysis to inform your on going communication and content plan.
Please drop by and share your thoughts and if you feel the urge, share this with your friends/colleagues to encourage further debate.
Did you miss the other posts in this SEO series? You can catch up here:
If you have followed the first 9 steps in this SEO series, you have either cured your insomnia or found the path to enlightenment. Either way – I hope they've helped you review or improve your approach.
Thanks
james