Unsurprisingly, Facebook leads the way with 1.6 billion active users. But who follows?
As a business, it makes obvious sense to be aware of the potential of different media to reach your audience. Of course, this is the same for more traditional forms of marketing, from broadcast and print, right through to  digital.
Since the turn of the century, digital marketers have looked towards social media as an increasingly necessary part of their marketing strategies, with varying success. So understanding the popularity of social media is essential.
But what does popular mean? We could take registered users, but many of these could be bots or inactive users, so it's important to note, that when I'm discussing the term "Popular" I'm referring to the number of active users rather than all users or even the overall satisfaction ratings.
Most popular social networks based on global active users - April 2016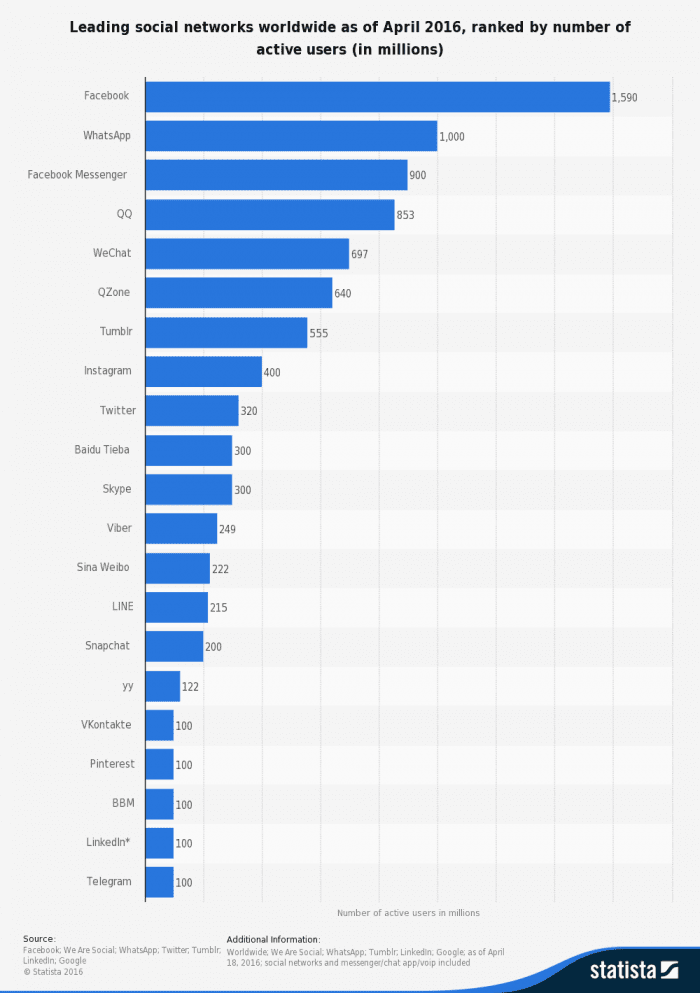 So, it's a clear picture with Facebook ruling supreme. This won't be a shock to anyone. With over 1,590 million active users, it holds an 18% market share, 7% more so than it's closest competitor, the Facebook-owned, WhatsApp.
Following from this, we have predominantly APAC favoured platforms, with QQ (9%), WeChat (8%) and Qzone (7%) all with over 600 million active users, highlighting the array of offerings the APAC. We then see a cluster of predominantly western social media networks in Tumblr (6%), Instagram(4%) and Twitter (4%).
Going beyond overall active users it's also important to understand popularity by device and engagement. Facebook scores strongly here too. This compilation from Forrester shows Facebook and Instagram leading on social network popularity based on mobile app engagement.
Source: Statista based on compilation of other sources including the Social Networks,
Sample: Facebook, We Are Social, WhatsApp, Twitter, Tumblr, LinkedIn, Google
Date: April 2016
Related Smart Insights compilation: Social network stats compilation