Over 44% of adults now using the web to share grievances
Value:
Recommended link: Social Media Leadership forum
Our commentary
This report examines the role played by social media within the rapidly changing landscape of customer service. It was commissioned by Natalie Cowen, Head of Brand and Communications, first direct and created by Dr Andrew Currah.
The report reminds us how important the web and social media in particular have become to brands. In the Exec Summary, Natalie Cowen says:
"Over 44% of adults now use the web to share grievances about products, with companies expected to interact with companies online and get a speedy response"
It seems that many companies haven't changed the way they manage customer service in line with this - Dan Bosomworth summarised a survey in the autumn last year suggesting that 95% of customer Facebook posts were ignored by brands.
We're alerting you to this new report, since if you're managing how social media is used to deliver customer service in a business it helps give a structure to changes needed as part of the move to "Social CRM" as it is often termed today.
This is a summary of the approach recommended: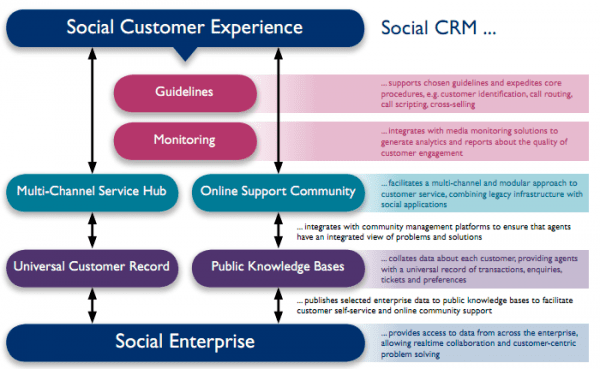 Marketing implications
The report recommends that leaders in companies need to support the move to social business
make themselves more visible, especially when public crises occur.
provide all employees with the training, tools and authority to engage with customers.
look beyond standard metrics to the value of brand loyalty, advocacy and a sense of community.
The report goes on to recommend these governance practices:
The customer service operation is equipped to monitor and engage with a targeted spectrum of media.
Companies fully understand where, why and how their customers are using social media before making any changes.
A balance is struck across different types of media - telephone, email, web, social and mobile.
The power of online communities is recognised, and customers are encouraged to help each other.
Relationships are nurtured with advocates who wield particular influence on the Internet.
Specialist tools are used to measure the impact of customers' online activity
The report has been made available to share via Scribd. This include a more detailed 10 point plan to setup and implement better ways of working. The only thing I would add is that the opportunities to use social CRM to learn about new product/service requirements, develop advocacy aren't emphasised.
Future Of Customer Service: The Rise Of The Social Customer report