An introduction to selecting the right B2B social media options
Most business-to-business (B2B) companies are already employing some form of social media as part of their marketing mix. But how many B2B marketers really think about their customers, who they are, what they look like, what they like and where they congregate, before selecting and using social media tools? And which are the right tools to use? I think there's a danger that companies feel they have to use everything, but fail to prioritise on the social media networks that matter [Editor's note - you discuss with colleagues what to prioritise with our Digital Marketing Radar].
The social media business conundrum
Using social media and selecting the right tools is the urgent marketing challenge facing B2B marketers. But they are faced with huge challenges that their B2C colleagues are not. The immediate and emotional nature of the B2C purchase compared to the complicated, multi-tiered specification B2B purchase means that B2B marketers have to work harder to convince a number of key decision makers and influencers. This in turn makes attribution and return on investment calculations all the more difficult to apportion: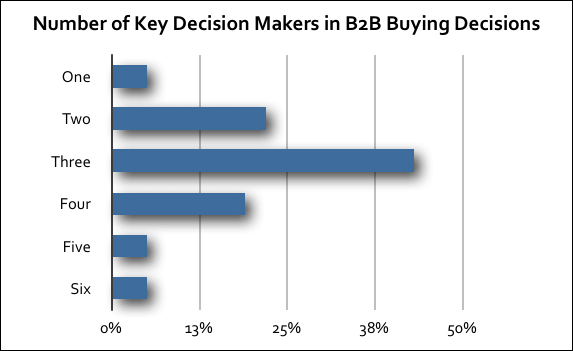 [Image and data: Informing Arts blog]
Using the popular social media sites
It's a given that your target customer probably has a Facebook profile. But does he want to be interrupted by your 'targeted' messages during his social downtime ? Would you? Yes, businesses are using Facebook increasingly as a hub for all their activity and there is even talk of Facebook replacing websites, but I think in B2B we are a long way from this becoming the norm.
She might be using Twitter, but will probably not be tweeting specifically on behalf of her company. If she is, she is likely to be working within tightly controlled guidelines designed to try and control messages and limit liability. Some sectors like construction, packaging and finance are well represented on Twitter, but other industrial, manufacturing and engineering sectors have been slow to develop on any significant scale.
Maybe the customers you want to reach are using Linkedin? They may have a profile but the degree to which they engage and are visible through Groups, Answers and using other Linkedin functionality is probably difficult to quantify. The issue of connectivity on Linkedin is compounded by the need to connect before any meaningful interaction can take place. If used well and respectfully, Linkedin can open doors, but used badly, and your reputation is left in tatters as a spammer.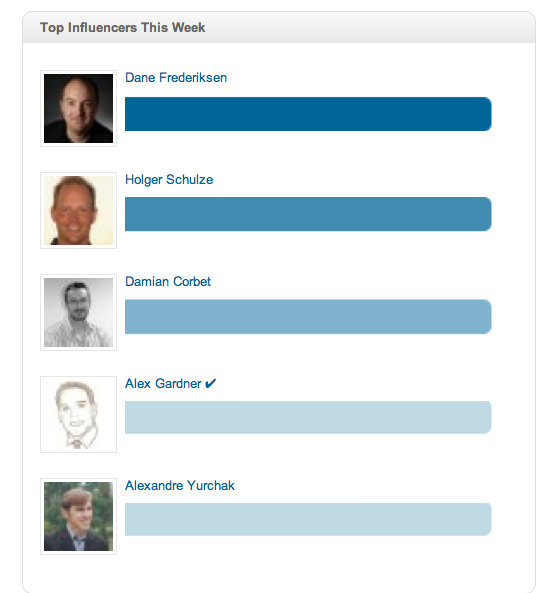 [Image: Linkedin B2B marketing group 'top contributors' at 29 June 2011]
So it's a risky business and its no surprise that B2B companies adopt a cautious, controlled approach to social media. But this flies in the face of the ethos underpinning social media use. One of openness, a desire to communicate and a willingness to engage.
Tapping into the need for information
What we do know is that business professionals use the web as a source of information. Search is dominated by requests for information about products, services, suppliers, distributors and recruitment. Much of this still channels browsers to corporate websites rather than social media profiles, though this will start to change as search and social become intertwined, with Facebook and Bing partnering and Google introducing real time social media mentions into search results. But in some B2B sectors, this has not yet become the norm.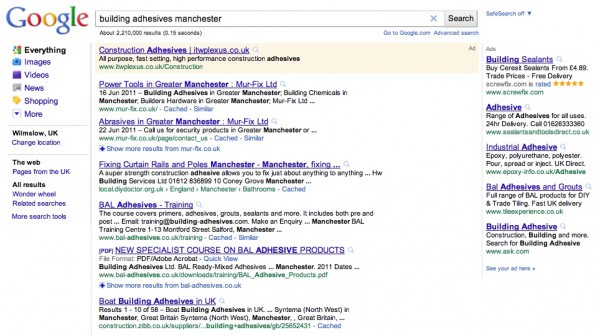 [Image: Screengrab showing a conventional long tail B2B Google search]
And targeting customers using social media tools is further hampered by the fact that for all the search that goes on, most B2B browsers stick to a routine, clearly defined, and limited set of websites for their information. Perhaps, because there simply isn't the time to take in the scope and scale of the information available online or perhaps because personal security online makes browsers nervous of trying new sites.
Does the answer lie in inbound content marketing?
Social media in B2B marketing becomes more about the provision of useful, timely, relevant and engaging information and then taking the permission earned to develop transactional relationships. It isn't social media in the way it was conceived.
But it is still social, shareable media. It means making the best use of blogs, white papers, online hosted documents and presentations, webinars, video, audio and images as content, and then using the best tools available to seed them in the optimum places for desired audiences.
A thought out content marketing strategy repositions and repackages existing material or makes it easy to create. A single piece of content - whether it is a blog post, press release, slide set, video, feature, brochure, data sheet - can be repurposed in dozens of new ways and used to generate inbound inquiries from audiences that traditional cold calling fails to influence. Target customers buy into you through the expertise inherent in the material you share.
Linking this seeded content through to dedicated information capturing landing pages (perhaps even supported by pay per click advertising, email, Twitter and other distribution techniques) gives your content both a better chance of going viral and a greater opportunity to create inquiry that might lead to sales conversion.
As Smart Insights new B2B expert commentator, I'll be taking a closer look at how B2B marketers can make the most from the opportunities that digital marketing, and social media particularly, offers.