Using Tweetreach to find out your main influencers in Twitter
I'm writing this post to share a neat, free tool which as it says in its strapline answers the question How far did your tweet travel? I'm prompted to write this summary since I was recently asking this question after Chris Soames, one of our Smart Insights writers, wrote a popular post on finding the best harshtags in Twitter which was widely shared.
To answer the question of who is influential in sharing your tweets, Tweetreach provides a great simple, tool to help with this. If you enter the URL for the page your tweet links to, it will show you Retweets, new tweets not referencing the original and most usefully which Twitter users contributed the most "impressions":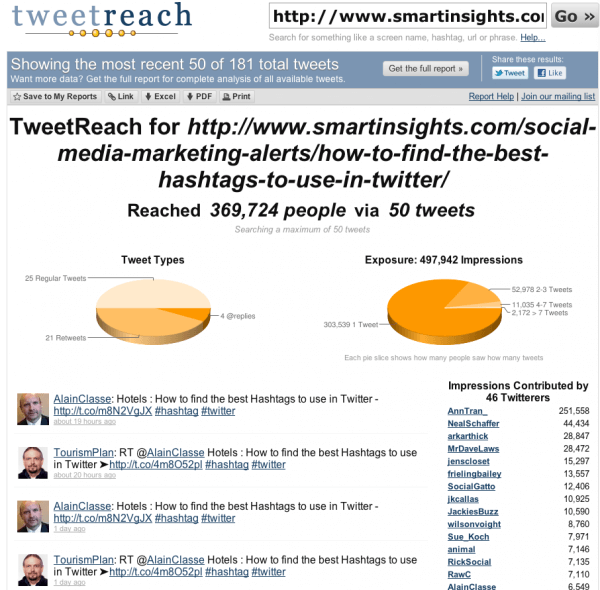 You can see that this post was successful because it was shared by several Twitter users with over 10,000 followers and AnnTran_ who has around 250K followers. Once you know the most influential you can then do the outreach thing  like contact them to thank them, setup collaborations or contact them in future when you have similar content you think may be shareable.
Using Tweetreach is only one answer to this question. It would be good to hear how you tackle this - either with paid tools or free tools. Certainly this tool works best for individual posts and is not so good for an aggregate view. I used to use Backtweets/Backtype for this analysis, but they have been acquired by Twitter, so more of this insight should be available from Twitter soon...
Of course, all tools have limitations and you have to ask questions about the validity of their measures. For example this service suggests our post reached nearly 1/2 million Twitter users via Impressions, yet not all followers would have seen our Tweet (far from it) and many of the Twitter users with many followers here use Twitter autofollow bots (boo!) which mean the quality of audience may not be so good.