New report shows the why, what and how of selecting social listening tools
Listen first! is the first step in almost all advice on creating a social media strategy. To listen effectively you need to choose the right listening tool. There's certainly no shortage of choice. Back in 2009 (and updated since) we created a comparison of 36 of the best known social media listening tools including free and paid.
It seems the choice now is even more bewildering. A July 2012 comparison of social media monitoring tools by Ideya Ltd shows that there are at least 250 tools now available. Of these 191 are paid, with the remainder free or using a combined model.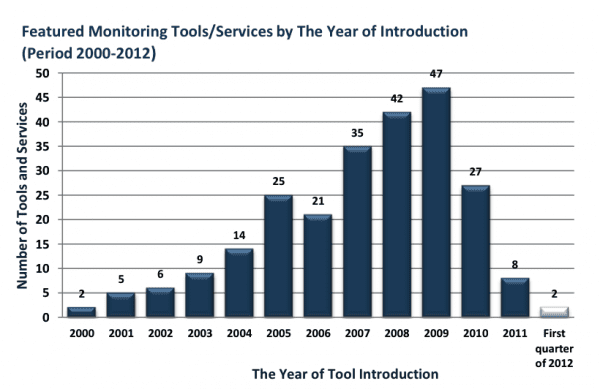 The report extract below has good detail on how to approach selecting tools, a listing of all tools and a detailed profile of each tool.
How do social listening tools help in marketing campaigns?
SMM tool metrics and measurements are designed to evaluate company activities and inform an overall social media strategy. The metrics may involve statistics about the share, reach, impact and speed of conversations about the company. These parameters can be used to assess the company image and perceptions before and after campaign and measure campaign effectiveness and identify trends that lead to new marketing and product tactics.
Ideya say that social media monitoring tools typically assist organizations in:
1. Acquiring real time social marketing insights to inform social media marketing and communication plans.
2. Optimizing design of marketing and advertising campaigns based on customer insights,
3. Developing social content strategies to promote products and services and engage with current and potential customers across social media channels in real time,
4. Monitoring and applying "word of mouth" consumer recommendations as a form of direct advertising by identifying and engaging with key influencers, generating buzz, and establishing and building relationships with key influencers,
5. Supporting rapid social marketing engagement, and
6 Developing performance metrics.
I'd add that they're also useful in getting insight about customer perception of product categories and how your products or services are considered relative to competitors. This can help inform new product development.
Requirements for social listening tools
So that's the "why" of social media listening tools, but how do you decide? Issues to consider when selecting social media tools are summarised in this chart.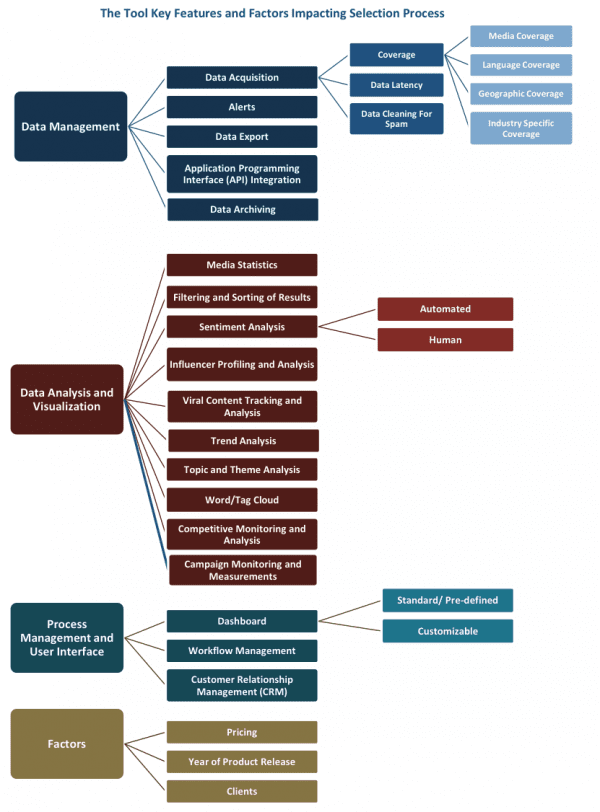 We also have more practical advice on requirements for social listening tools in this post by Gray Dudek.
Finally, here is the introduction to the report, we hope you find this alert useful.