Is that really the case?
This headline from Business Insider has to be the most misleading of the year for me. It's certainly engaging, but what's it based upon? When Andy Lloyd Gordon shared it through Twitter yesterday I couldn't resist clicking to see what this claim was based on.
The report by Sucharita Mulpuru, an analyst at Forrester Research showed that less than 1 percent of the online transactions amongst US customers could be traced to a social media post.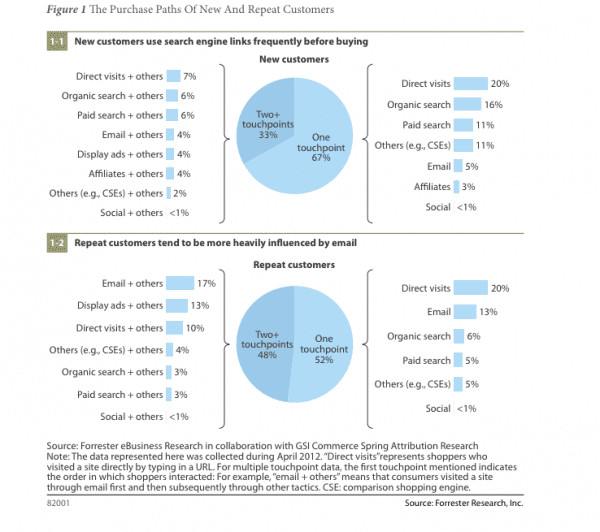 The article states:
"Social tactics are not meaningful sales drivers.

While the hype around social networks as a driver of influence in eCommerce continues to capture the attention of online executives, the truth is that social continues to struggle and registers as a barely negligible source of sales for either new or repeat buyers.

In fact, fewer than 1% of transactions for both new and repeat shoppers could be traced back to trackable social links."
Retail transactions from 2012 included single touchpoint transactions and multiple touchpoint attribution. For new customers acquisition, 67% of which involved a single touchpoint, 20% were direct visits, 16% were organic search and 11% were paid search. Social media were less than 1% for both single touchpoint and multiple touchpoint attribution analysis.
Methodology
So what is this based on and who does it refer to? Well it isn't a survey of retailer or consumer perceptions. Business Insider didn't go into the methodology, that might get in the way of the headline, but it's based on primary web analytics data of transactions from US customers of retail clients of GSI Ecommerce.
The clients of GSI are well-known retail brands particularly in clothing, e.g. DKNY, Levis and Speedo and toys (ToysRus), Early Learning Centre and Mattel.
So, it's a credible source, indeed we featured data from the same survey a year ago when discussing the importance of Email marketing to retail sales - that's the angle we took…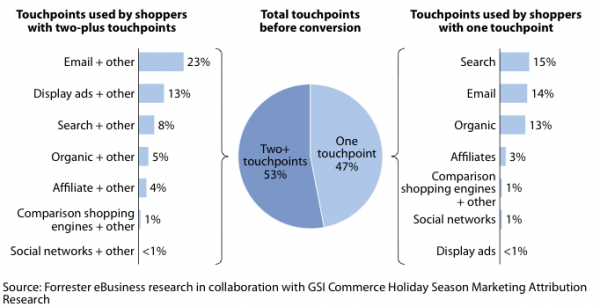 Business Insider noted:
"Mulpuru didn't study small businesses, which she said do disproportionately well in social commerce".
Despite this, even for big brands we might expect to see more direct influence of social on sales since this is not a "last click" study, the research does look at multiple touchpoints although the cookie window for attribution isn't reviewed, we can assume it's 30 days?
So what can we learn from this given that this is a credible study? Well it's certainly a reminder of the power of other digital channels in driving sales. Paid and Organic, email marketing (from existing customers) and to a lesser extent display advertising and comparison sites are undeniably still key sales drivers so they merit investment and work on improving their efficiency through following best practices.
Why this headline and data gives a misleading view of the value of social media marketing?
I still think that the conclusion that Facebook and Twitter Do almost nothing to drive sales is still highly misleading, since a direct response view of effectiveness. For me, investment in engagement through social media is still warranted since this study doesn't look at what develops brand awareness and brand preference at the top of the conversion funnel.
It's also worth remembering the difficulties of tracking social media effectiveness. Indeed many of the visits from direct site visits (the top referrer at 20%) and brand search terms may have been influenced by social media engagement. Then there's the role of social media in influencing offline sales.
There are also technical reasons why social media may be undercounted including:
Social media may not be tracked from mobile and desktop apps and would show as "direct visits"
Users of social media will not necessarily click on the links within social media, but will search or to direct to the sites when interested in purchase
For a large brand a significant proportion of search traffic will be brand terms showing there is already existing awareness and preference for a brand. This may have been generated through social media and can also increase conversion rates.
Returning visitors with multiple visits, some of which may be referred by social media may not be tracked since cookies are deleted, the cookie tracking window is limited or they have visited on multiple devices.
What do you think? Do you think this report suggests we may be paying too much attention and focusing too much resource on social media or do you think the report is misleading?