How we built SEO into a launch campaign for a new service
In this post I'll share the steps we went through to integrate SEO into a campaign to support the launch of a new product offering. I think the steps are common to many campaigns based around content marketing, so I hope you find it useful. Do let me know of other steps or approaches you think could work for this type of campaign.
The weather…arguably the nation's favourite discussion topic and what I have been marketing through our digital channels.
A key requirement of the Met Office is to disseminate our outputs as widely as possible to ensure that the public can take action for impactful weather and climate outcomes through all channels the public interact with, in my case pre-dominantly through www.metoffice.gov.uk.
The Met Office operates in the highly competitive weather sector with a number of private sector competitors competing for market share. To ensure we meet our objective of increasing visits, it's a requirement that we need to think creatively and with innovation to ensure we look to differentiate our online product offering by creating a new online value proposition (OVP), incorporated within our online marketing plan. To support our strategy a key online tactic that we have introduced is an Event Calendar based around different events: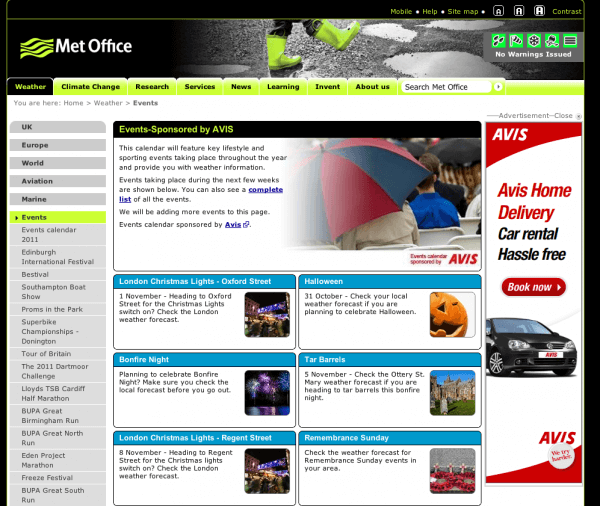 Event Calendar Campaign and Content Strategy
Introduced in 2010, The Events Calendar is intended to promote tailored weather content for key target audiences and at the same time assist to drive incremental visit traffic and other KPIs linked to the online marketing strategy.
The key online tactic to support the Event Calendar is through an SEO strategy, targeting reach of specific communities, demographics and users associated with the events promoted, i.e. users searching for location specific weather content or in this case event specific content (e.g. Glastonbury music festival, 6 nations rugby etc)
Here is a brief step by step overview of the events calendar SEO strategy:
1) Content creation for Events
For each event, online research is completed to ensure that there is appetite, in terms of seasonal search traffic and there is an active community associated with the event to form a basis for link building. Tools such as Google trends offer an insight into the opportunity to target seasonal peaks in traffic e.g. Cowes Week.
To monitor community buzz, research around key event blogs, social media (facebook groups, twitter activity) and industry related websites is also analysed and collated together to form part of the initial online strategy to drive link building opportunities.
An event page is then created within the CMS template page with key on page optimisation techniques in place (Page title, Heading, Url, internal linking to other Met Office pages).
2) Keyword Research
Keywords associated with an event are then analysed using the Google keyword tool & Wordtracker to identify which search terms and phrases to target through on page optimisation.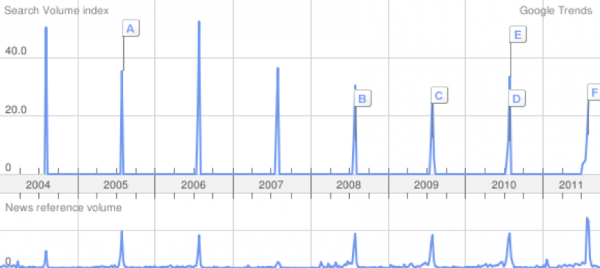 3) Link Building
For each identified event, a link building campaign is constructed to reach out to key authority websites and targeted online news & media operators associated with that event sector.
We have found the key to a successful link building strategy is the availability of syndicated content which can be provided to key authority sites.
Syndicated content that supports our link building initiatives includes Weather Widgets, Video content as well as syndicating event pages to third party sites.
4) Social Media
The Met Office has an active Social Media presence through Twitter , Facebook, Flickr and YouTube. These platforms offer an effective tool to create an event community through to reach out to influential social media contacts associated with the event sector (e.g. 6 Nations Rugby event page – allows us to engage with and promote this content with influential Rugby and sporting content bloggers.
5) Implementation & creativity
The events calendar requires its own dedicated section of www.metoffice.gov.uk allowing the creation of event pages, on-page optimisation and populating event pages with relevant, targeted, optimised content. Each event page replicates the same template allowing for speed of web delivery and the ability to tweak and optimise the content to rank for keyword volume associated with the particular event. This how how we managed the main implementation activities:
Creativity – this plays a big part in how the Met Office delivers weather content online. We continuously strive to lead on digital innovation in how weather is communicated online focusing on online tactics to support the event calendar strategy and at the same time, looking to differentiate us from our online weather competitors, tactical examples include:
Collaboration – We work across the organisation, getting internal buy-in and engagement from areas of the organisation to provide ideas and support on the type of content we could look to use within event pages to differentiate us from the competition
Press office integration – to support our events and assist with the launch of online press releases to support the SEO strategy.
Content Syndication – The success to date of our link building strategy to assist our event calendar, has opened up opportunities to collaborate and work with key authority sites with online syndicated content
Blog – The Met Office Blog provides us a platform to promote key events to a targeted weather audience
Video Integrating Video – within our Event pages provides the user with an alternative communications tool in interacting with Met Office content. Videos are shot on location at the event, interviewing a key stakeholder on how the weather has impacted the said event over the years – e.g. FA Cup final at Wembley Stadium
Email – To retain users and to make them aware of upcoming events, an event reminder has been implemented for users to sign up to for free to receive timely emails on latest events launched
6) Results & evaluation
The event calendar performance is measured on specific KPIs. Based on previous years performance, the event calendar has demonstrated:
Page Views – from May – Sept 2010 compared to May – Sept 2011, YOY growth has seen an increase of 183%
Link Building – An increase in amount of internal links back to the Met Office from working collaboratively with industry leading websites associated with key events.
Keyword ranking analysis – From initial keyword research, the Met Office has now optimised key event based content for high volume search terms associated with the event – thus increasing visibility and incremental visits
I hope you find this case study useful. We're pleased that following the growth of the Events Calendar, it has now become an integral part of the SEO strategy not only in terms of generating incremental visits but also to drive revenue through Advertising & Sponsorship.