The FT.com web app shows how HTML5 may make support for different mobile OS easier in future
There are so many posts and articles rating the top iPhone/iPad/Android/Windows Mobile app that it might seem that marketers looking to create the widest audience have to develop specific version available through the app store of each platform.
But, the success of the FT.com web app shows that it doesn't have to be this way and in the future it may not be; the dependence on app stores for each mobile native OS may seem quaint. Here are the latest (July 27th) figures on digital publishing by FT.com
Digital subscriptions to the title, which operates behind a metered paywall increased 31% year on year to more than 300,000.
The number of registered users climbed 29% to 4.8 million.
Mobile devices now account for 25% of traffic to FT.com, while there are 2.7 million FT web app users.
In his case we focus on what has made the FT.com web app successful.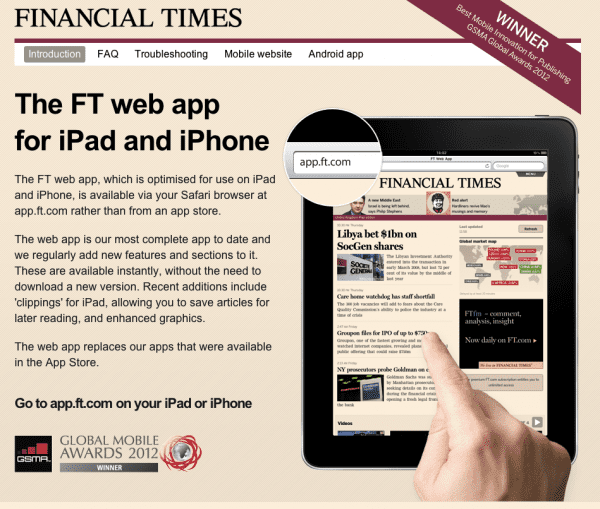 Benefits of HTML5 web apps
FT.com app does a great job in explaining the benefits of non-apps. Under the heading, a better, faster app the FT explains these benefits:
Web browser access – No app store download needed* Automatic enhancements – No need to visit an app store for the latest version
Reading offline – The latest edition is automatically stored for offline access [this is possible with native OS apps]
Speed – Improved performance on most connections
Greater range of content – Including video on iPhone - get's around the problem of Flash players
Use your existing account - no additional registration required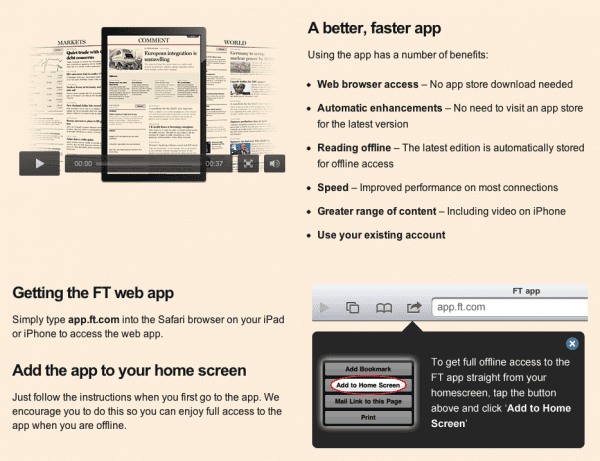 Of course, the other big benefit not mentioned here for publishers is that they can take a bigger share of subscription revenues.  The app was launched in June 2011 in response to Apple's introduction of new rules governing subscription-based iOS apps - Apple is looking for a 30% cut of subscription revenues for people signing up from its native app and access those subscribers.
How successful is the HTML5 app for FT.com
The Guardian recently reported that Financial Times passed 2m users for its HTML5 web app 10 months after its launch, with mobile now driving 12% of subscriptions and 19% of traffic to the newspaper's digital offering.
Rob Grimshaw told The Guardian that switching to HTML5 wasn't just about a spat with Apple, but was an attempt to ensure the FT could scale quickly across different devices and platforms:
"The origins of the web app come from thinking more broadly about our mobile strategy, and particularly how we are going to cope with developing for numerous different platforms," he said.

"There are at least five [native mobile platforms] out there that you reasonably have to cover, and a web app is the obvious solution. We just accelerated it because of some of the things Apple did with their subscriptions."
I'm not sure about the development techniques or costs, but from Rob Grimshaw's comments that it is a more efficient approach.